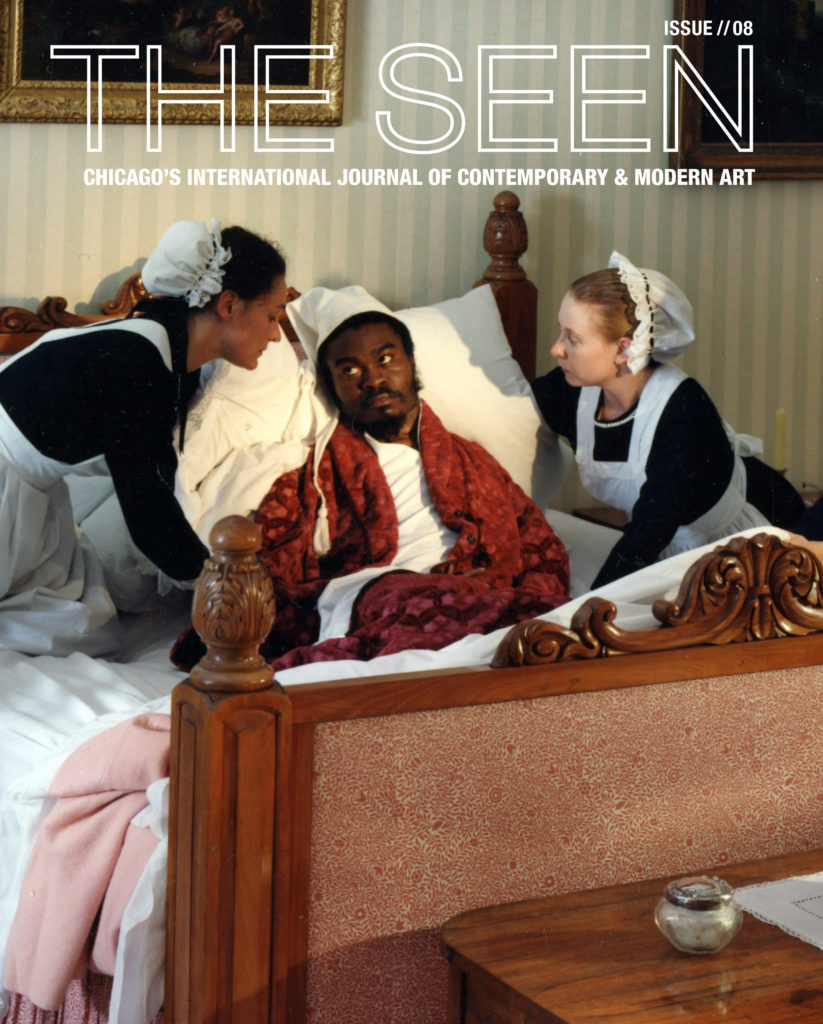 Announcing Issue 08 in Print
THE SEEN announces the Spring / Summer preview titles launching Issue 08 in print this April 2019, featuring a 10,000-count run available for distribution at multiple public locations throughout the city of Chicago, as well as select national and international distribution. With Staff Writers reporting from around the world, each issue of THE SEEN features in-depth writing on contemporary art, as well as highlight essays, artist profiles, reviews, and limited-edition contributions from top international artists.
The cover of Issue 08 features a detail of a work by Yinka Shonibare CBE entitled Diary of a Victorian Dandy: 11.00 hours (1998). The photography series follows Shonibare living a fictional life as an English aristocrat, elaborately calling to question the outside position of a colonized body within the context of a past and present England. The photograph appears in his show, A Tale of Today: Yinka Shonibare CBE at the Driehaus Museum.
Issue 08 will feature exclusive pieces and new commissions on the best in international contemporary art.
---
Preview Titles
Issue 08 // Letter from the Editor 
By Stephanie Cristello
Reviews
Prisoner of Love // Museum of Contemporary Art Chicago 
By Jameson Paige
Brick by Brick: Per Kirkeby // Kunsthalle Krems
By Ezara Spangl
Stateless: Views of Global Migration // Museum of Contemporary Photography
By Noah Hanna
Oscar Tuazon: Water School // MSU Broad
By Gabrielle Welsh
Forgotten Forms: Edra Soto and Yhelena Hall // Chicago Cultural Center
By Susan Snodgrass
Special Edition Insert
Under the Cover of Night: Kleine Welt // Part II
By Dieter Roelstraete
Eduardo Terrazas // MEXICO 1968
By Stephanie Cristello
Features
On the Cover
Colonial Consumption: Yinka Shonibare CBE // Driehaus Museum
By Joel Kuennen
Brain Trust: Performing Biodata // Jason J. Snell
By Patrick J. Reed
Collapse: Joan Morey // Profile of the Artist
By Latitudes (Mariana Cánepa Luna & Max Andrews)
Viewing Conflict Photography // Don McCullin: Changes in Looking
By William Davie
The Weight of a Political Line: Art and Comics // Yvan Alagbé, Jessica Campbell, and Edie Fake
By Caroline Picard
Through Smoke and Across Dissent: Power Plays with Perfumery // Aleesa Cohene, Sands Murray-Wassink, and Clara Ursitti
By Matt Morris
Interviews
Laurie Simmons: Big Camera, Little Camera // Museum of Contemporary Art Chicago
By Natalie Hegert
The Psychology of Painting: Dexter Dalwood // Profile of the Artist 
By Alfredo Cramerotti
An Emotional State of Mind — Hyon Gyon: Parasol Unit // Profile of the Artist
By Kostas Prapoglou
The Panoptic Loop // In Conversation with Anna Martine Whitehead
By Mary L. Coyne
Tobias Kaspar // Profile of the Artist
By Carter Mull and Laura Dennis
---
Issue 08 will be released in print and online the week of April 15.