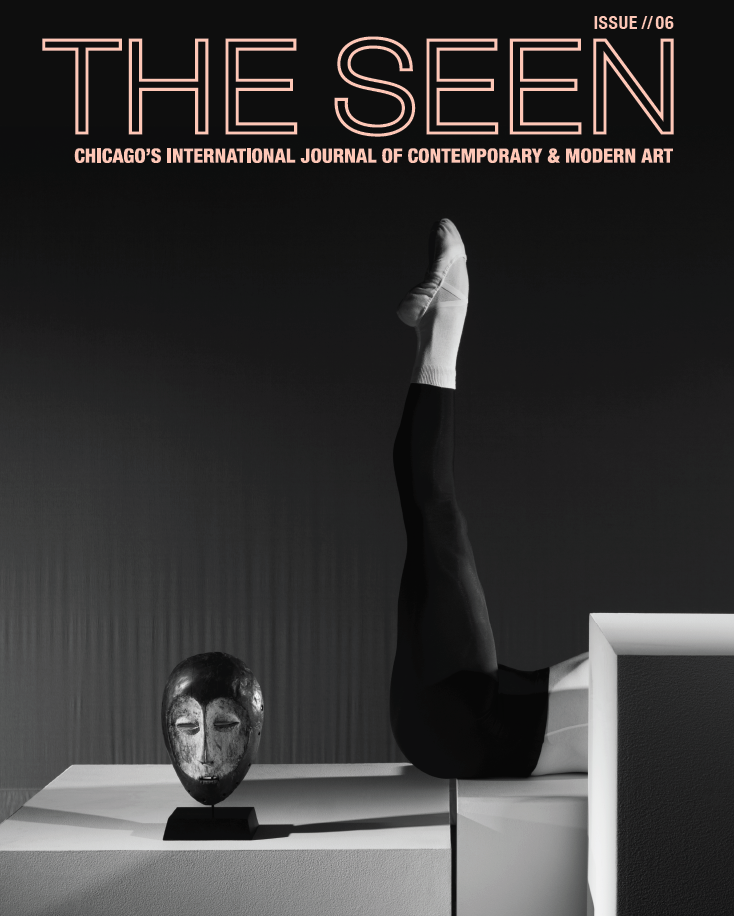 Under the Cover
THE SEEN announces the Spring / Summer preview titles launching Issue 06 in print this April 2018, featuring Brendan Fernandes on the cover to align with his recent exhibition, The Master and Form, at the Graham Foundation. The full-color, oversize journal will be produced as a limited-edition 9,000 count run available for distribution at multiple public locations throughout the city of Chicago, as well as select national and international distribution. With Staff Writers reporting from around the world, each issue of THE SEEN features in-depth writing on contemporary art, as well as highlight essays, artist profiles, reviews, and limited-edition contributions from top international artists.
Issue 06 will feature exclusive pieces and new commissions on the best in international contemporary art.
---
Issue 06
LETTER FROM THE EDITOR
by Stephanie Cristello
Reviews
R.H. QUAYTMAN // SECESSION, VIENNA
by Ezara Spangl
PROSPECT 4 // NEW ORLEANS
by Ruslana Lichtzier
LAURA OWENS // WHITNEY MUSEUM OF AMERICAN ART
by Terry R. Myers
ANNA MARIA MAIOLINO // MUSEUM OF CONTEMPORARY ART LOS ANGELES, PACIFIC STANDARD TIME
by Paige Landesberg
Features
EDIBLE ARRANGEMENTS // FOOD AS ART AND PRODUCT
by Joel Kuennen
ROCK IN A HARD PLACE: ART, ROCK, CRITICISM // A SPIRITUAL EXEGESIS
by Zachary Cahill
COMMODITY LIMITED // ON THE SURFACE OF AN IMAGE
by Vanessa Gravenor
INFORMATION THEORY // MICHAEL RAKOWITZ: BACKSTROKE OF THE WEST AT THE MUSEUM OF CONTEMPORARY ART, CHICAGO 
by Jordan Martins
Special Edition Insert
HANK WILLIS THOMAS // UNBRANDED: A CENTURY OF WHITE WOMEN AND REFLECTIONS IN BLACK
Selected by Stephanie Cristello, Forward by Janet Dees
Interviews
BRENDAN FERNANDES: THE MASTER AND FORM // GRAHAM FOUNDATION
By Gabrielle Welsh
DAWOUD BEY // VISUALIZING MEMORY
By Susan Snodgrass
PHILIPPE PARRENO: TWO AUTOMATONS FOR ONE DUET // ART INSTITUTE OF CHICAGO  
By Natalie Hegert
AFRUZ AMIGHI: SHADOW SHIFT // ECHO'S CHAMBER
By Dr. Kostas Prapoglou
ALEJANDRO CESARCO: SONG // THE RENAISSANCE SOCIETY
By Stephanie Cristello
EWA AXELRAD // FORMS OF TENSION
By Alfredo Cramerotti
DANIEL G. BAIRD // OVERVIEW EFFECT
By Ryan Filchak
---
Pick up your free copy at institutions in the Chicago area.
Image on the Cover: Brendan Fernandes, As One VIII, 2017. Edition of 3 + 2 AP. Digital print, 34 x 48 inches. Image courtesy of the artist and Monique Meloche Gallery, Chicago.