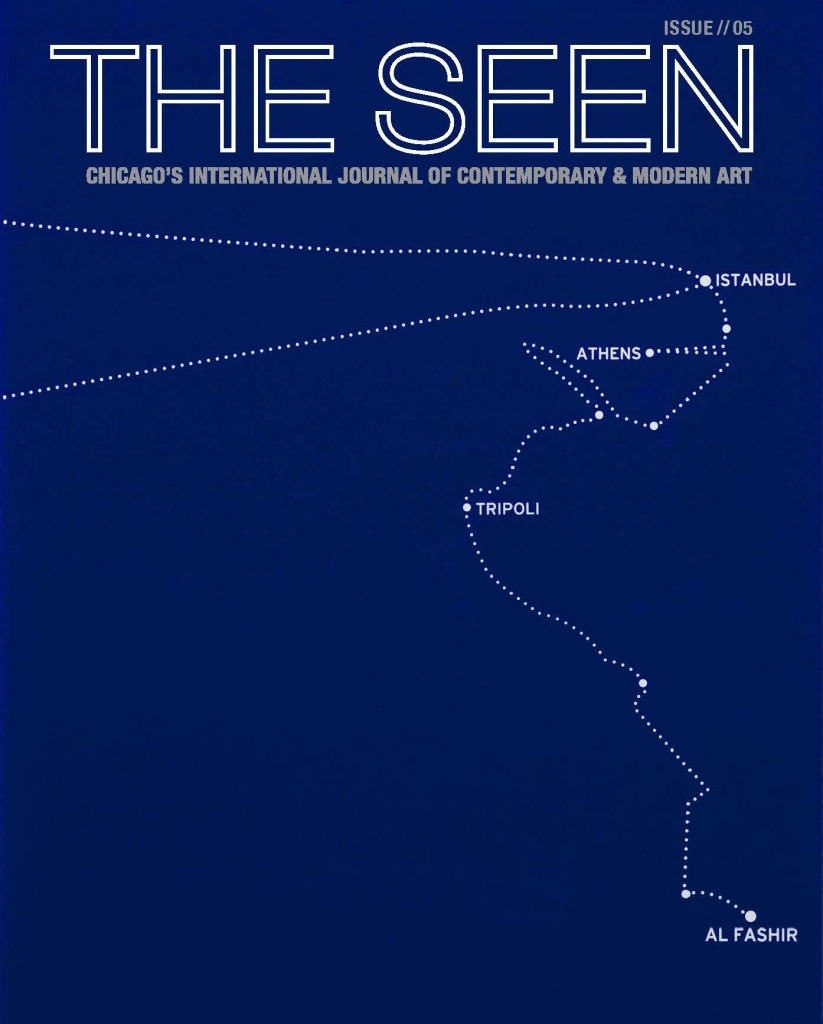 Under the Cover
THE SEEN announces the Fall / Winter preview titles launching Issue 05 in print this September 2017, featuring Bouchra Khalili on the cover to align with their inclusion in Palais de Tokyo | Singing Stones at The Roundhouse on the DuSable Museum of African American History campus. The full-color, oversize journal will be produced as a limited-edition 9,000 count run available for distribution at multiple public locations throughout the city of Chicago, as well as select national and international distribution. With Staff Writers reporting from around the world, each issue of THE SEEN features in-depth writing on contemporary art, as well as highlight essays, artist profiles, reviews, and limited-edition contributions from top international artists.
Issue 05 will feature exclusive pieces and new commissions on the best in international contemporary art, launching at EXPO CHICAGO (September 13–17, 2017).
---
Issue 05
LETTER FROM THE EDITOR
by Stephanie Cristello
Reviews
THE BOAT IS LEAKING. THE CAPTAIN LIED.—THOMAS DEMAND, ALEXANDER KLUGE, AND ANNA VIEBROCK // FONDAZIONE PRADA
by Gregory Foster-Rice
CANDIDA ALVAREZ: HERE // CHICAGO CULTURAL CENTER
by Susan Snodgrass
THE SUMMER OF LOVE EXPERIENCE: ART, FASHION, AND ROCK & ROLL // DE YOUNG MUSEUM
by Stephen F. Eisenman
GLENN LIGON: BLUE BLACK // PULITZER ARTS FOUNDATION
by Brian Prugh
HELENA ALMEIDA: WORK IS NEVER FINISHED // ART INSTITUTE OF CHICAGO
by Ruslana Lichtzier
Features
Special Edition Artwork:
BARBARA BLOOM: MUSICAL SCORES // DAVID LEWIS GALLERY
Selected and introduced by Stephanie Cristello
BOXING IN A SUITCASE // MARCEL DUCHAMP VS. ROCKY BALBOA
IN PHILADELPHIA
by Guillaume Désanges
ITALIAN RADICAL DESIGN // INTERVIEW WITH GIANNI PETTENA
by Dr. Kostas Prapoglou
DOCUMENTA 14 // LEARNING FROM ATHENS
by Caroline Picard
PROFILE OF THE ARTIST // ANGELO PLESSAS
by Alfredo Cramerotti
CHICAGO ARCHITECTURE BIENNIAL
by Kate Pollasch
Interviews
CONSTRUCTION, SPACE, FORCE—REVOLUTSIIA! DEMONSTRATSIIA! SOVIET ART PUT TO THE TEST // MATTHEW WITKOVSKY
In conversation with Anastasia Karpova Tinari
GAYLEN GERBER // ARTIST LECTURE SERIES VIENNA
In conversation with Eva Badura-Triska
AMALIA PICA // PROFILE OF THE ARTIST
In conversation with Ionit Behar
BOUCHRA KHALILI // PALAIS DE TOKYO: SINGING STONES
In conversation with Natalie Hegert
TERENCE GOWER // PROFILE OF THE ARTIST
In conversation with Joel Kuennen
---
Pick up your free copy at EXPO CHICAGO (September 13–17, 2017) 
Image on the Cover: Bouchra Khalili, The Constellations Series, Fig. 8, 2011, © Bouchra Khalili; Courtesy Lisson Gallery.