April 20th, 2020
04.20.2020
A Line Can Go Anywhere: Ruth Asawa, David Zwirner London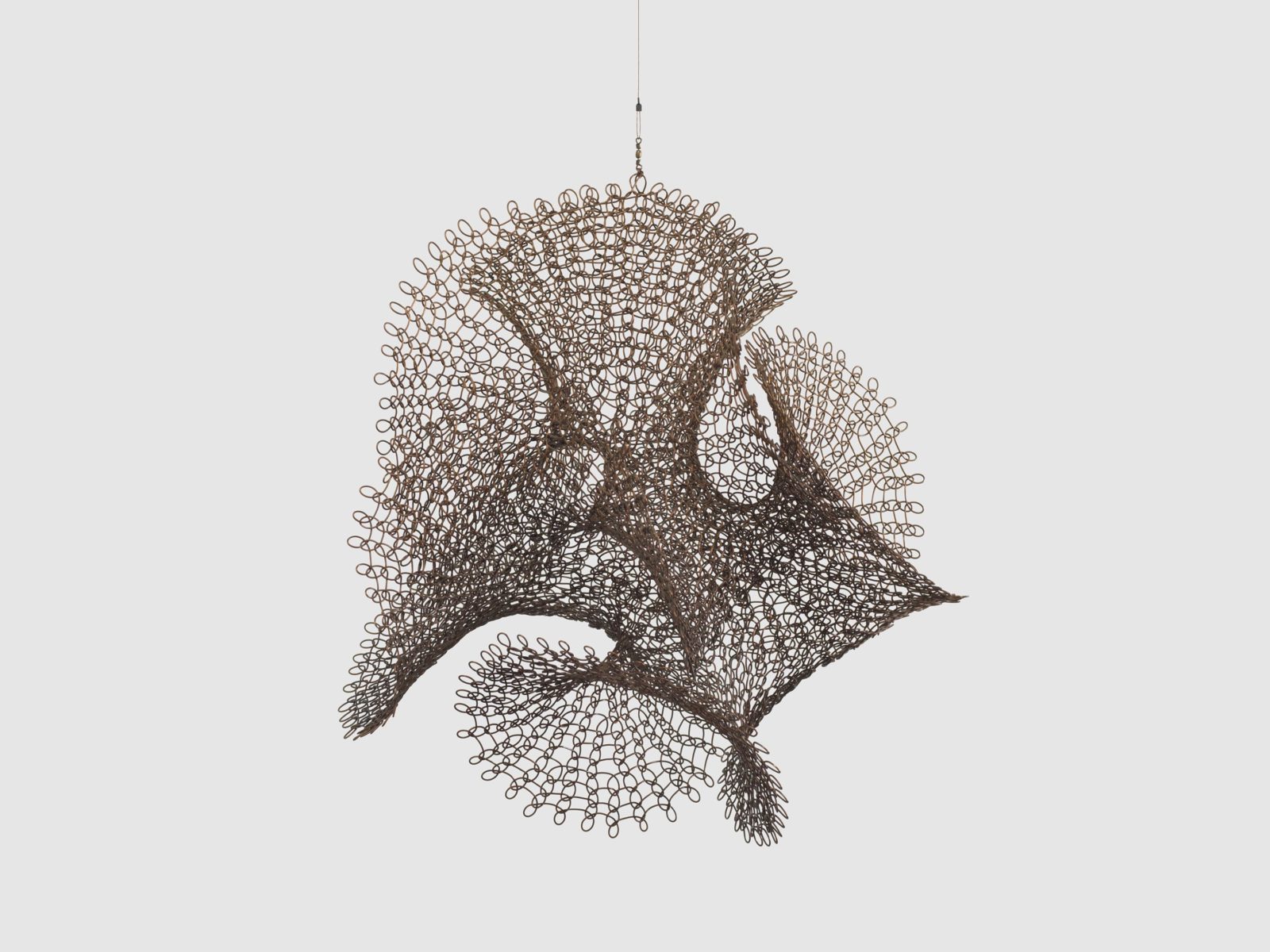 The early life of Japanese-American artist Ruth Asawa (1926–2013) was closely associated with political events that marked mid-twentieth century America and beyond. At the beginning of the Second World War, Asawa's family was sent to an internment camp, like thousands of other Japanese-Americans living on the West Coast. Punished after the attack on Pearl Harbor, individuals of Japanese descent were considered an enemy and threat.
This was a hectic period for the Asawa family and the artist herself—a young girl living in a concentration camp, exclude d from society and the wider opportunities of the public educational system. Having developed a keen interest in the arts at a very young age, she learned how to play and experiment with tangible materials, making art with anything that was easily accessible. After her graduation from the internment camp's high school in 1943, she attended the Milwaukee State Teachers College (MSTC) in Wisconsin to become an arts teacher. However, not being able to carry out her teaching practice and complete her degree due to anti-Japanese prejudice, she left MSTC in 1946 (the degree was awarded to her by Wisconsin in 1998).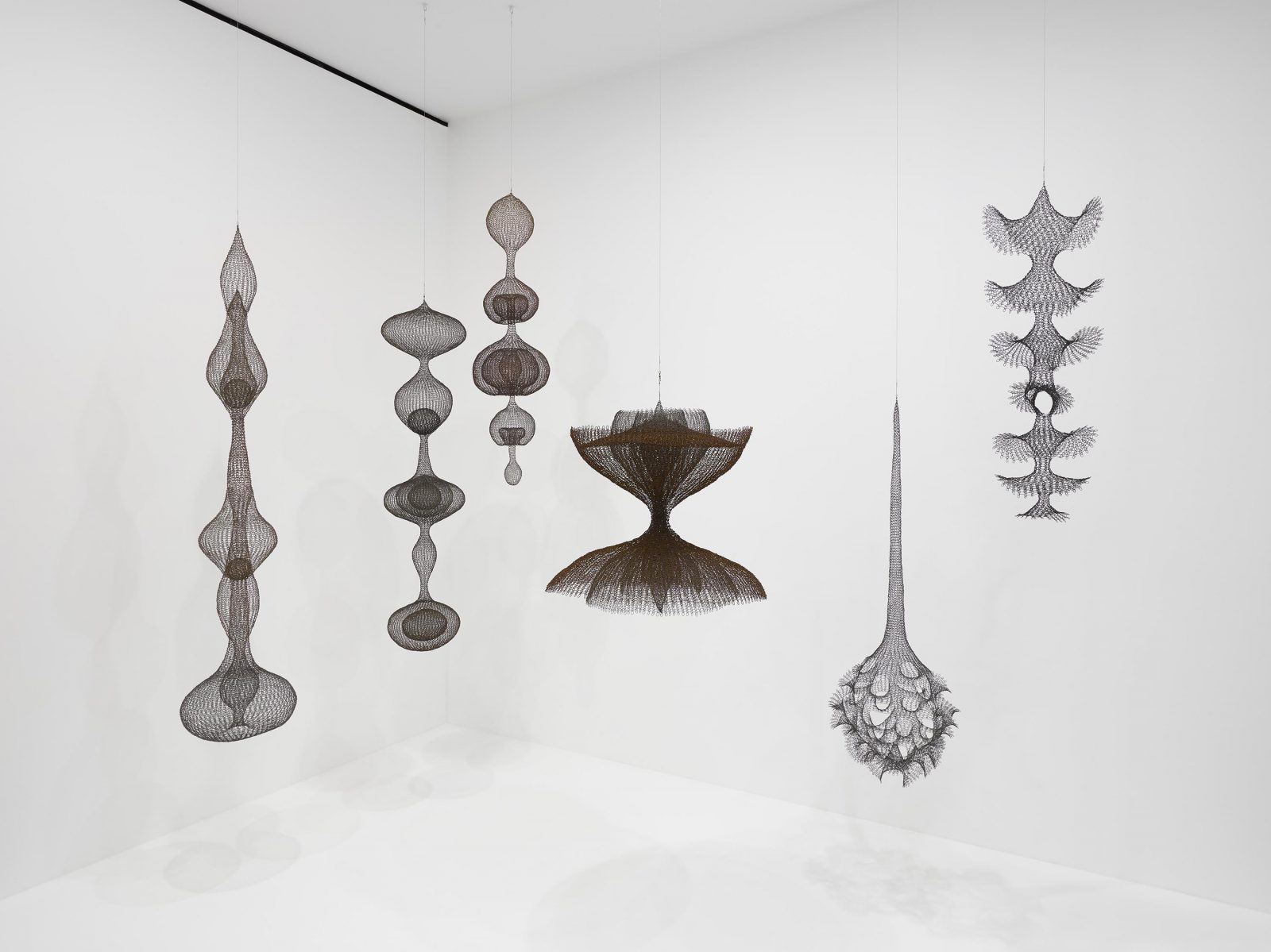 During a short trip to Mexico with her sister in 1945, Asawa met Clara Porset, a Cuban refugee and pioneer in furniture design, as well as artist Josef Albers, who at the time was working as the head of Black Mountain College in North Carolina. Black Mountain, with its experimental ideals and progressive methodologies, seemed the perfect place for Asawa to continue her studies and expand her horizons—studying there between 1946–49, she explored the endless possibilities of artistic practice and examined the diversity of wide range of materials. It was here she first began experimenting with wire, and during a trip to Toluca, Mexico, in 1947, where local craftsmen introduced her to the crocheting technique of making baskets with the material. This medium came to define the majority of works that spanned the rest of her career. Two years later, she moved to San Francisco, along with her husband architect Albert Lanier, where she enrolled in painting, silkscreening, life drawing, and commercial design courses at San Francisco State College in the early 1950s.
Although Asawa's visual repertoire became well recognizable and popular in America during the last six decades, her practice surprisingly remained less visible beyond the borders of the country. The late artist's most recent exhibition, entitled A Line Can Go Anywhere, at David Zwirner's branch in London, was the first major presentation of Asawa's work outside the United States. For the first time, the London audience had the rare opportunity to view a great deal of Asawa's work; an invitation to admire the way the artist masterfully harnessed the strength of her most loved medium, which produced imaginative shapes and forms that inspired generations of Americans.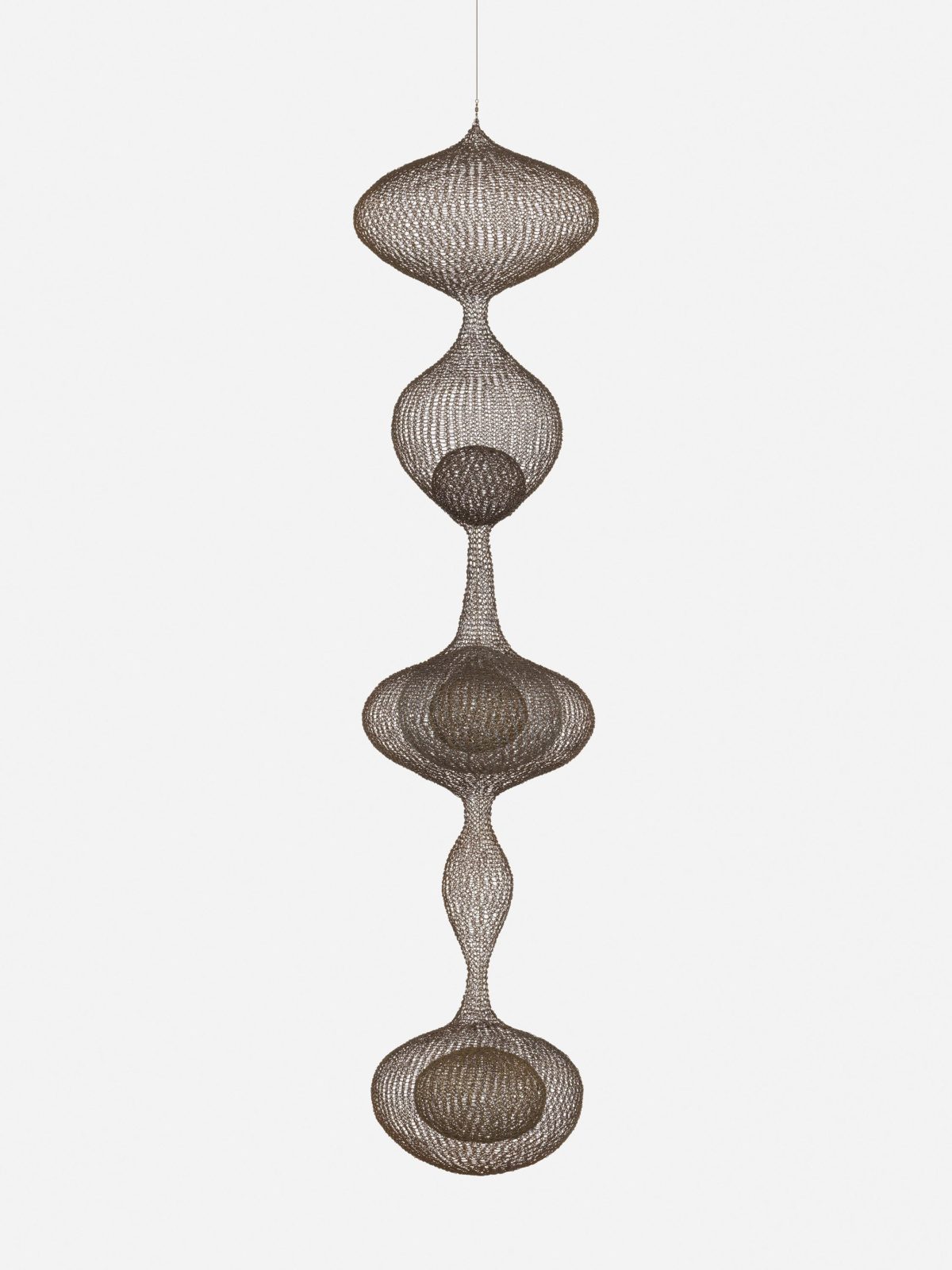 The exhibition, a forest of thirty-six curious objects suspended from the ceiling in dialogue with eleven works on paper on view, are evocative of biomorphic organisms that appear to float in mid-air. In proximity to the wall-based works, Asawa's wire sculptures portray much more than hanging baskets—though are undeniably the starting point of her inspiration. For the artist, the properties of transparency, perpetual play between light and space, and the idea of weightlessness are among the key elements that orchestrate our sense of reality within the gallery in ways that more broadly define how we interact with space and time.
These spherical forms, constructed in looped wire, emerge as imprints of positive and negative space. Throughout the show, there is a continuous flux of surfaces within the works that impregnate the material potency of one another—generating a series of forms that successively flow, while progressively leading to an inevitable interdependency. They appear like breathing organisms, creatures from the future, or another unidentified habitat, suspended within a muted and hibernating condition. Whether these are vessels or cocoons, the presence of the works in the space certainly pose a challenge to viewers—opposing forces of ethereality and sturdiness.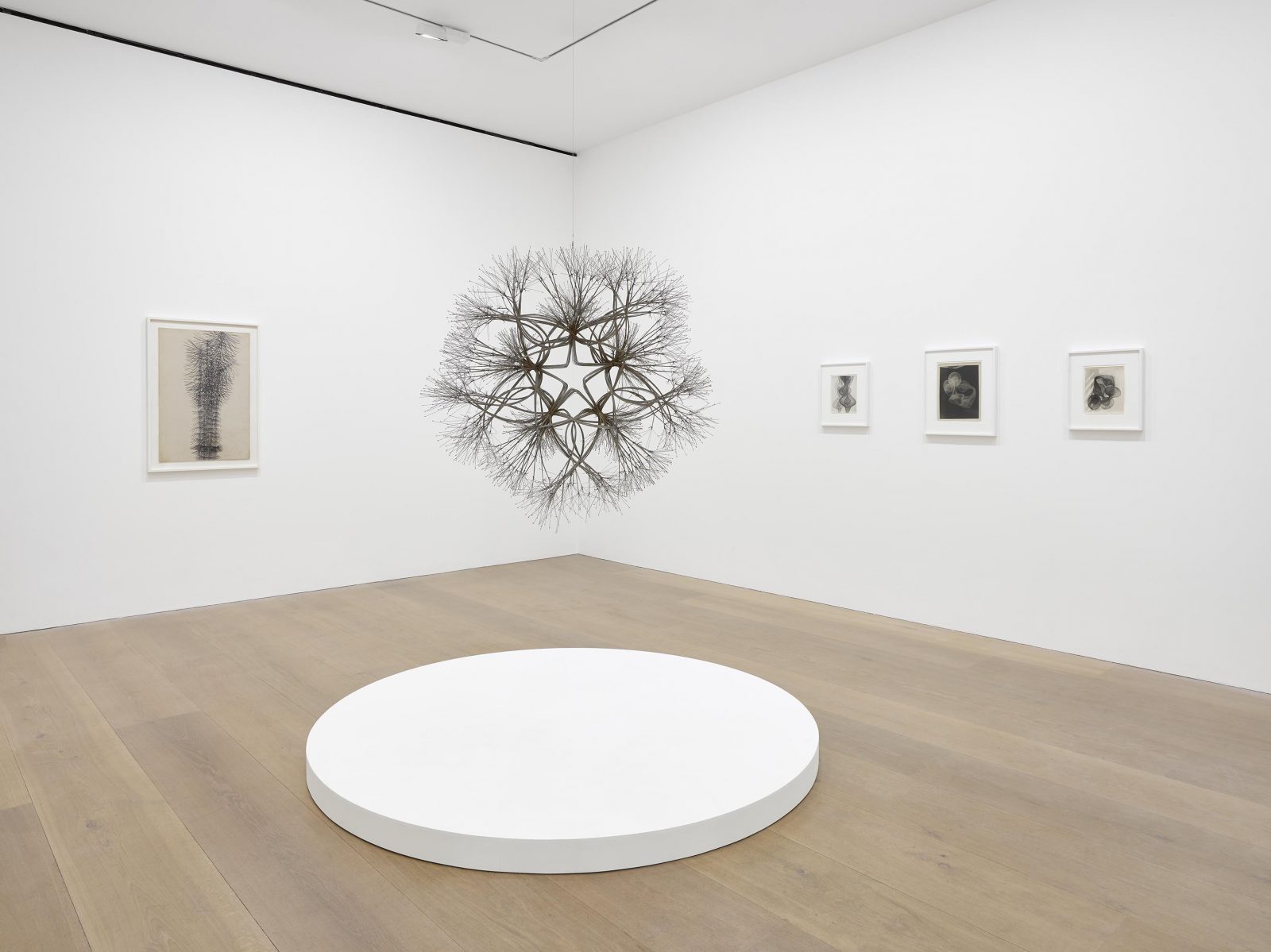 Asawa's childhood years, affected by the brutality and consequences of war, may be reflected within the bulbous shapes of her sculptures, at once reminiscent of traditional Mexican baskets, while perhaps recalling the iconic abstract figure of the mushroom cloud, photographed after the nuclear bombings of Hiroshima and Nagasaki in 1945. Whether intentional or not, the circulation of images following the disaster could be seen as a part of Asawa's visual vocabulary within this biographical context.
The embedded repetitional motions in Asawa's sculptures embrace craftsmanship—they unfold the need to transform the nature of a commonplace material into something unexpectedly beautiful and mesmerizing. The artist's works can be considered as painstaking studies on how to turn the ugliness of history into the seductiveness of matter. And although her works were constructed decades ago, they remain invigorating—ready to speak about contemporary reality as if they were made just yesterday.
---
Ruth Asawa: A Line Can Go Anywhere at David Zwirner in London ran from January 10–February 22, 2020.