March 24th, 2014
03.24.2014
The first line of Bikini's Kill's Wikipedia page reads: "Bikini Kill was an American punk rock band formed in Olympia, Washington in October 1990." It is written in the past tense as if to say: this band was and now it is not. The sentence is short and sweet, just like the all-girl band's brief seven-year existence. Though despite its brevity, few bands can claim the kind of widespread cultural and political fallout that was brought about by Bikini Kill and other radical feminist punk bands from that period.
Like its beginnings in the volatile social identity conflicts of the early 1990's—the end of the Reagan administration, the D.C. and L.A. race riots, the rise in American Christian fundamentalism—riot grrrl erupted like a flash bomb and seared a pathway for third-wave feminism to enter the mainstream consciousness. Nearly 25 years after its beginning, today's intelligentsia are only now grappling with the immensity of the results.
Alien She, a nationally touring exhibition curated by Ceci Moss and Astria Suparak, explores both the graphic language of the riot grrrl movement and the work of numerous artists, collectives, projects, bands, and curators counted among its continuing influence. The entire show is like walking into a living archive—a Derridean commencement and commandment—"this is what riot grrrl was and this is what riot grrrl continues to be." Beginning this past September at Carnegie Mellon University's Miller Gallery in Pittsburgh, the show has traveled across the state an is currently on view at Philadelphia's Vox Populi through April 27.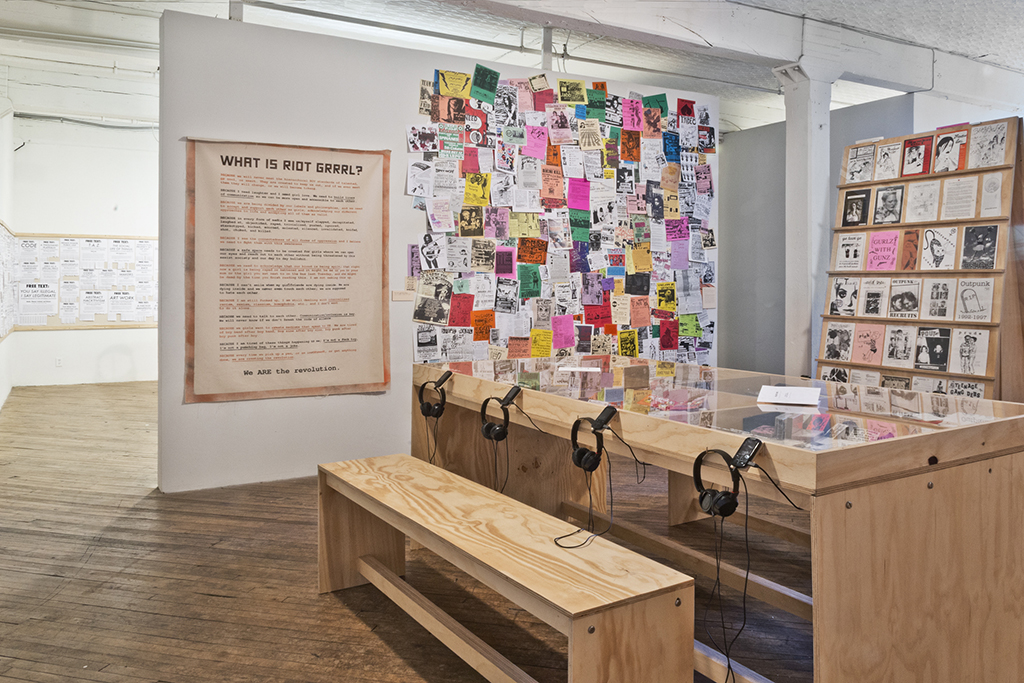 A reading room sits at the exhibition's physical and philosophical heart with walls outlined in a menagerie of zines and posters with a large table placed in the center. Set inside the table's top are Joseph Cornell-like boxes that contain ephemera: cassettes, playlists, and flyers. Each box corresponds to a curated playlist of songs from riot grrrl bands that can be listened to on mp3 players. I was particularly taken with a note in one box that politely reads, "Sorry, there will be no master race or gender on this planet." This sanction of the gallery, ideally a space for reflection and communication, provides an overview to riot grrrl's many concerns and accurately illustrates the movement's turn away from the privileges inherent in second-wave feminism and the misogyny of punk culture. Giving a second life to punk music and its collage aesthetic, riot grrrl mixed music culture with activism and academia. Its collective wasn't merely talented and angry, they were smart and ready to achieve definitive change.
Also contained within the exhibition are separate sections—mini archives—devoted to an artist, collective, or project that has grown from the movement. Miranda July, the show's biggest breakout artist, has a collection of early videos and some work from her Joanie 4 Jackie project (previously known as Big Miss Moviola) that is now housed at Bard College. J4J was a kind of feminist YouTube before YouTube even existed: female filmmakers could make a video, send it to July, and receive a video chain letter of nine other girl-made videos.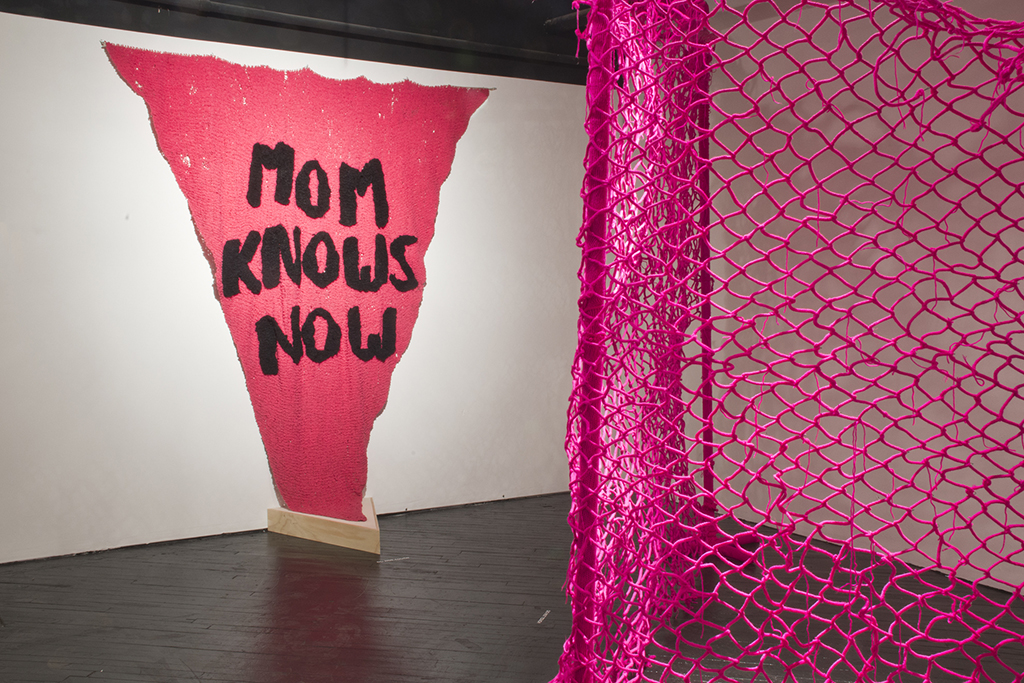 Another highlight includes Stephanie Syjuco's Free Text, which consists of dozens of tear-off tab flyers that lead to free downloads of foundational texts on a variety of subjects: radical economics, contemporary art, gender and sexuality studies, to name a few. I, myself, took a tab for Hito Steyerl's In Defense of the Poor Image. Wonderfully juxtaposed against Syjuco's demonstration for freed knowledge is a collection of crocheted designer bag knock-offs. At its simplest, Alien She provides an abridged chronicle of a quarter-century of activism-as-practice (what is known critically as "socially engaged art," or what my friends and I simply call "good art"). Scouring the graphic language of the riot grrrl movement in comparison to, say, L.J. Roberts' bitingly beautiful crocheted protest banners, is a revitalizing reminder that art can serve purposes outside its monetary value. At its deepest, the exhibition is a reminder of the lengths that the social revolution has yet to go.
While listening to Switched at Birth's "It Matters Not" on an mp3 in the reading room, I looked up to see a father with his daughter watching a Miranda July video. She could not have been older than eleven or twelve, and it struck me that this is exactly the kind of show all impressionable children should be taken to see. Western news sources focus on Pussy Riot and Malala as though we are watching the beginnings of foreign feminism from an endpoint. The youngest American generation is growing up imagining that the fight for feminism is over when, in fact, it has only hit a roadblock.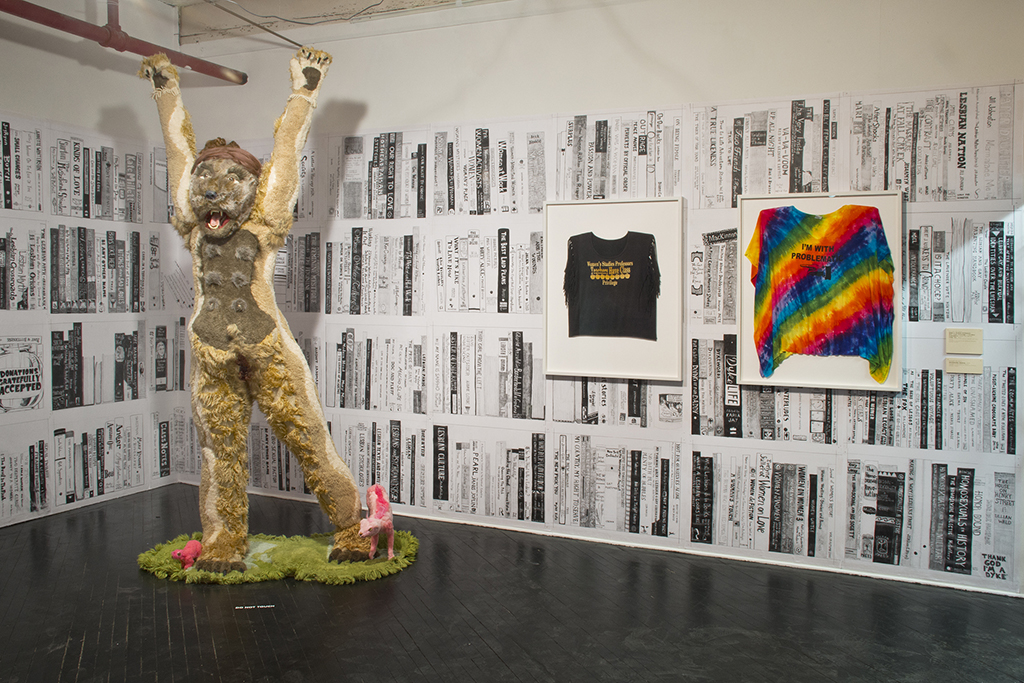 Artist Faith Wilding—a formative institution of second-wave feminist art in and of herself—recently said in an ArtForum interview: "What does it mean to be a feminist today? To become the head of Yahoo, making billions? It's a disgusting power thing. We still need to think politically about capitalism and patriarchy, and how they are basically wrecking the world."1 Alien She attempts to reinvigorate a third-wave feminism that has become over-encumbered with self-criticism by bringing it back to its roots. The show screams: "it's not about doing it right; it's about doing it." Thus the "riot" of riot grrrl is seen as the ability to grow from the spontaneous upheaval brought on by anger and energy – but is also the reminder that could perhaps become the catalyst for changing our stagnant status quo. Maybe the father that brought his daughter to the gallery to teach her about the recent history of her own gender's fight for rights, will also take her to her first riot. One can hope.
––
Alien She will continue its nationwide tour next at the Yerba Buena Center for the Arts, San Francisco, CA from October 17, 2014, to January 25, 2015. Following venues include the Orange County Museum of Art from February 13 to May 24, 2015, and the Pacific Northwest College of Art: Feldman Gallery & Project Space from September 3 to November 27, 2015.
Joshua Michael Demaree lives in Philadelphia, Pennsylvania. He is both a licensed driver and a dedicated taxpayer.
---