January 28th, 2014
01.28.2014
Assorted Abstraction: In Three Parts
The exhibition currently on view at Thierry Goldberg is repetitive, but not redundant. On view through February 2, it features two artists in three parts; each installation exists as a chapter of the untitled series of paintings by John Bianchi and Jeffrey Kessel. Facing out of the gallery and onto the street are John Bianchi's series of three untitled works from 2013 – three large panels in faded sunset hues and dry-wall white. The panels are composed of wood and aluminum, covered in acrylic paint and then sanded into smooth and uniform textures. Evidence of hardware and seams are faintly visible, creating subtle and seemingly chance compositions.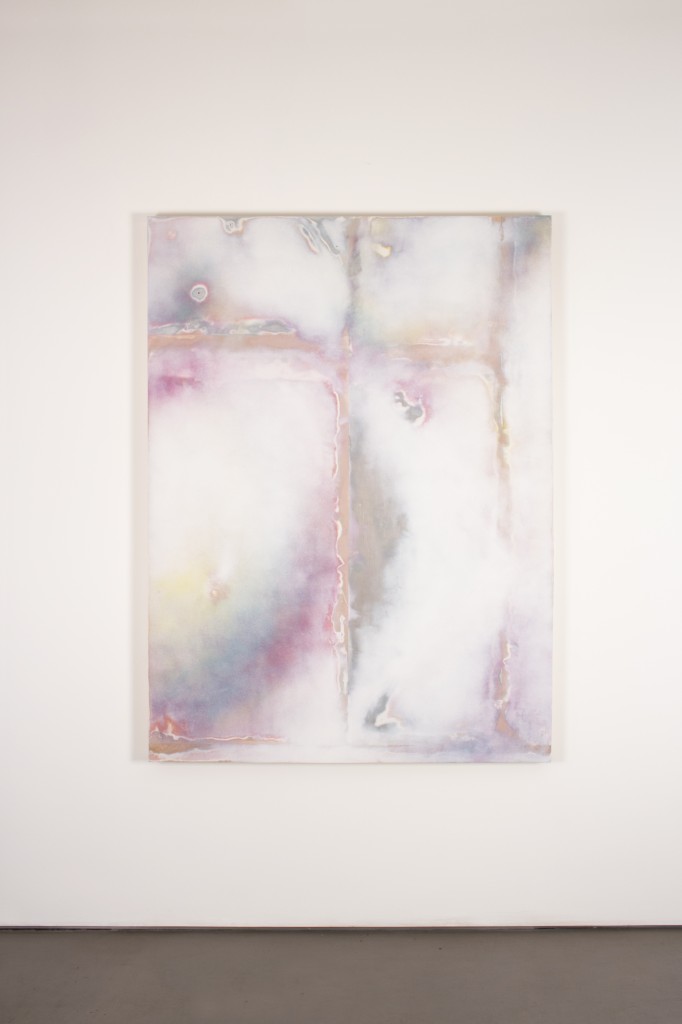 Bianchi's facades, which appear to be manipulated with ease, imitate the accidental aesthetics of urban walls, worked and reworked over years of use. The panels are evidence of a building up and stripping down, as opposed to Bianchi's second series in the exhibition, his "excavated paintings." In this successive group of work, Bianchi has applied a corrosive layer of spray paint to foam panels, resulting in what resembles pockmarked celestial terrains. The direct process and resulting compositions create a momentary suspension of material association. A simple encounter between the foam and paint produces beautiful monochromatic compositions. There is something satisfying within the product of a gesture. Where the first series feel worked over towards an end, the works in the second iteration seem like they could be examples of many potentials – the results of a process discovered and employed in an unfussy manner.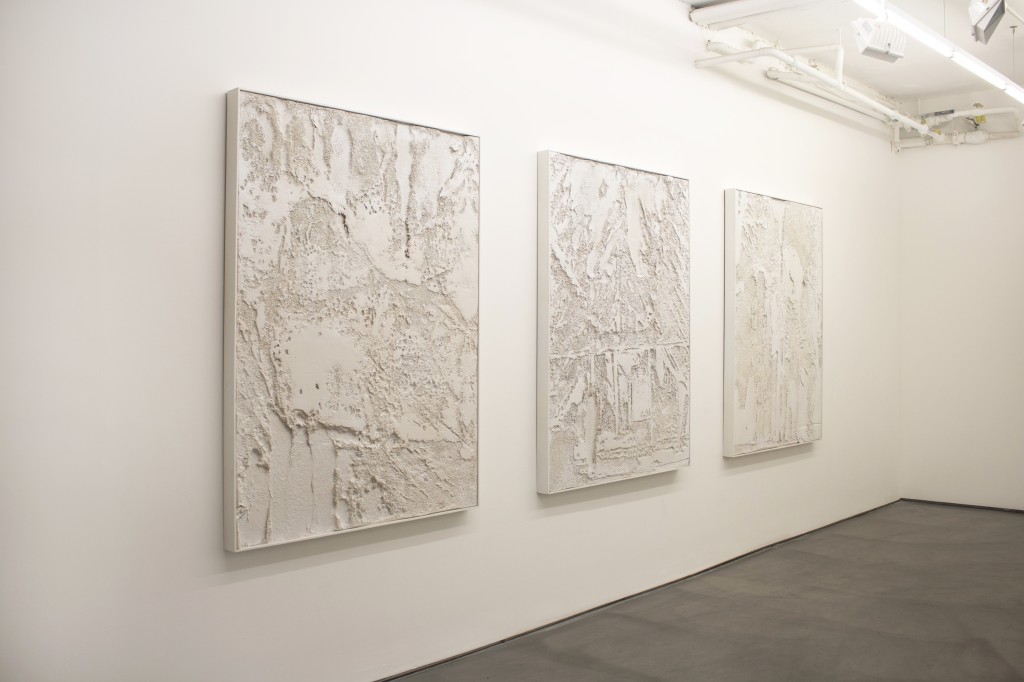 In the large back room of the gallery hang a series of untitled oil paintings by Jeffrey Kessel. Kessel's series include seven compositions in varying sizes, though uniformly large and imposing. Six of the paintings mimic each other with face-like forms: blotchy circles reminiscent of Cy Twombly's later flower paintings, and an accordion mouth stretched as if in a grimace across the bottom of each. The shapes are slathered on in fat and manic strokes, scribbled over a background of scraped off layers of crayon colored paint.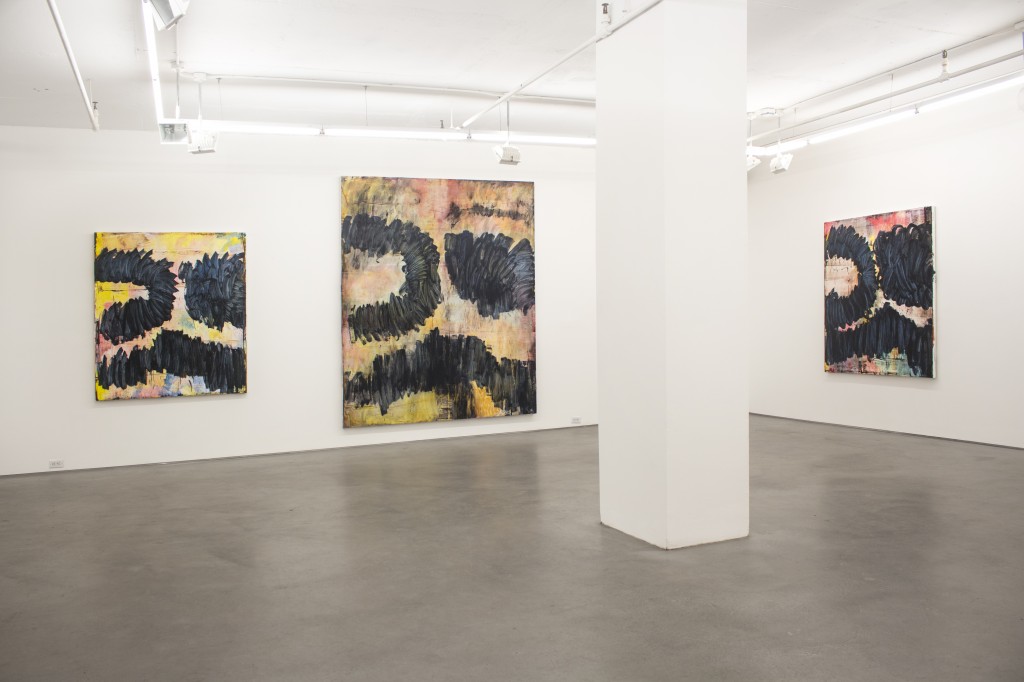 Kessel's paintings mark a sense of lunacy, in wake of their painful visage, size, and repetition. But the seventh work, which stands apart, reduces the psychosis into its parts, with similar shapes now reoriented so that where we once saw a face, one now only sees the pieces. The forms float upward like misshapen chromosomes, making the series more of an investigative exercise than the evidence of neuroses.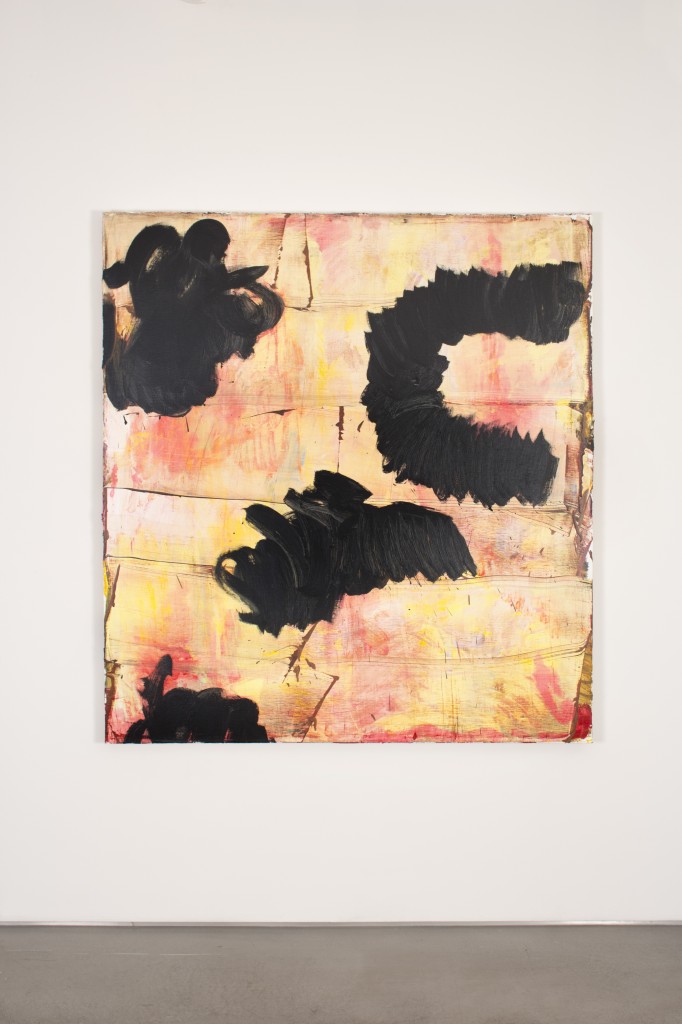 The exhibition in its entirety is engaging, albeit disjointed. The three series maintain a consistent scale, which distract from the dynamism of the individual surfaces. Relationships between the series exist in the act of repetition, and through the evidence of formal processes. While Bianchi's compositions are mesmerizing at times, it is Kessel's work that anchors the exhibition by arresting the viewer in an environment created by his painted imitations.
---
John Bianchi and Jeffrey Kessel at Thierry Goldberg runs through Feb 2, 2014.