November 2nd, 2015
11.02.2015
Carlos Bunga: Stony Island Arts Bank
In Carlos Bunga's Under the Skin, a colonnade of cardboard scaffolding fills and divides the high vaulted interior architecture of Theaster Gates' newly-renovated Stony Island Arts Bank building. The Spain-based artist uses humble materials like cardboard and tape to create architectonic installations, in which the construction and deconstruction of the work often becomes a performative part of the installation. In the Bank, Bunga responds to the building's classical columns and its time-weathered interior aesthetic, the cardboard's impermanence and temporality contrasting the structure's solidity and grandiosity.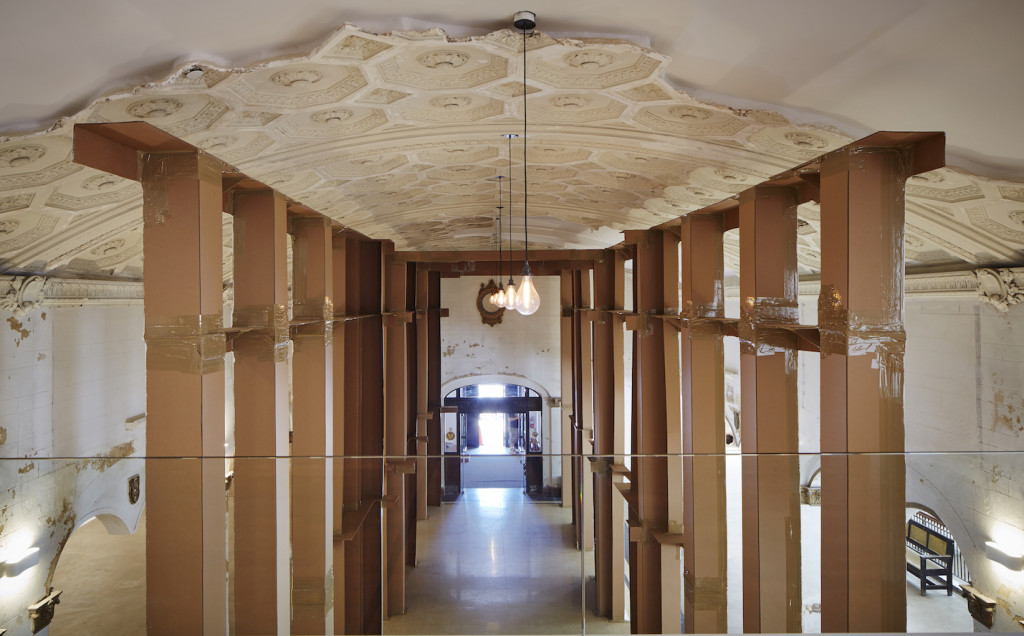 Originally built as Stony Island Trust & Savings in 1923, the 20,000 square foot neoclassical building was designed by William Gibbons Uffendell as a temple, with a large central nave, two side aisles, and Doric column facade. After Stony Island failed, Southmoore State Bank and Guaranty Bank & Trust occupied the space, but since the 1980s it stood abandoned, a last testament of a bygone era of Stony Island as a center of life and commerce. The edifice bore witness to cultural transitions from the Roaring 20s, the Great Depression, the Chicago race riots and beyond. It stood firm as the South Side economy crumbled and neighboring buildings fell away; the Bank itself was on the brink of demolition before Theaster Gates famously bought it for $1 from the city to renovate it as a cultural depository.1 Bunga's retransformation is an appropriate first exhibition, delicately balancing the context of the space while referencing its dual aesthetic through the forms he uses: classical colonnade and apse, as well as contemporary building scaffolding.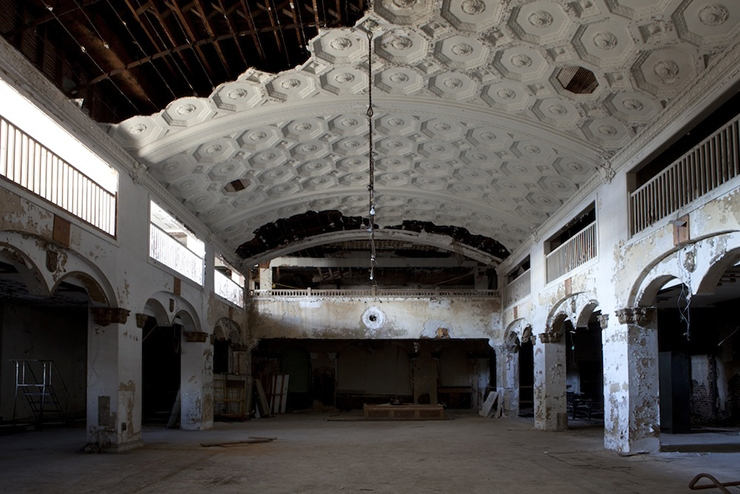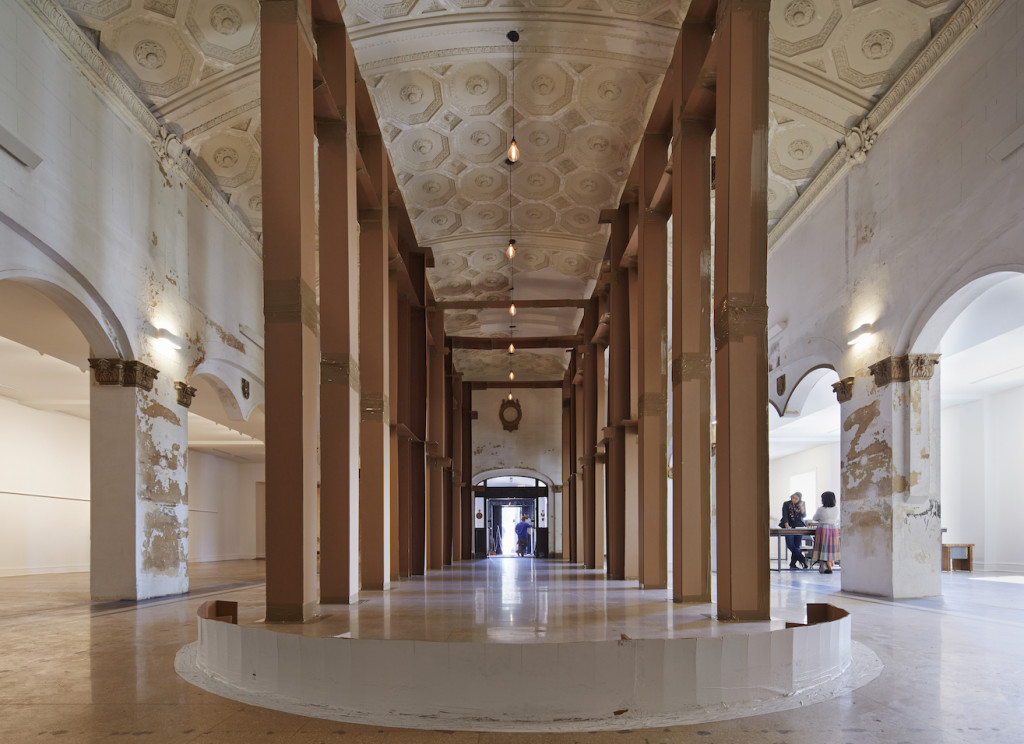 In his previous architecturally responsive installations, Bunga has covered or carved out white wall spaces in major international museums and galleries. Stony Island's architecture is more imposing. During the restoration, Theaster Gates preserved the material history of the building and left exposed cracked molding and paint blistering off dilapidated walls. The interior of the Bank feels more like Venice than South Side Chicago. In response, Bunga painted his structure a crumbling white and left the interior as raw cardboard. Three additional pieces provide a glimpse into Bunga's broader practice: a long straight cardboard sliver that stretches along an entire side aisle so crisply as to appear incised into the wall; a smaller yellow square wall piece that points to Bunga's foundation as a painter; and a projection of worn surfaces, reminiscent of Gordon Matta-Clark's anarchitecture and WallsPapers project.
Co-presented with the Chicago Architecture Biennial, Under the Skin is not only the inaugural exhibition in the Rebuild Foundations's Bank, but also Bunga's first solo exhibition in Chicago. Rebuild intends to activate the Bank's side galleries for continued exhibitions, including those by resident artists and curators invited to mine the bank's cultural resources, so far including the library of founder of Ebony and Jet magazines John H. Johnson, DJ Frankie Knuckles' record collection, racist collectibles purchased by Ana J. Williams to remove them from circulation, and glass slide collections from the University of Chicago and Art Institute of Chicago.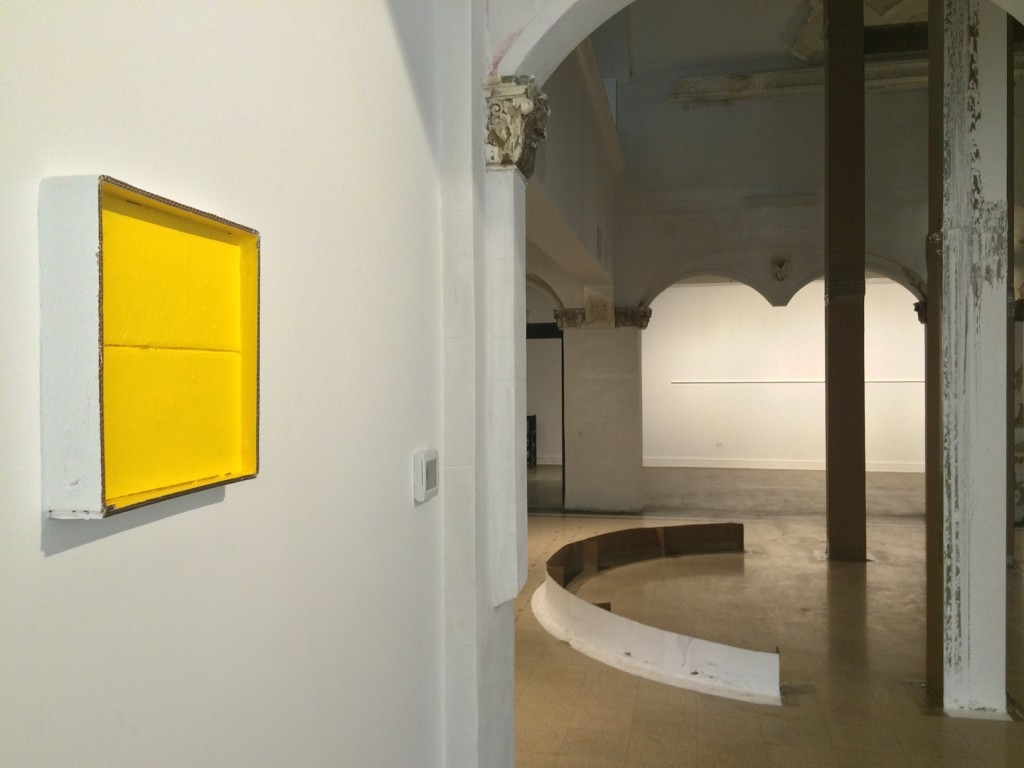 Theaster Gates catapulted into international art world success for his South Side redevelopment projects; meanwhile, the community's response seemed more hesitant.2 The Arts Bank is the first of Gates' projects with regular open hours and hopes to draw the community in, even though the exhibition and residency program will continue to be global. Under the Skin creates conversations between old and new, construction and deconstruction. When the exhibition closes on January 3, Bunga will return to perform a demolition. The Stony Island Arts Bank will continue onto its new chapter as a cultural, rather than fiduciary, depository. Fulfilling its mission as a "space for neighborhood residents to preserve, access, reimagine, and share their heritage – and a destination for artists, scholars, curators, and collectors to research and engage with South Side history," the bank itself is a "skin" for people to deposit another type of currency: that of ideas.
For more on Theaster Gates and Rebuild Foundation's rehabilitation of the bank, see: Kristin Hohenadel, "A Dilapidated Bank Turned Stunning Cultural Center Opens in Chicago's South Side," Slate.
See Ari Ephraim Feldman, "Banking on a Bank," South Side Weekly, October 9, 2015.