February 25th, 2019
02.25.2019
Chanel Chiffon Thomas: Fractured Reality // Goldfinch Projects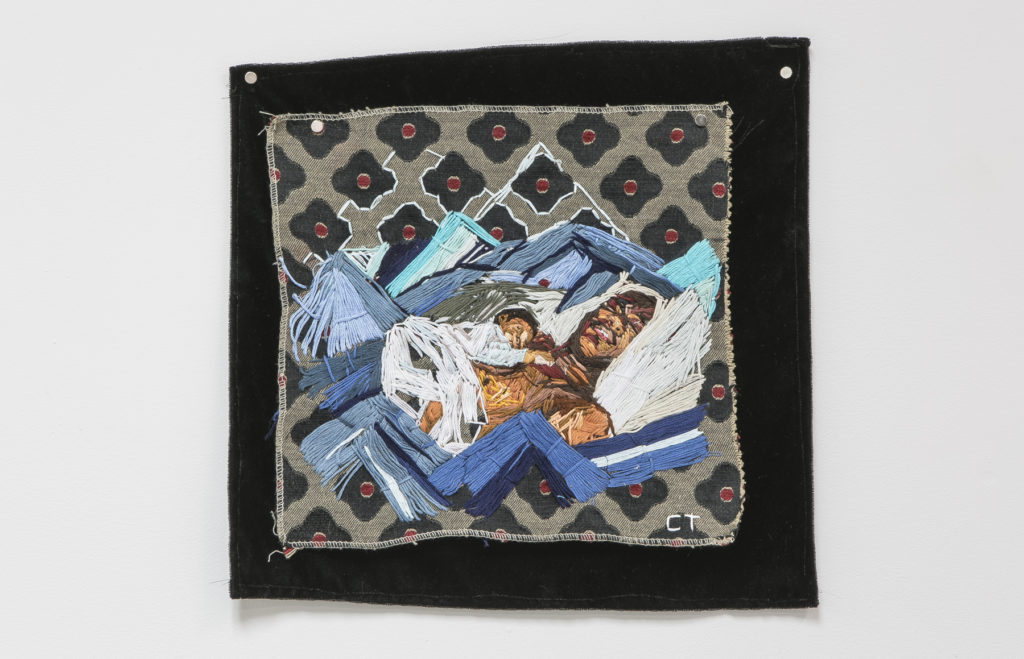 Walking into Chicago's Goldfinch Projects gallery space, a cluster of paintings greet and orient viewers in the interior of a Black family's home: an infant sleeping on the chest of a resting father, a smiling mother and her two children, a little Black boy and his father seated at the kitchen table. The paintings are distinctive for their carefully weaved fibers and fabrics, each of which contributes a unique tactility to the work. The intricate layering of color in the faces of the subjects resemble rough brushstrokes that capture the high and low lights of Black skin. They have an unfinished, imperfect quality, with jagged edges and loose threads that fall outside the frame. These works comprise Fractured Reality, the second solo exhibition of work by Chanel Thomas. In it, Thomas channels nostalgia and isolation into a series of embroidered, mixed media paintings that meditate on the complexities of the Black family and highlight the dense tangle of threads that entail the process of becoming.
Born and raised in Chicago, twenty-seven-year-old Thomas began her artistic career as an educator, teaching in the city's public schools after completing her undergraduate degree in Fine Arts and Art Education at the School of the Art Institute of Chicago (SAIC) in 2014. Her early inclination towards art was the result of her older brother's love for graffiti and the impression of a high school art teacher who introduced her to the work of Darrel Morris, an SAIC alumni whose embroidered paintings served as a prompt for a class assignment. This project sparked a process that Thomas would take to intensely, creating an entire portfolio of work that opened the door for her time at SAIC and her current position in Yale's 2020 MFA painting program.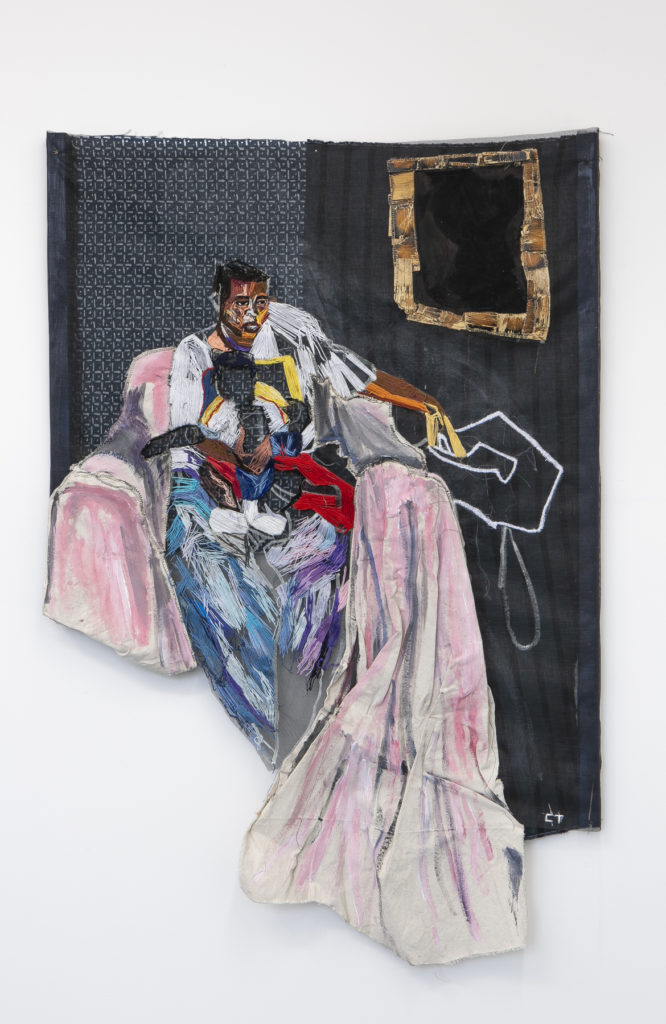 Thomas' immediate frame of reference is her family: "I am very happy that the first embroidery project I did focused on family. It continues to be a way to elevate moments with them." Her works evoke memories one might recall flipping through their own family photo album, with those pictures of vibrant domestic interiors that tell something about the individuals who inhabit them. Thomas uses painting to honor ordinary, intimate family moments, treating them carefully and reflectively. In A mother who had no mother (2018), the central figure is seated on a lush, pink chair as its fabric hangs below the frame. The outline of small child's figure rests in her lap, while a dark, empty frame, constructed on top of window mesh hovers above them. This work derives from an old photograph of Thomas and her mother, yet Thomas intentionally omits herself in homage to her mother's strength, sacrifice, and persistence. Speaking of the project, Thomas continues, "How do you learn how to be something if you never had an example? How do you learn how to be nurturing? She would use her story to remind us to be appreciative of her and I do not know what I would do or the type of person I would be if I did not have that guidance." Thomas reminds us that the Black home is a multifarious thing. It can be tender, loving, supportive, but can also play host to cruelty and harshness. She turns inward to further consider how this nuance has impacted her personal identity.
Alongside these reflections on the formative influence of family, Thomas' current body of work reveals a deep desire to reconcile her queerness with her faith. Where she does not appear in her mother's lap, she emerges in perhaps the most striking work in the show, a life-sized, self-portrait entitled, Colossians 3:9 (2018). The work takes its title from a biblical scripture that urges one to shed the self anew. Thomas materializes the scripture's symbolism by showing her likeness splitting within a restrictive architectural frame. A fuchsia-colored fabric drapes along her side and contrasts with a grey-blue pant. Amidst the multicolored threads that comprise her face—a new visage—one stitched onto the previously deployed window mesh protrudes from the painting's surface. Thomas abstracts the core of her figure, representing her bare chest disjointed through loosely assembled fibers. Raised a Jehovah's Witness, Thomas describes the challenge of negotiating staunch religious ideals and the reality of her queer, Black body: "The way I dress and the way I carry myself has seemed to always cause people to feel stumbled by me. Trying to practice the faith was always a challenge because I could not fully be myself, trying to put on a new personality to make people feel more comfortable." She begins to fashion herself in an image of her own making, using the work to translate years of body dysphoria embracing a possibility that it will be as reparative for others as it is for her.
Fractured Reality is a nod to artist Romare Bearden, who cultural critic bell hooks describes as ". . .having dared to make use of every image of black life available to his creative imagination."1 In the introduction of her seminal text, Art on My Mind, hooks discusses the way Bearden's artistic practice expanded once he shifted his focus from Eurocentric subjectivity to "his ancestral legacy [and] the personal politics of African-American identity and relationships." Thomas build on the goals of Bearden and works amongst other emerging artists, like Tschabalala Self and Devan Shimoyama, whose multimedia paintings draw from the rich repository of Black life, culture, and people.
---
Chanel Chiffon Thomas: Fractured Reality ran at Goldfinch Gallery from January 13 until February 23, 2019.