March 6th, 2014
03.06.2014
Christopher Wool: The Art Institute of Chicago
Organized by the Guggenheim museum at the Art Institute of Chicago, a massive exhibition of Christopher Wool's paintings has traveled from New York, after just having been on view, to the city that Wool considers his hometown. As a kind of somber homecoming, the show seems to bring with it a message as stated by Wool's most famous painting, the phrase: "SELL THE HOUSE SELL THE CAR SELL THE KIDS," a quote from Francis Ford Coppola's Apocalypse Now. Similar to his other text works in the past, the pieces on view employ mostly ominous phrases – the words stenciled onto the large aluminum surfaces with black enamel paint is done such in a way that disorders the text, while still keeping it legible – further adding to the dystopian atmosphere created by the massive signage. At large, Wool earned his fame for these portentous word paintings, bred in the punk environment of 1980's New York and embodying the anarchic spirit of the time. The writing sets the tone for the space as a kind of soft dreadful chant, as if to be read aloud while viewing the other works in the show, simultaneously transforming the exhibition into a kind of image all its own: "RUN DOG EAT DOG", "TRBL"…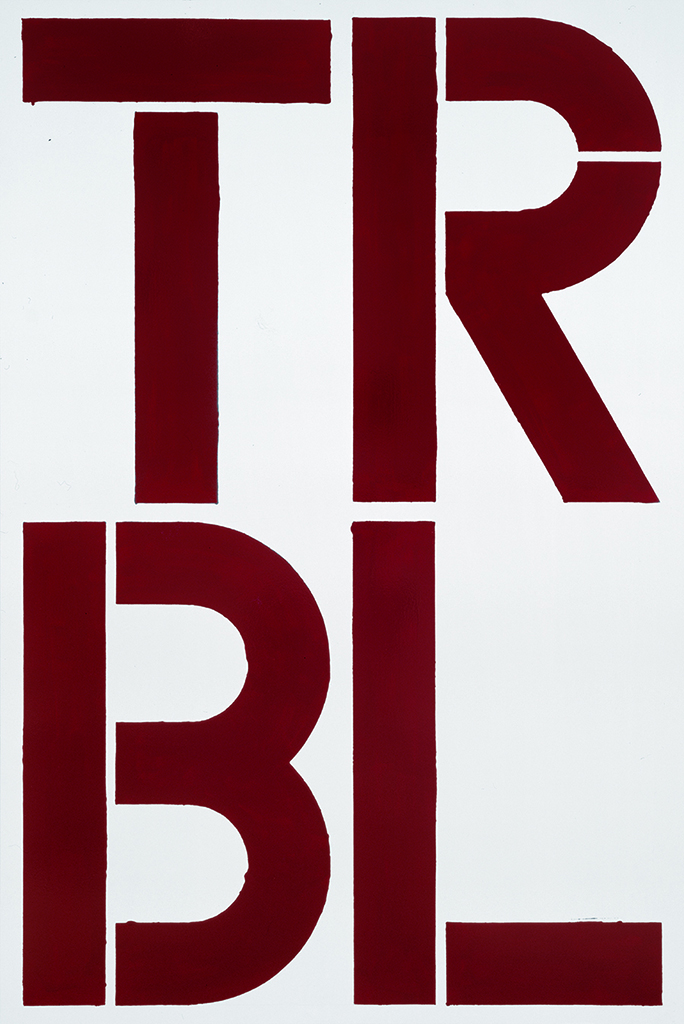 The abstract works in the exhibition that form the greater part of Wool's practice are mostly untitled, complex explorations of line and negative space. With no words or even alphabets present in these paintings whatsoever, they seem closely related, but simultaneously distinct from his legible text pieces. The separation between the two gives the impression that one is looking at enlarged versions of a punk zine, or perhaps even a publishing format, where the images are on one page and the text placed on the opposite page, to be viewed side by side.
Also strongly referenced, is the gritty aesthetic of street graffiti and defacement within the abstract paintings. Largely comprised of aggressive gestures of application and erasure, the use of spray paint, especially in Maggie's Brain and other works, is carelessly applied in circles and other haphazard shapes of crude articulations. The process stresses a kind of mutinous attitude of unprocessed articulation. At the same time, however thwarting the raw expressive quality of the painting, are other mechanical processes or commercial tools, forcing the work to go in a different direction. Rollers, silkscreens, as well as the use of digital manipulation in his most recent works starting in the 2000s, curve the initial unconfined human gesture into a world more subjected to an automatic procedure. In other words, it is almost as if Wool seems to be saying that in the battle between man versus machine, neither gets to win. Rather humanity thrives in an in-between place where choice exists, but not without mediation and limitation.
In his latest works, found in the final room of the exhibit, Wool appears to present his most evolved rendition of this idea. These heavily worked-through paintings, made mostly on linen and paper, are busy in a way that seems indivisible. They have undergone many layers of alteration and arrangement, including Photoshop modifications, and even contain recycled elements of his earlier paintings. It is apparent that these works come together after much editing, but it is impossible to dissect its element or identify its point of origin.
The exposed and bleak landscape of what feels like Chicago's coldest winter seems to have transposed itself directly onto the walls of Regenstein Hall in this exhibition – the paintings looming over their viewers with a snowy vacuity, creating what can only be described as a post–apocalyptic environment, ultimately undoing and reversing itself, within the space of the gallery.
---
Christopher Wool at the Art Institute of Chicago runs through May 11, 2014.