April 28th, 2014
04.28.2014
Cultural Explorations: Essl Museum
Museum exhibitions that focus on cultural identity often represent a predefined paradigm, where in a created space, cultural characteristics are objectified through the artwork and artifacts displayed. In the Essl Museum's most recent exhibition Made in Austria, these traits are communicated by a private collector's taste of contemporary artwork, with an attempt to enlighten the visitor on what it is that makes Austrian postwar art culturally specific.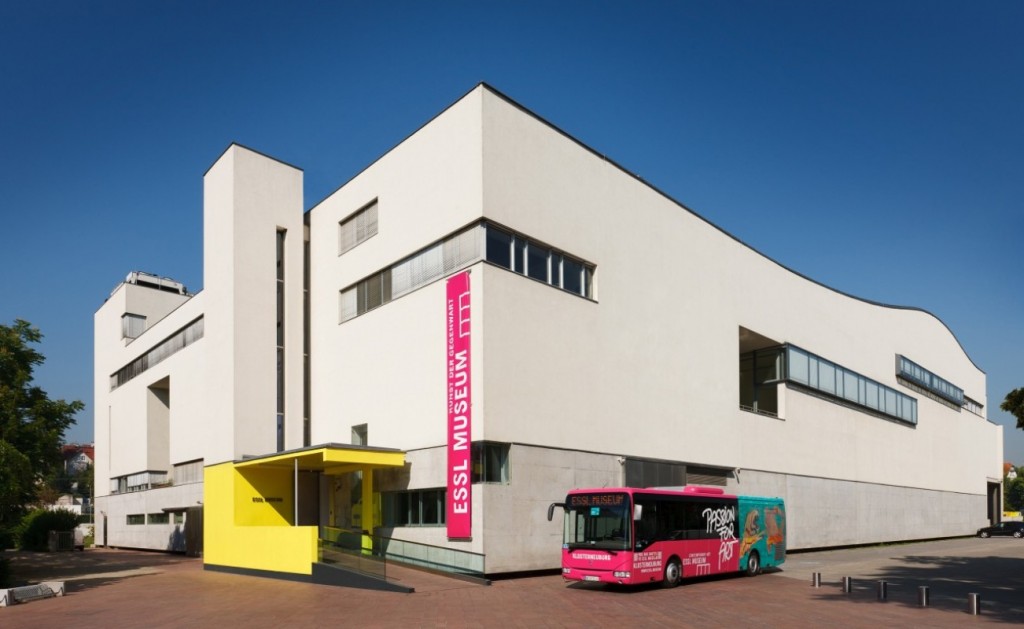 To give a little background on how this show came to existence, one must look at the history of the private museum that opened fifteen years ago. Surrounded by natural scenery next to the Danube, twenty minutes outside of downtown Vienna in Klosterneuberg, the Essl Museum was designed by Austrian architect Hans Tesar. The museum exemplifies a modern architectural reference to Le Corbusier, with clean lines, panoramic glass windows and a cool, airy interior that allows the artwork to breathe. Private collector vis-a-vis curator of this particular show, Karlheinz Essl, began building the museum's art collection with his wife Agnes in the late 1950s. Perhaps a typical, but none-the-less romantic, story of a young couple interested in the arts, the two started out modestly purchasing artwork when their finances allowed, now with a collection of over 7,000 pieces. With focus placed on art production in their homeland, the Essls befriended and supported all seventeen Austrian artists whose work is featured in Made in Austria. Through an intimate look at Essl's own perceptions of Austrian art, an awareness is brought to how each artist has contributed to contemporary discourse, both locally and internationally.
Essl states that, "Museums are the collective cultural memory of a society." Regrettably, while walking through each of the seven galleries that exhibit this Austrian work, there is no unified theme that communicates an aesthetic consistency of Austrian culture or memory. Rather, each artist observes their surrounding world through the process of abstraction, perceptions of nature, or explorations in spirituality. One can pass vibrant splashes of color on canvas and black and white photography in this exhibition that could similarly exist in any locale.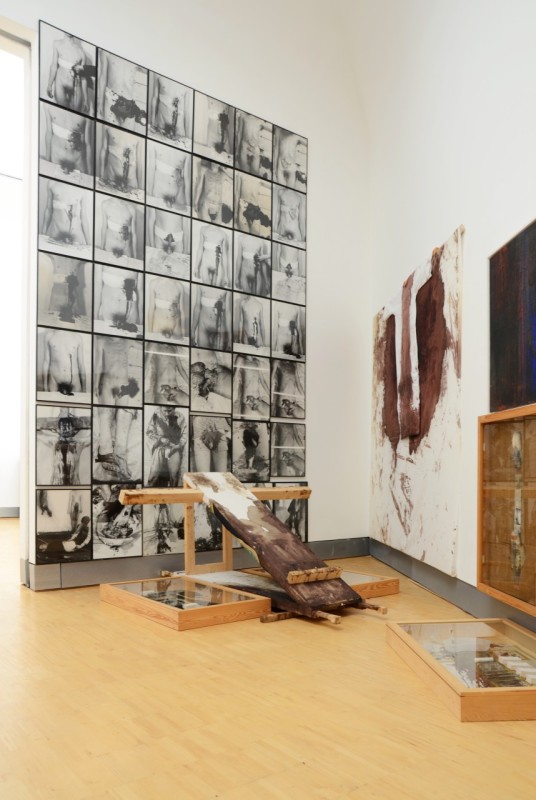 However indistinct each artist is from one another in this show, featured Actionist Hermann Nitsch does evoke themes of memory specific to Austria and deserves attention. It is here that the viewer is forced to stop and look in shock and awe at what postwar Austria had artistically produced. In the last gallery, Essl deliberately reserved this "chapel-like" space for Nitsch with a modified musical score from the artist playing in the background to reinforce a Gesamtkunstwerk of sound, image, and performance – all in the context of the artist's explorations on Sacrality and theatricality. Most notably, the installation provokes the viewer in a variety of media; blood soaked t-shirts hang above wooden constructed altars, referencing past religious ritual happenings. In the corner, a repeating video loop depicts people digging their hands through the blood-soaked entrails of animals. Lastly, a series of black and white photographs are displayed on the far wall, portraying Nitsch inflicting wounds on his own body while crucified to a Cross. The latter serves as documentation of his performative work or actions, which reflect the sensory as an aesthetic happening.
It is necessary to contextualize the Actionist work in exploring how Essl aids in expressing the cultural memory of a nation – though, beyond the statement of the international impact that Nitsch has had an on other artists, the viewer is left with nothing that explains the connection between culture, place, and artist. Primarily using the body as medium, Wiener Aktionismus or Viennese Actionism is a movement linked to the repressed emotions, tied to the underlying amnesia of post-fascist Austria. As an allegory for death as creative rebirth, Nitsch's work places conceptual emphasis on extremities that allows for the repressive to be viewable – an expressive force that also offers a distinct vitality.
A definition of what Austrian art is through its current display in the exhibition seems to end where the artist lived, where the artwork was produced, and the rapport that has formed between collector and artist. Overall, the exhibition conveys an extremely interesting insight on the intimate and long-lasting relationships formed between collector and artist, as well as how through aesthetic tastes, a private collector has chosen to represent Austrian culture through contemporary art.
---
Made in Austria at the Essl Museum runs through August 24, 2014.