September 17th, 2015
09.17.2015
David Adjaye: A Space for Untold Stories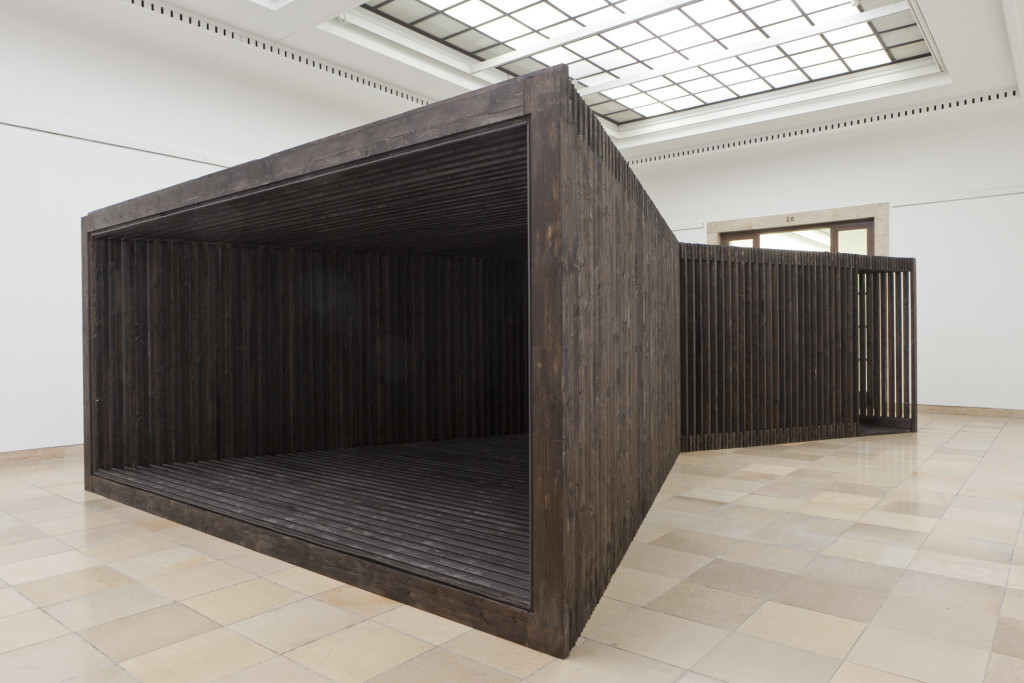 In September of 2013, I found myself on a public bus in Warsaw, Poland, listening to the tiny reverberations of Kanye West's recently released "New Slaves" coming from the headphones of a young Polish man beside me. The purpose of my trip to Warsaw was to visit the newly opened Museum of the History of Polish Jews, an institution designed to place emphasis on the history of Jewish lives, a story often overshadowed by their deaths en-masse in the Holocaust.
As I sat on the public bus on the first day of my voyage I could not help but grin stupidly, perhaps naïvely, at the concept of having arrived from New York to this overwhelmingly pale-faced nation to hear the music of one of America's most divisive black rappers. I would spend the next three months in Europe with an increasing interest in the United States. From Kanye in Poland, to Cowboy-Indian window displays in rural France, I began to absorb the meaning of globalization.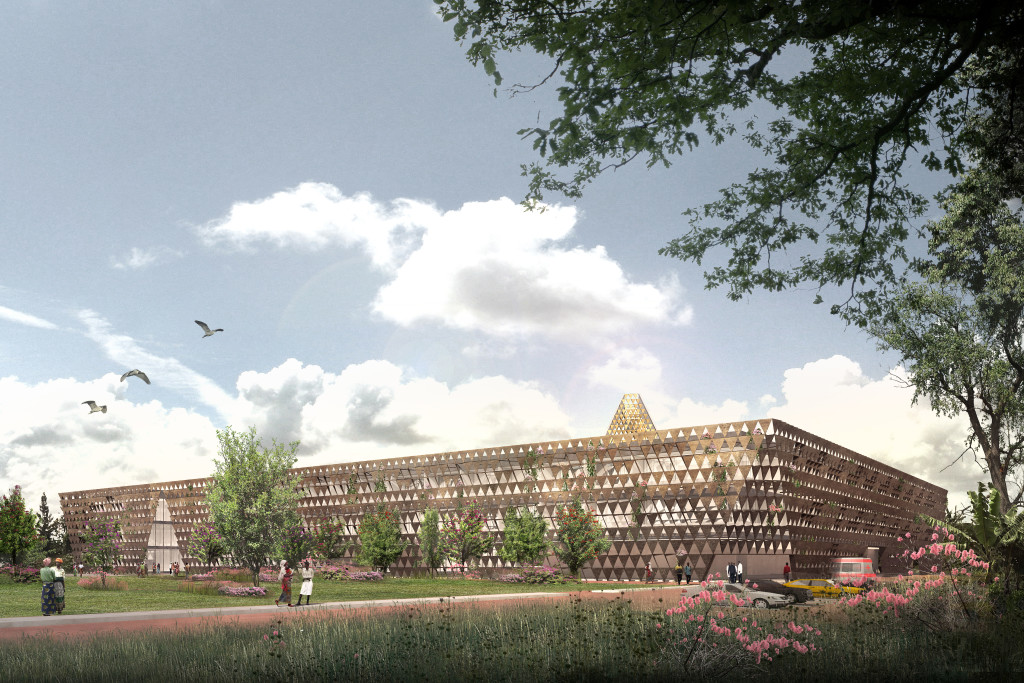 This is a concept ingrained in architect David Adjaye's practice. As the son of a Ghanian diplomat, Adjaye was born in Tanzania, and lived briefly in Egypt, Yemen, and Lebanon before his family settled in Britain when he was just nine. Today, Adjaye Associates has offices in Accra, Berlin, London, and New York, and has completed buildings in four continents. He has proven to be prolific in his style, thoughtful design, and list of accomplishments at the age of 48.
Initially exhibited at the Haus der Kunst as Form, Heft, Material, the work arrives in Chicago with a new title. Co-curated by Okwui Enwezor, Director at the Haus der Kunst, and Zoë Ryan, Chair and Curator of Architecture and Design the Art Institute, a survey exhibition of Adjaye's work, Making Place: The Architecture of David Adjaye, opens to the public at the museum this weekend. As construction of his design for the National Museum of African American History and Culture in Washington D.C. nears its completion, slated for next year, and news of Adjaye's selection to redesign the Studio Museum in Harlem, where a solo exhibition of his work Making Public Buildings was presented in 2007, the Art Institute's exhibition context is important to Adjaye's buildings, which continue to identify him in the United States. Adjaye's survey at the Art Institute spans two decades of his practice—including sketches, models, furniture, and other documentation of his sprawling career.
The National Museum of African American History and Culture (NMAAHC) will reside in the last available space for a museum on the National Mall. It will not look like the others. Adjaye is the principal designer for the monumental project, as a part of Freelon Adjaye Bond/SmithGroup. Adjaye's design is inspired by the work of Olówè of Isè (1873–1938), the highly regarded Yoruba sculptor whose signature corona forms adorned the heads of standing sculptures that served as veranda posts. Combined with this form, the three upward-angled tiers that construct the NMAAHC, cladded in bronze colored aluminum panels, pay homage to the ironwork of Charleston and New Orleans slaves. Olówè of Isè is a fitting source—now widely considered by art historians as a master sculptor and innovator, he was once nameless, even as his work was acquired by the British Museum during is lifetime, in 1925. The very existence of the NMAAHC itself is an act of naming, registering, and acknowledging the individual persons, events, and collective culture of African Americans that have defined America's history. This building comes at a time when names carry greater weight, in an age where a new hash-tag bearing the name of a black individual killed by police brutality appears at an ever more rapid rate.
The historical significance of this building is not lost on Adjaye, whose primary interests lie in the African Diaspora. As construction continues in Washington D.C., plans are being drawn for Adjaye's Cape Coast Slavery Museum, at the site of the Cape Coast Castle, one of many slave fortresses through which Africans passed in the Transatlantic Slave Trade. Previous projects include African Metropolitan Architecture, Adjaye's decade long research endeavor of documenting the architecture of fifty-four post-colonial cities on the African continent. Each city serves as an example of the complicated negotiation of vernacular architecture and colonial styles, and Adjaye's exhaustive documentation creates an encyclopedia of an otherwise overlooked field of study. Through this work, Adjaye fills the void of an architectural survey of the continent, creating in the process a reference guide that he himself did not have.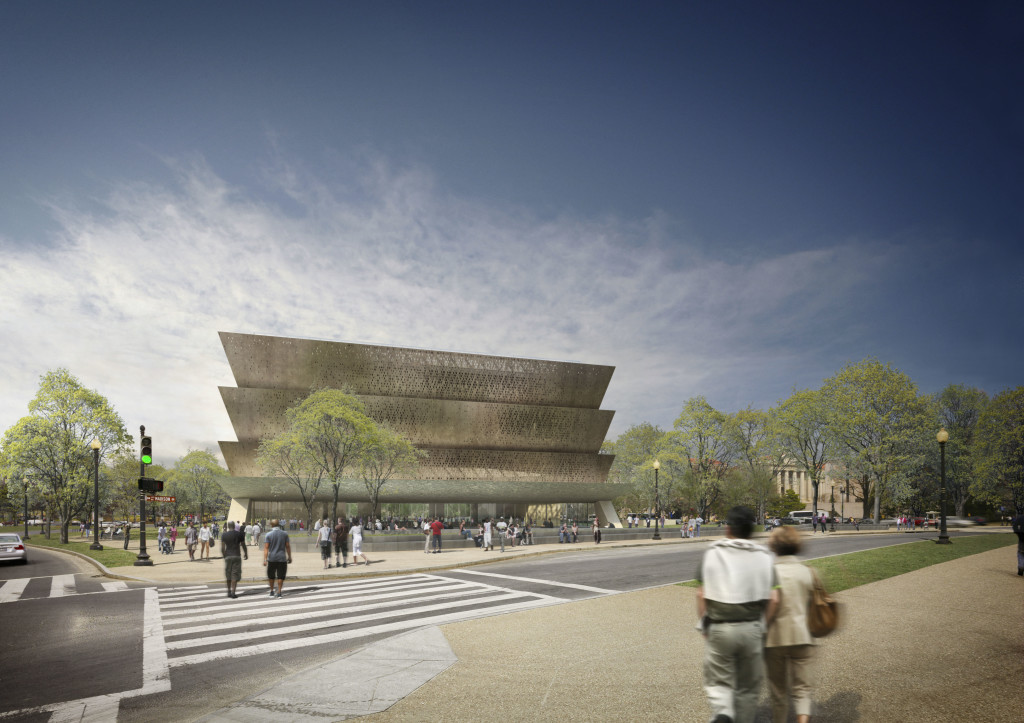 The social consciousness of an African architect creating built environments for untold stories should not be taken lightly, especially in the United States. We, as a nation, are undergoing a long overdue unearthing of untold stories; we are beginning to shine lights on histories that should never have been silenced, yet continue to be ignored. As confederate flags come down, we have to continue to confront the fabric of this nation's reality. That reality is the roughly 700,000 African slaves that were in the United States when the cornerstone of the White House was laid in 1792. Two hundred and seventeen years later, and one hundred years after the efforts to establish such an institution, the NMAAHC nears its completion.
It takes a certain distance to allow an individual such as Adjaye to carry the weight of America's sinister history in the design of NMAAHC. But his focus remains one of practical enthusiasm. Adjaye was quoted in a 2013 New Yorker feature as saying, "This building, coming on the Mall in a way most people could never have believed, proves to me how more and more amazing America is, even with its difficulties, in dealing with traumatic issues and working through them. The American civil-rights movement was critical to the way the independence movement happened in Africa, and I think this building could provide a model to Africa about the complexity of history. Things often come at the time they're meant to come, even if they seem late."
While many would argue in the midst of such deep rooted and institutionalized disparity between blacks and whites in this country, it is difficult to deny the forward march of history. Yet, similarly to the Museum of the History of Polish Jews in Warsaw, the NMAAHC focuses not on a single historical period of gross injustice, but on the lives and the living of a culture so often defined solely by tragedy. Over 33,000 artifacts are currently in the museums collection and will fill the framework of a known history with the story of African Americans as it continues to be told.
In her essay "Imagined Topographies," included in Adjaye Architecture Africa. Nana Oforiatta Ayim writes, "Artists can harmonize chaos to present new topographies of past-present-future so that we can imagine what is not yet possible and, by imagining it, bring it into being."1 While Ayim is speaking specifically of select contemporary African artists, her words can be applied to Adjaye's practice with ease. The very act of building is a positive act, creating space where there was once none, a premise that speaks to the possible future of equality.
---
Making Place: The Architecture of David Adjaye at the Art Institute of Chicago runs through January 3, 2016.