November 29th, 2018
11.29.2018
David Hockney: Time and More, Space and More…

In the Gallery of Modern Art in Glasgow, Scotland hangs David Hockney's 1995 photograph, Photography is Dead, Long Live Painting. The image depicts two purple vases of sunflowers, one captured from life, the other its rendering in watercolor. I have always been particularly fond of this work, a sort of Joseph Kosuth to be enjoyed on a sunny day, its title a reminder that conceptualism (despite its many mandates) can be enjoyed light-heartedly. The work also reemphasizes Hockney's range as an artist and a tenacity for art making that consistently invigorates his perennial years.
More than two decades later, Hockney appears to still embrace much of this fortitude. His exhibition Time and More, Space and More… at Richard Gray Gallery's Warehouse space sees an artist open to experimentation and in possession of a fervent desire to envelop the visual world around him. Hockney's current zeitgeist may be best encapsulated in a short interview which is available to visitors upon entering the gallery. At 81, Hockney seems unencumbered by age, openly mocking the warnings emblazoned on the cigarettes he enjoys daily and embracing the joie de vivre that informed the later years of Claude Monet. It is apparent that Monet has a strong influence over Hockney's recent work, though heavily lens based, Hockney is continually drawn to large scale depictions of the natural world. The Four Seasons, Woldgate Woods (Spring 2011, Summer 2010, Autumn 2010, Winter 2010), (2010-11) surrounds the viewer with images of the changing seasons in the Yorkshire countryside, each wall capturing a slow walk down the same road through a series of LED screens. The soft light of spring gives way to the bareness of winter as the viewer turns in place. Though technologically breathtaking, combining multiple moments within the same time and space, the work—much like Rothko's chapel—never negates the presence of the artist's hand. Hockney's desire to experiment with mediums and presentation is always clearly on display. By walking through Woldgate Woods, the viewer is acutely aware that this is time shared with Hockney as much as it is about one's own transcendental experience.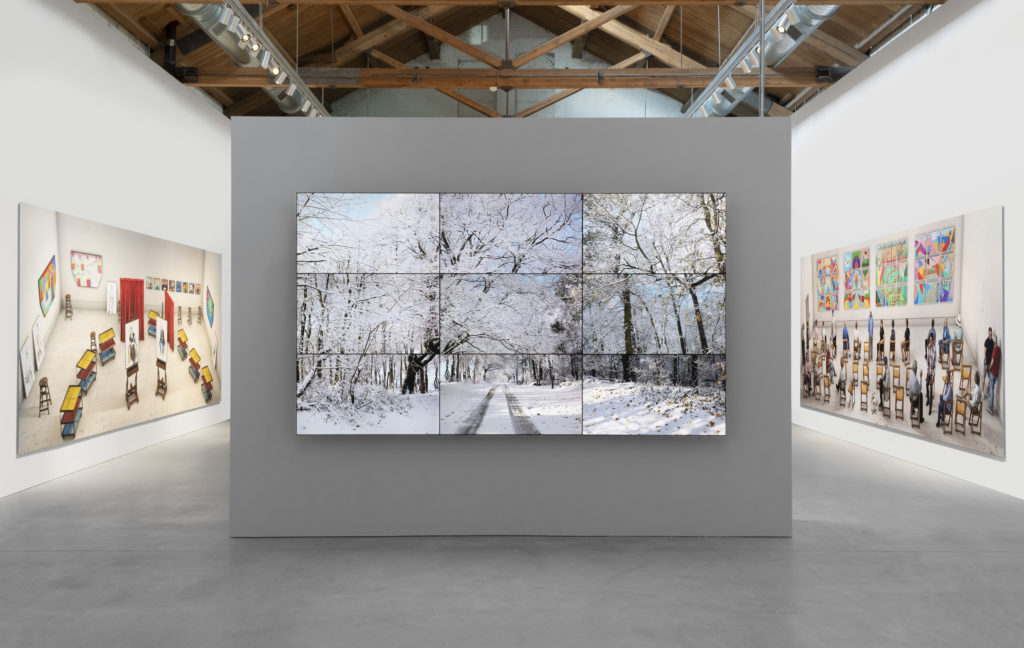 In addition to his video work, the survey features several of Hockney's photo drawings. Making use of computer manipulation and painterly technique, Hockney has created a variety of large-scale images, many of which seem to draw inspiration from eighteenth and nineteenth century salon paintings. Visually captivating and imposing in scale, these photo drawings often incorporate Hockney's own work, fixed upon the walls of the computer-generated gallery spaces or placed on easels, the paintings observed and contemplated by onlookers whose digitally manufactured features fall only slightly short of photorealism. Like Four Seasons, it is abundantly clear that Hockney is once again experimenting with his deep admiration for space, both physically and conceptually. While the photo drawings are impressive in terms of technological achievement, I cannot help but think of Hockney's oeuvre which now finds itself reanimated within a digital landscape. Hockney has always been a master of spatiality, his eye for color, line, and depth pushed Pop Art in the 1960s into the realm of minimalism, melding both surrealist and documentary imagery into a condensed representation of California's sun-drenched dreamscapes.
Now in his later years, it seems as if Hockney is taking stock of such scenes, his attention now focused on spatial changes rather than recording scenery. The rooms full of digital people in awe of Hockney's career may seem self-serving, a possibility I found myself slightly disheartened with. Are we as the viewer meant to consider the artwork at hand or the career of the distinguished artist in retrospect? Perhaps this is Hockney's current station as a later-career artist, his presence at the opening of this exhibition drawing tremendous buzz and a loyal fanbase who fill the gallery daily. While I may find myself impatient at times with artistic fandoms—loudly declaring a work or artist to ascribe to every manner of art historical term one may have acquired in their lifetime—it is equally encouraging to see an artist continue to rouse passion whether for himself or his audience. It is clear in this exhibition that Hockney has not reached a point of complacency as an artist, merely churning out works for commercial gain or riding artistic success towards mainstream celebrity. While one's appreciation of Hockney's work like any artwork is completely subjective, Hockney's love of life and admiration for the spaces he inhabits is worthy of imitation.

In the gallery interview, Hockney emphasizes that his love of life derives from the youthful energy he captures while painting. Much like the Impressionists that preceded him, Hockney aims to capture the immeasurable and seems more than satisfied in that perpetual pursuit. While his methods have evolved from his most iconic works, his passions and ambitions remain unchanged. Reflecting on his 1995 photograph, one cannot help but smile at Hockney's wordplay. Is photography truly dead? Is painting the final form of this eminent artist? Or perhaps, some other truth exists? Regardless of opinion, what clearly remains irrefutable in the artist's mind is: Long live David Hockney.
---
David Hockney: Time and More, Space and More… ran at the Richard Gray Gallery Warehouse from September 13 to November 30, 2018