October 9th, 2012
10.09.2012
EXPO CHICAGO/2012 Garners Widespread Enthusiasm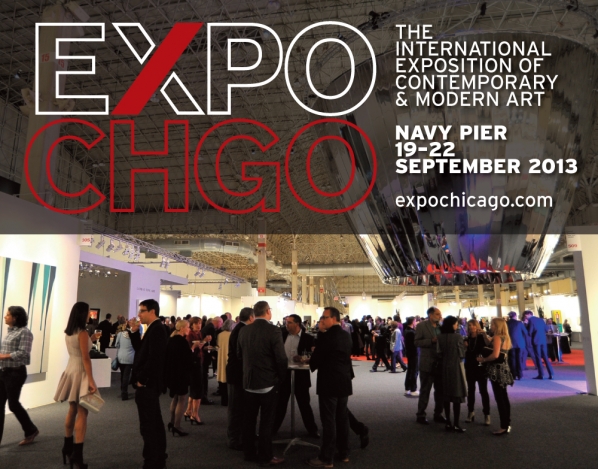 EXPO CHICAGO/2012 GARNERS WIDESPREAD ENTHUSIASM AND SUPPORT FROM DEALERS, COLLECTORS AND CULTURAL INSTITUTIONS
27,000 People Attended the Inaugural Exposition
EXPO CHICAGO Returns to Navy Pier's Festival Hall
September 19-22, 2013

(Chicago) EXPO CHICAGO, The International Exposition of Contemporary and Modern Art welcomed more than 27,000 people to the inaugural event that featured 120 exhibitors from around the world and a diverse roster of programming and events including special tours, exhibitions and /Dialogues—a lecture series with leading artists, curators and collectors.
The city's business, civic and cultural leaders including Mayor Rahm Emanuel, were on hand Wednesday, September 19 for Vernissage, the opening night preview benefiting the Museum of Contemporary Art Chicago. The event raised $375,000 and kicked-off important sales for many of the galleries. Artinfo's Julia Halperin wrote of the evening, "Civic pride is not a feeling one normally associates with art fairs, but it informed almost every element of the inaugural EXPO CHICAGO's Vernissage".
The fair was enhanced by partnerships with leading organizations and institutions including The Art Institute of Chicago, the School of the Art Institute of Chicago,Museum of Contemporary Art Chicago, the Arts Club of Chicago, The Renaissance Society, Hyde Park Art Center, threewalls, International Sculpture Center, Aperture, Contemporary Art Museum St. Louis, and Chicago Children's Museum. These institutions coordinated special exhibitions, tours and events both on and off site that inspired conversation and enhanced the already remarkable work on display.
"EXPO CHICAGO proved to be an impressive fair that brought the international art world together to celebrate Chicago as a not-to-miss art destination," said MCA Pritzker Director Madeleine Grynsztejn. "The caliber of the galleries and artists represented was phenomenal. The Museum of Contemporary Art was honored to be part of the fair with Vernissage, the hugely successful preview party organized by talented MCA Trustees who also acquired great artworks, some of which are promised gifts to institutions right here in Chicago."
Collectors, dealers and critics alike agreed that EXPO has returned Chicago to its legacy of hosting a prominent art exposition that does justice to the city's currently thriving cultural institutions and gallery scene. During his /Dialogues talk on the opening day of the fair, New York Magazine's Jerry Saltz, exclaimed, "From now on art people should flock to Chicago."
International galleries praised the inaugural fair, specifically for the excellence of its production and for sales of outstanding works of art.
David Juda of Annely Juda Fine Art (London) said of EXPO CHICAGO, "It was a well-organized and beautiful fair. I hope the fair can build on this year for the future and for Chicago."
"The good fair production and return to the pier location, together with the design by Studio Gang Architects, evoked, on a smaller scale, the feeling of the prominent past Chicago fairs", said Mathias Rastorfer of Galerie Gmurzynska (Zurich, St. Moritz, Zug). "This fair deserves more time to develop and we are looking forward to the next edition of EXPO CHICAGO."
London-based Max Wigram Gallery sold out of works by Mexican conceptual artist Jose Dávila on the first day. "We did particularly well at EXPO CHICAGO. We do about 10 fairs annually and thought this one was particularly well organized," said James Fox. "It is rare for us to sell as well as we did during the first hour, and we maintained sales momentum throughout. Approximately 90% of our sales were made to Chicago collectors; we found those Chicagoans to be particularly deliberate and discerning."
Raphaël Sachsenberg, Associate Director of Galerie Daniel Templon (Paris) said of his experience at the exposition, "We are very happy with EXPO CHICAGO. The collectors were looking for long-term relationships so we are looking forward to coming back next year. We sold pieces to collectors from the East Coast and Texas."
Daniel Buchholz of Galerie Buchholz (Cologne) commented that the experience was positive and sales were good. "We sold works by Isa Genzken, Florian Pumhösl, Henrik Olesen, Danh Vo and R.H. Quaytman," he said. "For us, it was a successful fair."
Additional sales reported at EXPO include the following: Rhona Hoffman Gallery(Chicago) sold works by Mickalene Thomas, Jacob Hashimoto, Judy Legerwood, Todd Chilton and Vito Acconci; Haunch of Venison (London/New York) sold works by Giuseppe Penone, Ahmed Alsoudani, Isca Greenfield-Sanders and Gonkar Gyatso;Anthony Meier Fine Arts (San Francisco) sold works by Donald Moffett, Sarah Cain, Gary Simmons and photos by Jim Hodges; Bryce Wolkowitz Gallery (New York) sold works by Jim Campbell and David Opdyke; Nyehaus (New York) sold pieces by Peter Alexander, Brian Wills and Judy Chicago; Galerie Forsblom (Helsinki) sold a Jason Martin during the first 30 minutes of the opening benefit; New York-based Leo Koenig Inc. (New York) sold numerous works by Nicole Eisenman; New York and Shanghai-based James Cohan Gallery sold a work by Yun-Fei Ji; Galerie Daniel Templon(Paris) sold works by Joel Shapiro, Kehinde Wiley and Ivan Navarro; William Shearburn(St. Louis) sold work by Mel Bochner; Cernuda Arte (Coral Gables) sold several pieces including one by René Portocarrero; Alan Koppel Gallery (Chicago) sold works by Larry Bell and Yayoi Kusama; Russell Bowan Art Advisory (Chicago) sold work by Christina Ramberg; THE MISSION (Chicago) sold work by Gustavo Diaz and Kavi Gupta (Chicago, Berlin) sold works by Theaster Gates, Angel Otero, Melanie Schiff and Tony Tassett as well as multiple pieces by Antonia Gurkovska.
Kavi Gupta of Kavi Gupta (Chicago, Berlin) commented on the high level of work and the gallery's sales at EXPO, "the fair looked great and the quality of material was really robust, particularly the selection of post-war pieces," he said. "It was the perfect fair for us."
"EXPO CHICAGO was a remarkable comeback. Chicago and Midwest collectors and museum professionals came out in strength," said Paul Gray of Richard Gray Gallery (Chicago). "This was reflected in our opening day sales of a $1 million early Roy Lichtenstein as well as sales of six-figure pieces by Barcelona-based Jaume Plensa. The foundation was laid to build upon the success of the first year."
Jessica Silverman of Jessica Silverman Gallery (San Francisco) remarked, "Chicago collectors had no trouble identifying the intelligence of the work of Hayal Pozanti. We sold out our booth. Jessica Silverman Gallery looks very forward to participating in EXPO CHICAGO in 2013."
Other dealers shared enthusiastic reactions about their experience at EXPO CHICAGO, noting the energy of the city. "We are in love with Chicago," commented Leo Koenig of Leo Koenig Inc. (New York). "EXPO CHICAGO is a beautiful show, with a refined aesthetic and sophisticated audience. There is a very clear sense of teamwork here, with strong partnerships from exceptional institutions, dedicated collectors and the EXPO CHICAGO staff. We are looking forward to making EXPO CHICAGO one of our key annual art fair destinations."
Collectors came from around the country to visit EXPO, participate in the extensive list of VIP events, and make new acquisitions. "EXPO CHICAGO could not have been more handsome and the selection of galleries was excellent," said Lowell Pettit of Pettit Art Partners. "We had a wonderful time and I saw virtually everyone I would have expected to see. It definitely harkened back to the glory days of art fairs in Chicago. Everyone was in great spirits."
Eric Lefkofsky, a collector, agreed, "EXPO CHICAGO was a truly extraordinary event. In a valiant effort to once again reclaim Chicago's glory as a city that can host a world class art fair, EXPO delivered on all fronts."
Beyond the art on view, Navy Pier's Festival Hall itself was something to admire.Howard and Donna Stone, noted local collectors, commented, "The fair looked absolutely beautiful. It was beautifully designed. The wide aisles, lighting and walls were perfect. We hope that everything that followed the opening will be wonderful for EXPO CHICAGO and the city."
Massive Mylar installations by Studio Gang Architects, led by MacArthur Fellow Jeanne Gang, were suspended from the 55-foot ceilings of Festival Hall at Navy Pier. They reflected the exhibition's floor below, awing dealers and visitors, and reflecting the design-forward environment modeled after Chicago's gridline city plan.
"EXPO gave us the chance to experiment with ideas and materials in ways that are different from a permanent architecture project," said Margaret Cavenagh, AIA, Senior Managing Architect for Studio Gang Architects. "It was crucial to design a clear organization for the show to make it easy for visitors to see the art, meet up with friends, and still offer spaces to sit down and decompress. The Mylar cones suspended above the lounge and cafe spaces reflected the show around them but created completely different experiences when standing below them and looking up."
In addition to creating wide spaces for people to easily move through the fair, the environment also proved to be a fitting setting for EXPO's IN/SITU program. The IN/SITU program showcased large-scale and site-specific installations, organized by independent curator and critic Michael Ned Holte that situated art pieces in places throughout the exposition including the windows and in a special row of conference rooms built to house video works.
"EXPO CHICAGO was incredibly ambitious—especially for its inaugural presentation," said Holte. "I'm thrilled the IN/SITU program and my itinerant exhibition within the fair were part of that ambition, with extraordinary artists like Robert Barry and Tony Feher making major new works specifically for this context."
A key programming element of the inaugural year was EXPO /Dialogues, panel discussions, conversations and provocative artistic discourse with leading artists, curators, designers and arts professionals presented in partnership with the School of The Art Institute of Chicago. "EXPO Dialogues was a terrific way to engage Chicago's art communities in insightful conversations about contemporary art, as represented in the fair itself," said Lisa Wainwright, Dean of Faculty/Vice President of Academic Affairs at the School of the Art Institute of Chicago. "SAIC faculty members Michelle Grabner, Terry R. Myers, and James Elkins took part in Dialogues, along with many other established arts professionals: Jerry Saltz, Alec Soth, Byron Kim, Sterling Ruby. This participation speaks volumes about the enthusiasm for the inaugural EXPO."
More than 70 prominent Chicago leaders joined to form EXPO CHICAGO's inaugural Civic Committee, headed by Honorary Chair, Mayor Rahm Emanuel and Chair Jack Guthman. "Chicago's leaders in business and the arts have come together for this landmark event," said Guthman, commenting on the civic importance of the inaugural event. The Civic Committee provided outreach to local Chicago and greater Midwest business communities, acting as ambassadors for EXPO CHICAGO's extensive programming and institutional and community partnerships. Additionally, the Civic Committee supported EXPO's mission to bring Chicago back as a major international art destination—regionally, nationally and internationally – while building and fostering new partnerships and alliances.
"In this, our inaugural year, I am extremely proud of the overwhelming support that we received, the extraordinary work that was presented, the layout and design of the venue and the programming and partnerships that we created," said Tony Karman, President/Director of EXPO CHICAGO. "The response to EXPO was immediately positive and I am confident that we established a solid foundation on which to build upon. All of our efforts are focused on further refining the exposition and continuing our aggressive outreach to ensure that more international calendars are marked for the second annual EXPO CHICAGO in September 2013 at Navy Pier."
Art Expositions, LLC presents the second annual EXPO CHICAGO, The International Exposition of Contemporary and Modern Art, at Navy Pier's Festival Hall at 600 E. Grand Avenue, Sept. 19–22, 2013. This four-day art event features 100 leading international galleries and offers a curated blend of contemporary/modern art and design.
For more information on EXPO CHICAGO/2013, visit expochicago.com.