January 26th, 2016
01.26.2016
Gilbert & George: White Cube Bermondsey
Gilbert & George's current exhibition at White Cube in Bermondsey, entitled THE BANNERS, entails a series of ten new works, each of which is duplicated three times and colonizes the whole of the gallery space.
Evocative of protest banners, all thirty watercolor paper mounted on linen works follow the same template and scale. Each begins with a single text line in red paint stating "Gilbert and George say:" followed by a larger font in black spray can paint embracing a melange of subversive slogans such as "BAN RELIGION," "DECRIMINALISE SEX," and "FELLATIO FOR ALL". None of the works are framed; all are hung directly on to the walls by three brass eyelets fixed to each piece.
Gilbert & George are famous and infamous for their provocative and controversial visual lexicon and have built a strong tradition of eccentric, radical, and pugnacious cross-disciplinary art practice— embodying performance, sculpture, and painting since they first met as students at St Martin's School of Art in 1967. The idiosyncratic character of their work has been appreciated or depreciated by art enthusiasts worldwide through their innumerable landmark art exhibitions, such as the Turner Prize which they won (1986), the 51st Venice Biennale (2005), their major retrospective at Tate Modern (2007), among solo shows at the Brooklyn Museum of Art, New York and the Philadelphia Museum of Art (both in 2008).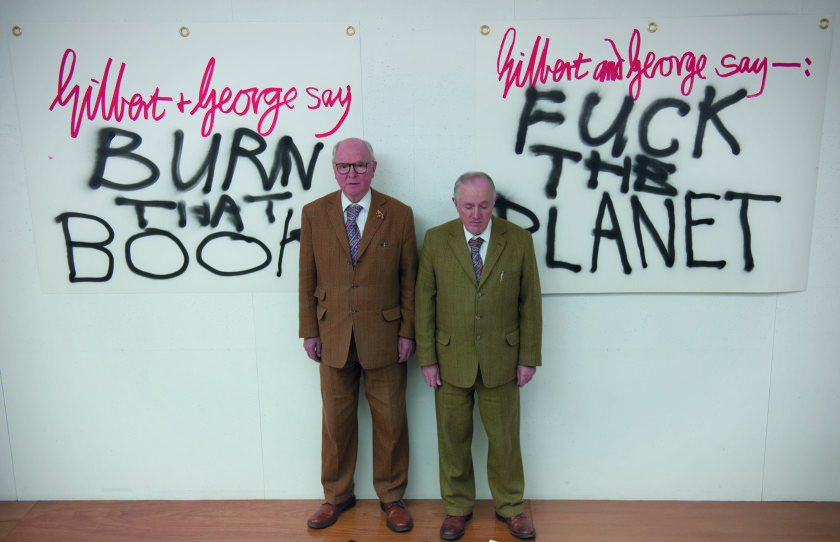 Despite their confrontational temperament, the duo is widely known for their conservative political stance and their occasional statements of praise for Margaret Thatcher and royalty. Gilbert & George say-: GOD SAVE THE QUEEN (2015) is a lucid proclamation openly rendering their conservatism. However, this orthodoxy is juxtaposed against the propensity to challenge the system through severe aphorisms that imitate anarchist tropes—the surfaces of the work act as an awkward oxymoron. It seems quite nebulous what Gilbert & George envisage to attain by occupying a blue-chip gallery space with anti-conformist banners in a pseudo-activist fashion. One could argue that Gilbert & George have turned the tables—by deconstructing the conception of activism to somehow reshape it, simulating its aesthetics toward a fashionable and, unsurprisingly, marketable product.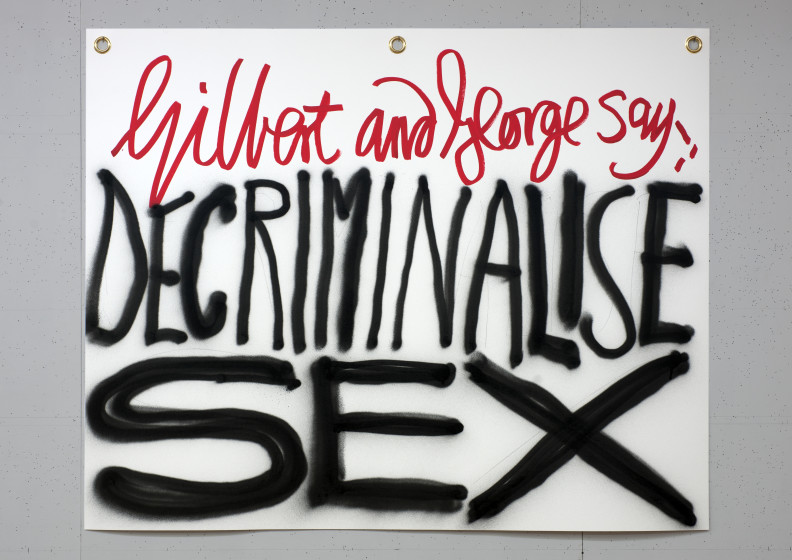 The fact that this exhibition has received mixed reviews is not coincidental—it has been said that this latest body of work appears outstandingly outdated and old-fashioned. Exhibiting these plain text pieces in a form of contemporary commandments—there are ten, after all— infusing them with rage and degradation hardly succeeds in achieving anything. Where the work fails to shock or challenge viewers, the slogans emerge as obsolete and almost fossilized through the prism of the current political affairs. While Gilbert and George say-: FUCK THE TEACHERS (2015) or Gilbert & George say-: BURN THAT BOOK (2015) the work functions at quite a distance from topical issues of socio-economic unrest, or contemporary artistic practice and discourse.
But if for a minute we forget Gilbert & George's elitism and their inevitable relationship with the international art market, their show has the potential to fabricate equivocal readings. Although the works on display could echo random graffiti found on any city's walls and protest banners, the work emanates a series of ironic and yet satirical statements inspired by the national and global political scene, while at the same time consciously ignoring prominent issues such as immigration, terrorism and war. Declarations such as "FUCK THE PLANET" could, in fact, fit perfectly well within the wider context of the decline of the earth and the degeneration of the human race. In this context, Gilbert & George suddenly become brutally topical, accentuating pragmatic, relentless facts. The viewer is consequently invited to decide which approach fits the bill.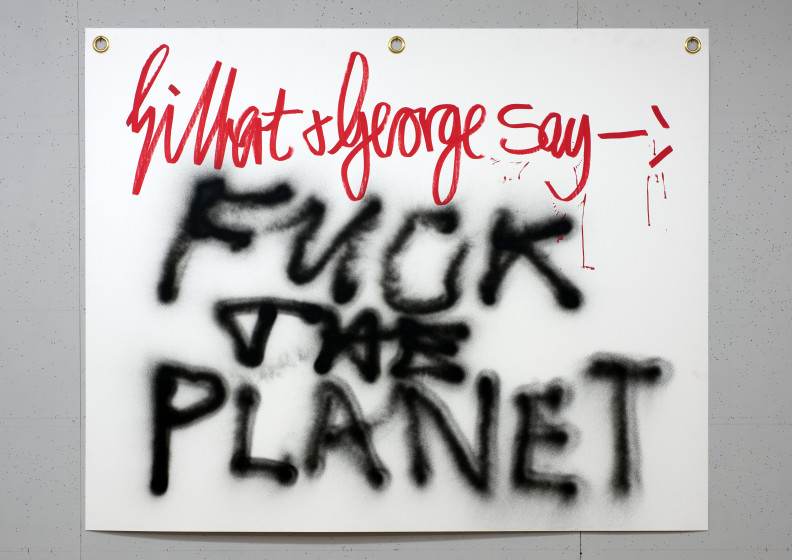 Despite any given circumstance, the two artists are present and continue to stimulate their audience in every possible way, playfully orienting and disorienting them towards objective and subjective realities.
---
Gilbert & George, THE BANNERS at White Cube Bermondsey London runs through January 24, 2016.