Helsingistä, the title of the exhibition currently on view at Western Exhibitions, means to be from Helsinki. The title anchors the geographical coordinates for the artists, Ari Pelkonen and Valpuri Kylmänen. Versed in the techniques of lithography and woodcut printing, Pelkonen and Kylmänen, have been working alongside each other ever since they met at the Finish Academy of Fine Arts.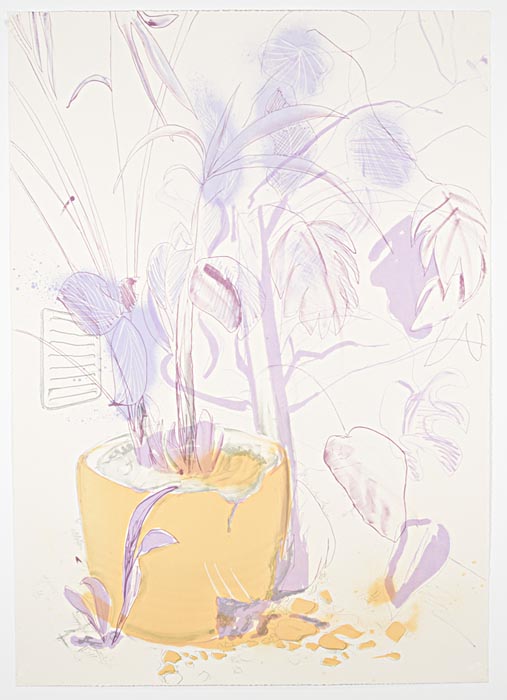 In their first exhibition in Chicago, curator Jamilee Polson Lacy describes their work as honoring traditional printmaking while challenging its format. Figure drawing informs Pelkonen 's stretched canvases, approaching wood cut printing through the mark making of painting. Back of Your Hands' large drooping strokes creates a mysterious figure that emerges out of dark toned aquamarine water. In his practice, Pelkonen contrasts the fast painting process with the slow process of making wood cut prints. Likewise, Kylmänen, a master printer at the Tamarind Institute, foregrounds her lithographic practice in still-life drawing traditions. Gridded interiors and tiles configure lived spaces—laundry is on the floor, shower curtains are left open, potted plants are placed in the open—depicting glimpses of how our surrounding space is utilized au natural. As Kylmänen states, "Reality is how we see it." In Violent, Violet, Vent, rhyming word patterns in Finish and English, bounce off language like the colors of the lithograph—its pale, purple flowers with the middle yellow tones in the background.
The two artists have previously collaborated on several print series. For Helsingistä, they have assembled a wallpaper installation out of cutouts. Pelkonen's textured brush strokes layer over Kylmänen's grids, netting the term Hesa into the installation. Hesa is a nickname for Helsinki used by people not born or raised there—a case for both the artists—the letters, HE, S and A float atop the wallpaper's surface, overlooking Pelkonen's projected video, Remain. Glass-like paint gels drip over molds, in the next shot, a male torso's (from the neck down) posture slowly changes, causing a thin layer of dried matter to break off and pour down his body. The series of movements within the frame sheds light on the position of a print maker; each layer peeling off the body causes the paint to pull down. Each layer adds onto the previous one, creating a visual structure. Here, the print maker enters a mode of decisiveness and exactitude on depicting the final work.
Being practitioners of the timeless technique, lithography and wood cut printing, is not a feat—but being able make these techniques malleable is. This is done tactfully by each of the artists, improvising and adjusting layers in tandem—printing, and stretching them over unfamiliar surfaces, a practice punctuated by process. Helsingistä is an apt title of these prints, not only made in Helsinki, but also depicting the complementary, gestural stroke of the figure and the experience of the everyday, all captured within printed matter.
---
Helsingistä at Western Exhibitions runs through July 26th – August 23rd, 2014.