May 14th, 2014
05.14.2014
Jim Hodges: Give More Than You Take
Once in a blue moon, a retrospective of an artist you know very little about comes along and completely sweeps you off your feet. This is the case of The Walker Art Center's current exhibition entitled Jim Hodges: Give More Than You Take. The exhibition features over eighty works by the New York-based artist, created from 1987–2013, including a plethora of sculptural items, modified photographs, various drawings, and two large-scale installations. The show gives hope to those longing for a Romantic return in art – or an emphasis on beauty and aesthetics – to a contemporary landscape that is often filled with anything but.
Many of the pieces on view are as minimalist in nature as they are utterly mesmerizing. Hodges often utilizes common found objects, such as dress shirts, silk flowers, transparent and vibrantly colored scarves, mirrors, or denim harvested from jeans. There are just as many items that illustrate Hodges' talented hand of images drawn, painted, or sculpted out of everyday objects, with a rare attention to detail and delicateness.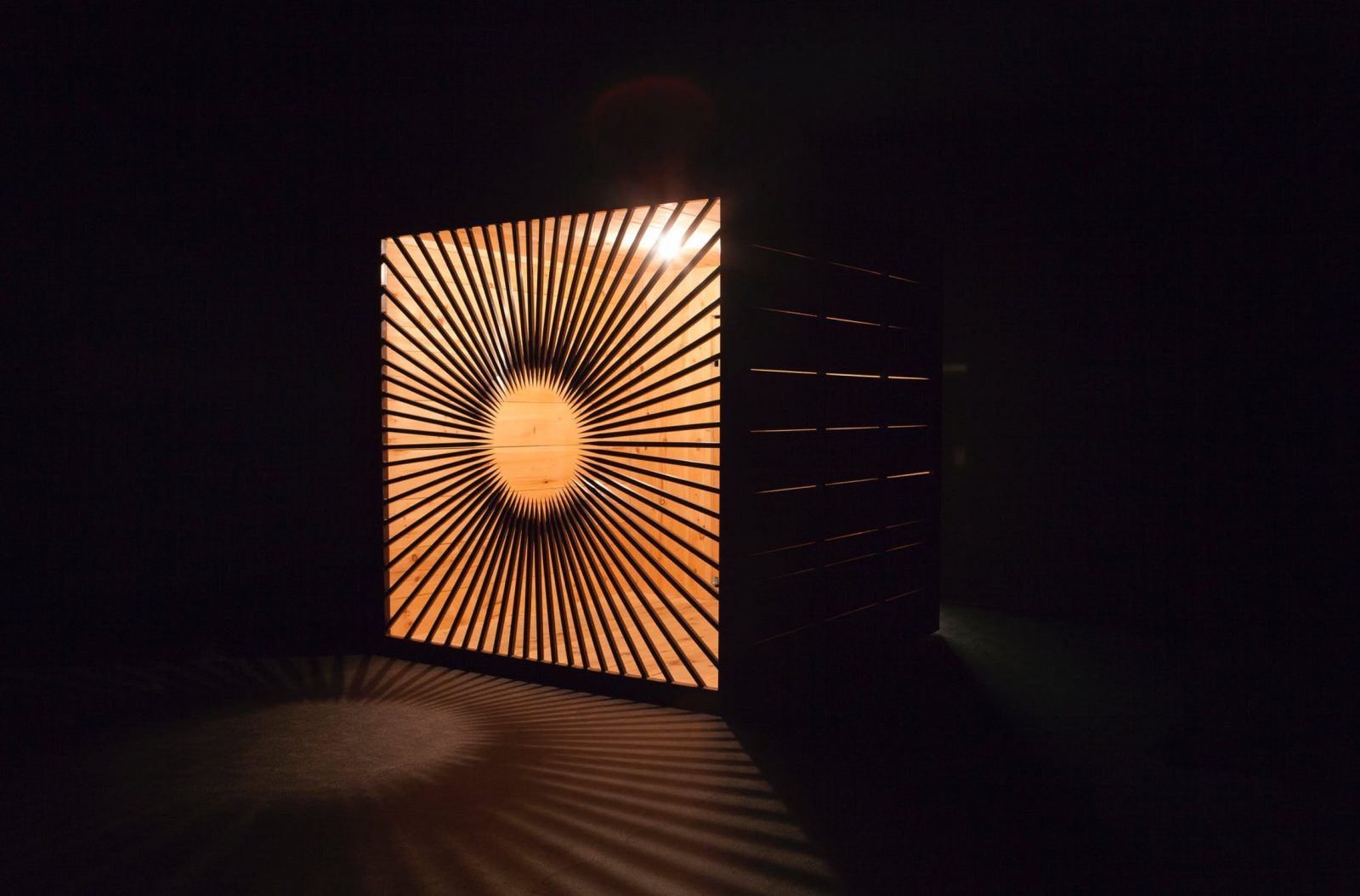 One sculptural work entitled Diary of Flowers particularly stands out, compiled of dozens of napkins with an endless variety of hand drawn flowers on them, carefully arranged on a large swath of wall like a sophisticated and intricate wedding bouquet. Hodges has an affinity for the inherent beauty to be found in the natural world, and renders it mellifluously. Describing the work, the artist explains that each napkin was created as a single piece, representative of a singular event drawn from free association, which Hodges considers neither good nor bad, but merely representational of what was seen in his mind at the time. The creation of the collection itself becomes the diary in its title.
Several large-scale mirror paintings are scattered throughout the galleries and range from standard clear mirrors, to hombre patterned clear to black, to cut reflections in camouflage, a recurring theme in Hodges work. The all black-mirrored compositions of geometric configurations recall the most intricate Greek or Roman mosaics. A few are hung high on walls, lights beamed into them, scattering rays across the space in pleasing configurations that go from sharpened geographic forms to painterly softened blurs. The effect is simplistic, yet downright tantalizing. We learn that the genesis of these pieces stems from Hodges' influence from something more tragic, using AIDS as a subject that memorializes absence.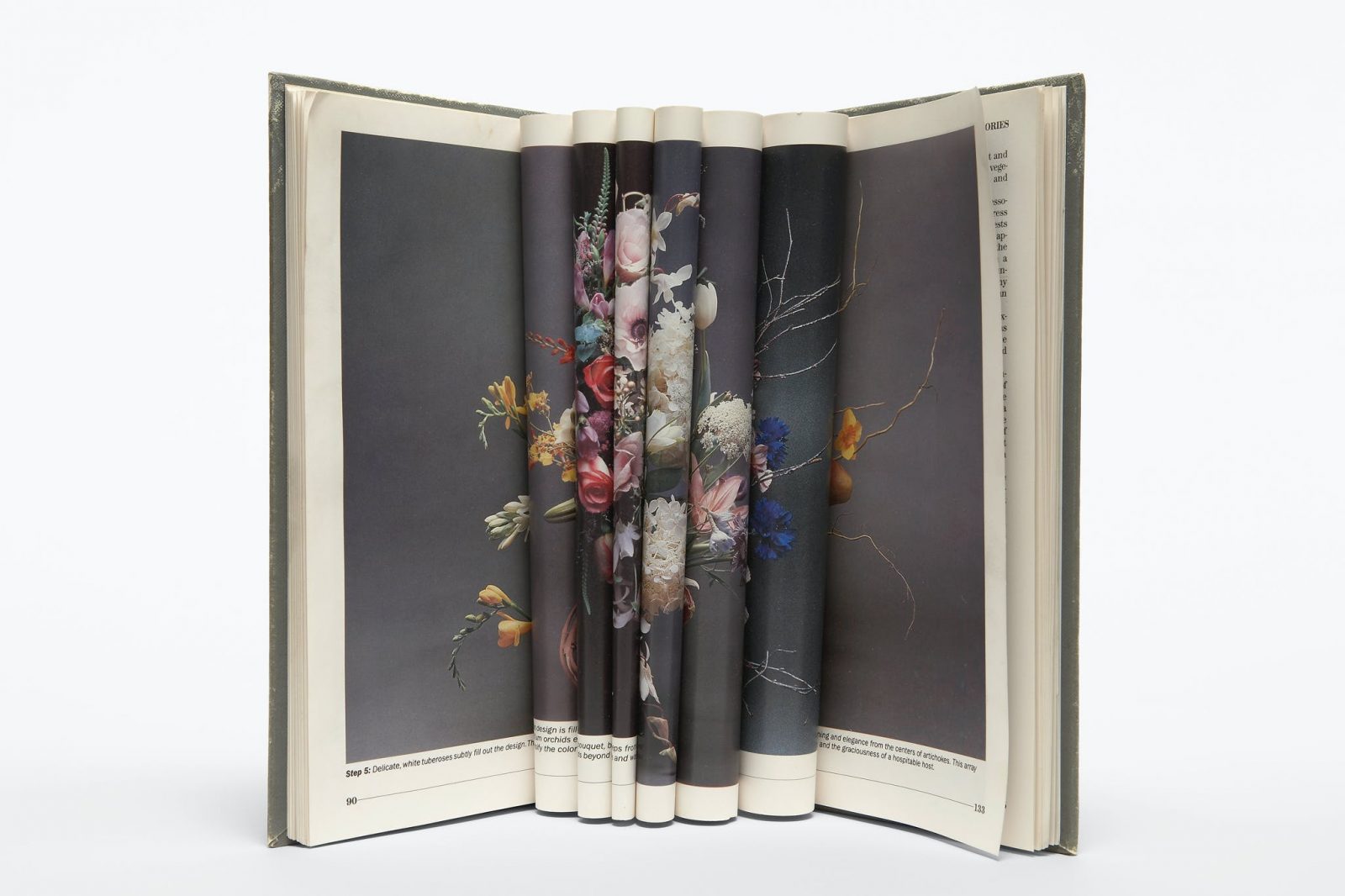 There is literally so much to see in Give More Than You Take, that only the offered catalog could aptly explain the exhibition in its entirety. Hodges' ability to transform everyday objects and materials into works that exude exquisiteness is as harmoniously poetic as it is a welcomed deviance from the norm. Two wall-sized works composed wholly of transparent, vivacious fabric scarves are evocative of painterly brushstroke gestures, without the support structure of a painting. The formal reference of color in the work harkens back to the Romantic subject matter, as if you were experiencing the late 1800s in a contemporary material context. Here's where we will stay hangs loosely on one wall, draping all the way to the floor and offers a semi-gridded composition of effervescent hues and patterns that sway or ripple with air movement. Hodges richly layers hued translucent fabrics as a painter might glazes, producing various gradations of colors in a semi-gridded pattern. Many of the fabric swatches are embellished with silk or fabric flowers and butterflies that radiate airiness, inducing a soothing, calming effect on the viewer. Like Seurat's innumerable dots of simultaneous contrast or Monet's multitude of fluent yet errant brushstrokes, Hodges's adorned scarves beguile and enchant.
The continued logic throughout the exhibition can only be read as poetic beauty offered by way of fragile steadiness, delivered with control. When the descriptors within the title are taken in equal parts, Give More Than You Take does just that; it gives more hope than it takes. Hodges has not just created a bunch of beautiful objects over the years – the work is more contemplative than that. This hope seems to be hard won for an artist whose sexual identity as a gay male emerging in the New York scene in the 1980s was lived through the loss of many friends. What we might take away from the exhibit is the comfort that Hodges endured all of this, creating an expansive portfolio that is equally awe inspiring as it is simply beautiful…all so that we might not have to.
---
Jim Hodges: Give More Than You Take at The Walker Art Center runs through May 11, 2014.