June 20th, 2014
06.20.2014
Jimenez Lai: Venice Biennale of Architecture
You don't have to travel to Venice to catch a glimpse of the 2014 Biennale of Architecture. On view now through August, Between Two Boxes: The Interstitial Imaginings of Jimenez Lai is currently installed at Clayco and Forum Studio here in Chicago. The Chicago-based designer's work is featured in the Taiwanese Pavilion, with a project not unrelated to his local exhibition in Fundamentals, curated by Rem Koolhaas, which just opened the first week of June. The question of an artificial site and its relationship to the body between these concurrent projects is related in Lai's ability to imagine – and build as well – a type of space evocative of animations. His project in Venice, Township of Domestic Parts: Made in Taiwan, which is scattered throughout the Palazzo delle Prigioni, is comprised of buildings that are cartoonish in their palette and structure, but treated in such a way that is strangely oppressive – the forms are just shy of livable, and slightly too small for use, somewhere between a functional model and a scaled prototype. While more of his two-dimensional work is featured here in Chicago, the interpretation of space translates the same.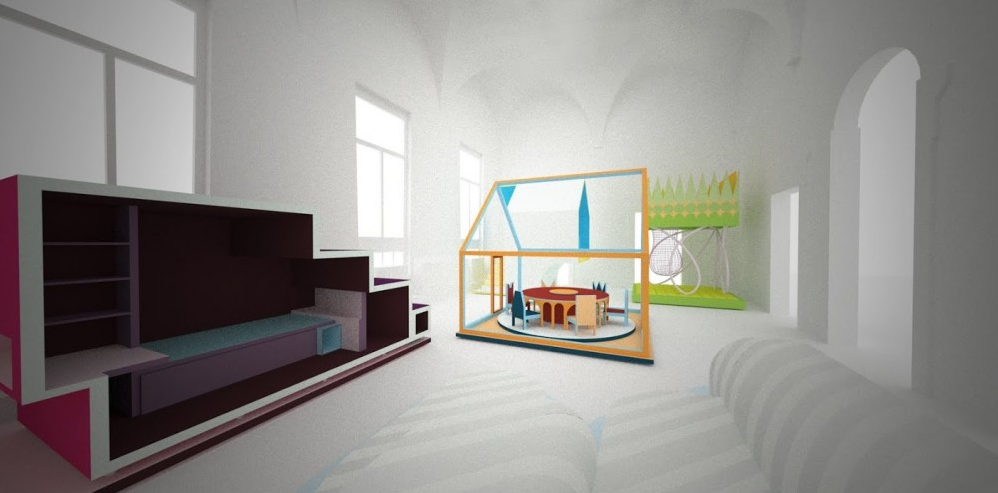 The spaces stage a divide between their impact and their functional use. Indeed, form and purpose here have different definitions, and it is Lai's unique affect of displacement – between the overbearingness of the thing itself and its more palatable aesthetics – that resists making his installations merely appealing and extravagant in their physical rendering. The pieces in the biennale are like seeing drawings in space, which relates to Lai's site-specific installation here, focusing mainly on his drawings and experiments with line in two-dimensions. But beyond being physically flat, the drawings themselves exist in no dimension – the two works on glass at Forum Studios done in white marker are constantly shifting their focal point, and changing perspective. The type of space you get from Lai's work is this hybrid of vantage points, which is refreshingly free from having to consider what these spaces might look like were they to be built; far from architectural drawings, these spaces stand alone.
While working within patterns of domestic space, the type Lai promotes is not conventional. Though the uses of space are basic – small rooms that reflect how we eat, how we sleep, how we entertain – they spatially construct these functions in a way that otherwise does not exist. Lai takes the familiar and makes it abnormal, peculiar, and unexpected – as smaller sites within a larger context, his small interjections into a larger environment mirrors the original function of certain everyday practices, while also reflecting its status as a smaller part of a whole, or what he calls "superfurnitures." The term "super" helps score the tone of the work in a dual fashion that reflects Lai's practice itself – as at once something largely beyond average, but also as a miniscule and notational register in relation to the original.
---
Jimenez Lai at Clayco and Forum Studio is on on view through August 2014.