November 30th, 2015
11.30.2015
Jonas Wood: Gagosian Gallery
The exhibition of American artist Jonas Wood at Gagosian gallery's Britannia Street space is his first solo show in London. It encompasses a series of just under twenty new oil and acrylic on canvas and gouache and colored pencil on paper works.
Ranging from very large to smaller sizes, Wood's paintings are displayed in two groups. The first embraces individual pottery pieces, vessels and vases. They render schematic figurative scenes from ancient Greek pottery prototypes embedded in a grey colour background (Grey Greek Pot, 2015) with monstera deliciosa leaves sprouting from the inside. Other vases are embellished with several bands of colorful episodes of rural life in a naive and cartoonish fashion. In the large sized Frimkess Chilean Landscape Pot (2015), we see a rich narrative involving banana tree and other tree type plantations, neighborhoods with small houses and tiled roofs, children riding their bicycles, a lake or a sea with a couple of traditional fishing boats, a SPAD biplane flying in the blue sky. As the title of the work implies, Wood's painting evokes the style and body of work of ceramicists Magdalena Suarez Frimkess and Michael Frimkess, whose glazed syntheses incorporated native American scenes in an almost animated style. Other paintings resemble pots with wood patterns on their surface juxtaposed against the bright green leaf color of the exotic plants they carry (Wood Pot with Bromeliad, 2015, Wood Grain Pot with Night Bloom, 2015, Wood Pot with Plant #3, 2015).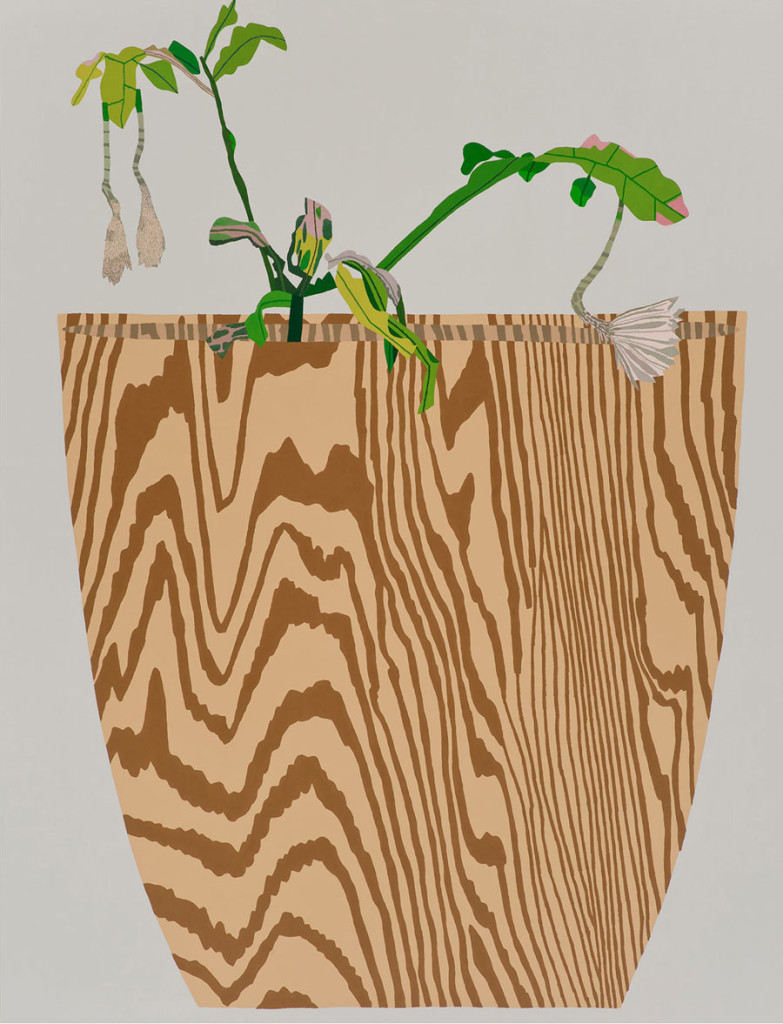 The second group of works entail large size home interiors. These are extremely busy domestic environments with countless objects of everyday use occupying every single inch and corner of the canvas surface. They might seem uninhabited but, by all means, not disengaged from the human presence and not segregated from emotional connections. In Children's Garden (2015) and Sunporch at Night (2015) we are confronted not only with the busy and chaotic environment on display but also with the vividness and intensity of the employed colors.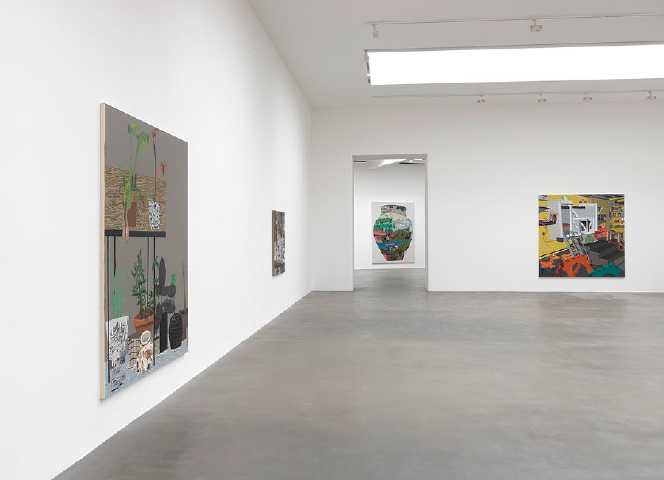 Wood is inspired by photographs, as well as biographical sources—memories of his parents' and grandparents' homes, as well as the work of his wife Shio Kusaka. Her body of ceramic works has received much attention, with designs influenced by the 1980s and imagery of cartoon animation with fictional characters such as dinosaurs. SK Dino Pot #1 (2015) and Shio's Studio on Palms (2015) embody clear references to Kusaka's work interpreted through Wood's own visual language simultaneously blending memories from his childhood years and his family homes. Sometimes Wood also experiments with the idea of collage, superimposing objects over others or simply playing with the distortion of images by creating the illusion of separate or fragmented painted canvas surfaces brought together in one, such as in Still Life Collage, 2015.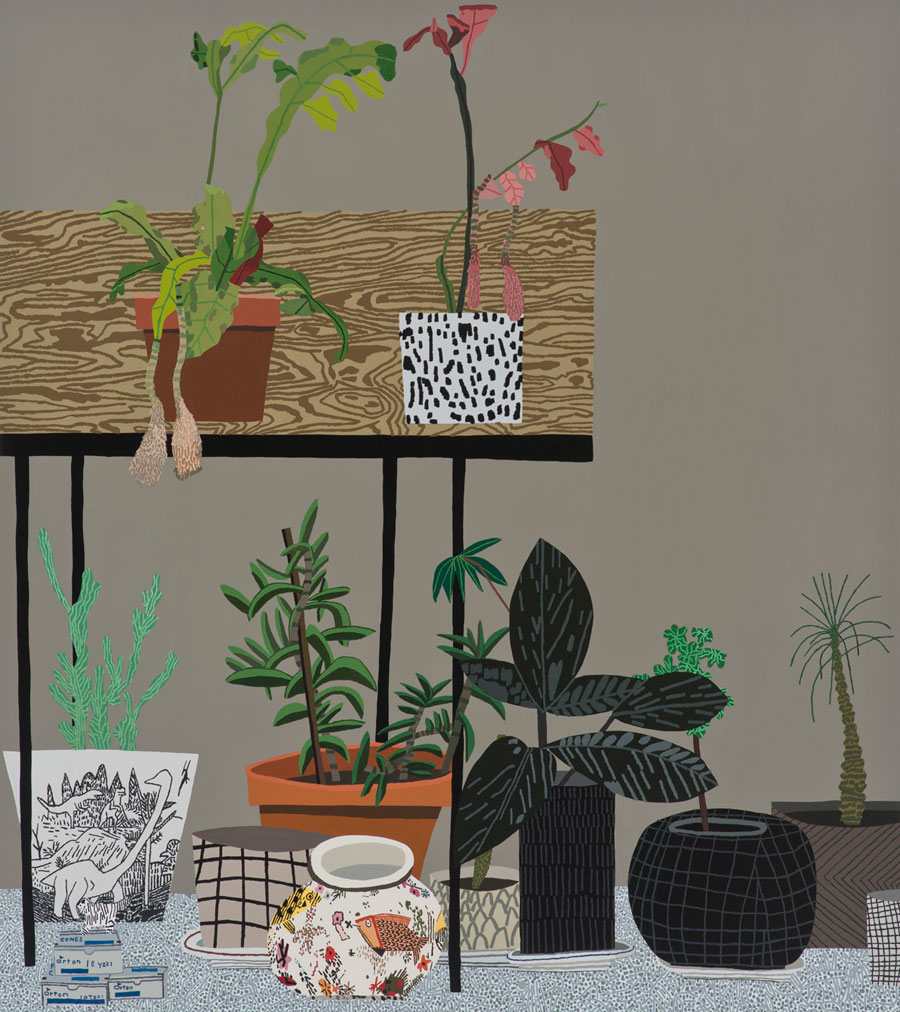 There is a multi-reference practice in this exhibition that viewers have to come to terms with—art enthusiasts and professionals might feel that this exhibition is a good opportunity to brush up their art history. From the cut-outs of Henri Matisse, the formulaic high realism and the color vibrancy of David Hockney (with special reference to his Fresh Flowers 2011 show at the Royal Ontario Museum featuring the iPhone and iPad drawings), Keith Haring, Roy Lichtenstein and Patrick Caulfield, the distinctive style of Alex Katz in both portraiture and landscape, the plant paintings of Lucian Freud, to Richard Hamilton's structural arrangement and axiality of the work surface and the aesthetics of the Josef Frank textile designs, we are continuously bombarded with a vast repertoire of artistic practices spanning several decades of art history.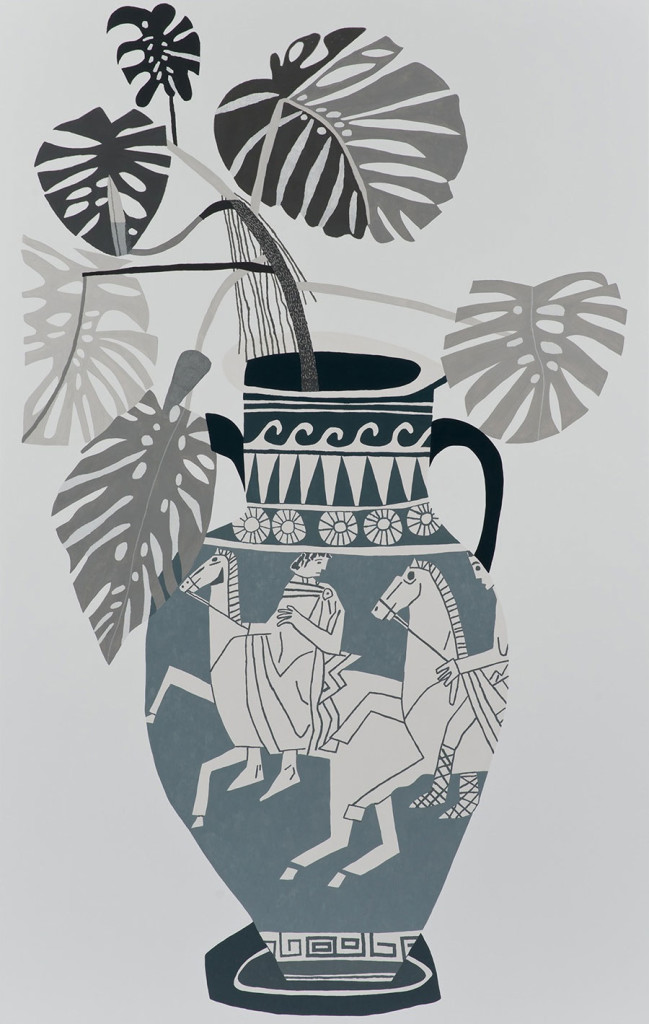 Within this vein, it is easy to see how Wood's work is perceived as tremendously produced, with this collection of oversized and inflated works created in less than a year. Could the need for inventory or overproduction be one of the main reasons for the emergence of a cohort of sources and influences within the work, or is this Wood's conscious choice of creating a signature practice that simply injects different styles and influences in every single work? Wood does not hesitate to openly illustrate works by modern masters such as Picasso in Upstairs Picassos, 2015. Surely, there can be numerous interpretations and answers to this question, though a confident statement about the work is that they are visually pleasing and easy to the eye, detached from deep meanings and overrated conceptual blurb. Recycling—or, in more contemporary terms, appropriation—of art in such a direct way may now seem a derivative thing to do. In Wood's case, the challenge of this evolution is to liberate his art from recollections of the past.
---
Jonas Wood at Gagosian Gallery Britannia Street runs through December 19, 2015.