November 18th, 2013
11.18.2013
Joshua Abelow: James Fuentes Gallery
Joshua Abelow recently closed his second solo show at James Fuentes in New York. The exhibition, entitled ABELOW ON DELANCEY, features a new series of paintings and drawings. As one can expect to see from Abelow, there is a lot to look at –paintings on canvas and burlap, as well as framed pencil drawings fill out the space in his signature, serial manner. His simple, wavy stick figures painted over metallic backgrounds, or wonky chevron patterns, are a figurative version of his older series of "DUMB AND EASY" text paintings exhibition at Tomorrow Gallery in 2011.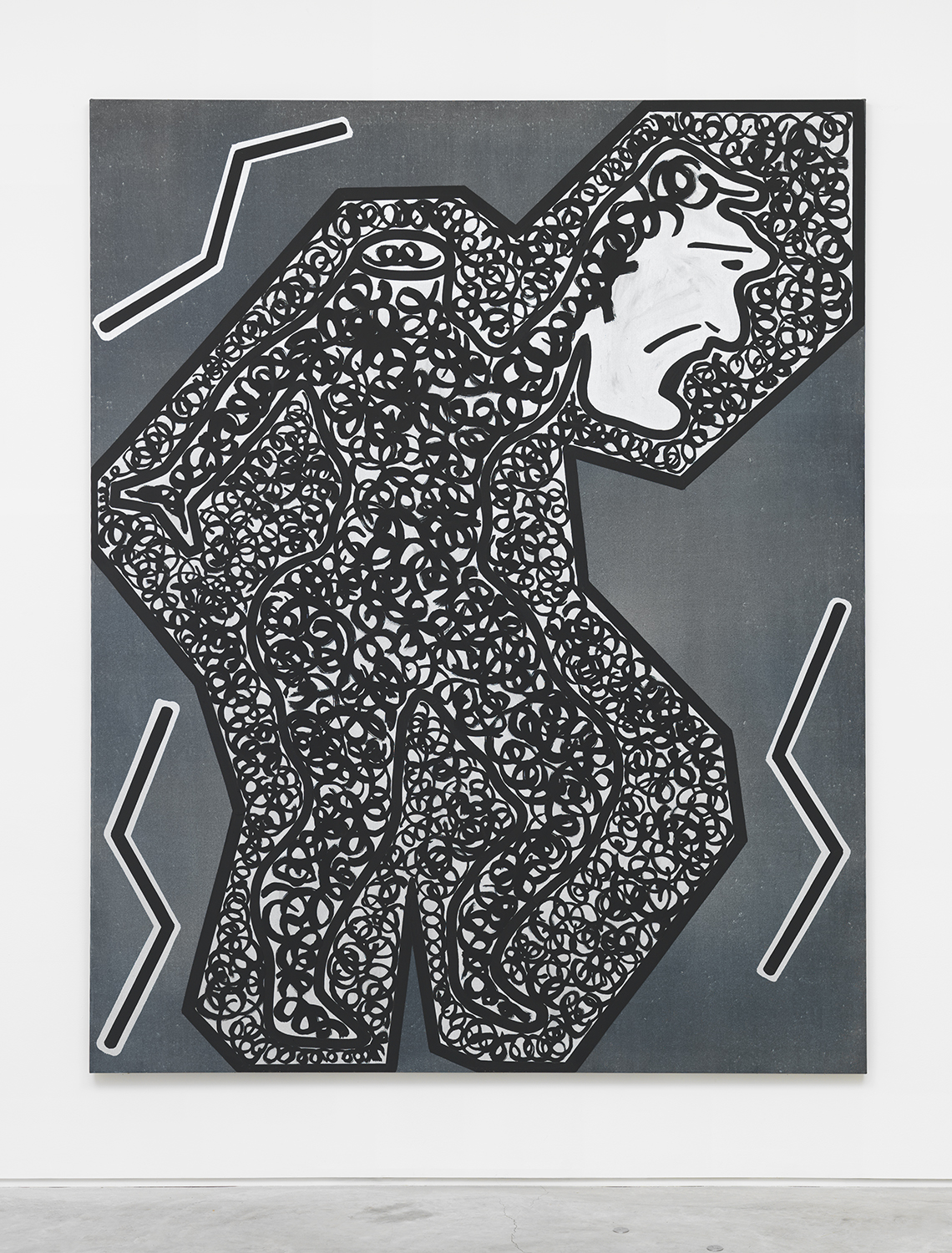 The figures are surrounded with self-referential text, often in reference to or calling to be blogged, placing his name up front – the monograph used as a compositional element. I was able to see Abelow's show in the same day that I saw Josh Smith's exhibition(s) at Luhring Augustine and I think they may be drinking the same kool-aid. While they have two individual voices, both definitely share a similar type of speed and quantity in their production. Abelow's installations of the closely hung paintings of (typically) the same size have the effect of scrolling through images on a webpage. This type of digital or virtual pushing through of images, which are purposefully and oppositely in the physical realm of painting, has a pretty direct correlation to his blog and curatorial practice – the rapid cycling through of variations on images is indicative of repetition, Internet humor, loose associations, etc. In this, Abelow's presence in the work is less direct in terms of painting's historical physical connection of hand > brush > canvas, but instead a performative action. As a painter, curator, and blogger he has created a prototypical "Artist/painter" similar to Paul McCarthy in Painter where McCarthy acts as a grotesque caricature of a De Kooning/Schnabel hybrid smearing giant tubes of paint around in a psychotic, Freudian nightmare.
However, in Abelow's case, the character isn't purely satirical. Abelow employs self-deprecation along with honesty and humor; more similar to Louis C.K.'s approach to comedy, but instead of talking about literal masturbation, Abelow alludes to ego masturbation. The big dicks, the cavalier text demanding to be blogged, and the assertion of his name and image into the paintings create a tongue-in-cheek super-caricature of the artist himself. Though one is left unsure of the end goal to the work, it appears to be a wake-up call to artists/painters. Is Abelow's efforts real ego-flaunting, disguised as satire? Or, is there even a need for an end goal of such a malleable and infinite premise? Perhaps this expanded painting practice is more of a reflection of what it means to be a painter in the internet-age, when the majority of your viewers will do so from a digital screen, as we do here. Abelow is able to make work that accepts this new reality and uses it to his advantage; the paintings are catchy, simple, and easily reproduced online – but still have a material sexiness that rewards the viewer for taking the step to see it in person.
---
Joshua Abelow was born in 1976 in Frederick, Maryland. He earned his BFA from the Rhode Island School of Design in 1998 and his MFA from the Cranbrook Academy of Art in 2008. He is also active as a curator and organizer of exhibitions under the moniker ART BLOG ART BLOG, after his popular blog.