August 31st, 2017
08.31.2017
Jürgen Becker: Museum Für Photographie Braunschweig
Jürgen Becker is best known as a prolific writer of experimental texts like Felder [Fields], a parody of Joyce's Ulysses (among other things) comprised of numbered entries. He was a fixture in the German Fluxus world of the 1960s and 70s, collaborating with artists like Wolf Vostell and rubbing shoulders with Günter Grass in the early, infamous days of Gruppe 47. And so while he primarily worked in text, it comes as little surprise that Becker—like his contemporary W. G. Sebald—was interested in the ways that pictures could extend his writerly practice. Just before traveling to the United States in 1972, he published a book of photographs and texts entitled Eine Zeit ohne Wörter [A Time Without Words]. This important work, like many of Becker's most influential books, is presented alongside his New York street photography at the Museum für Photographie in Braunschweig.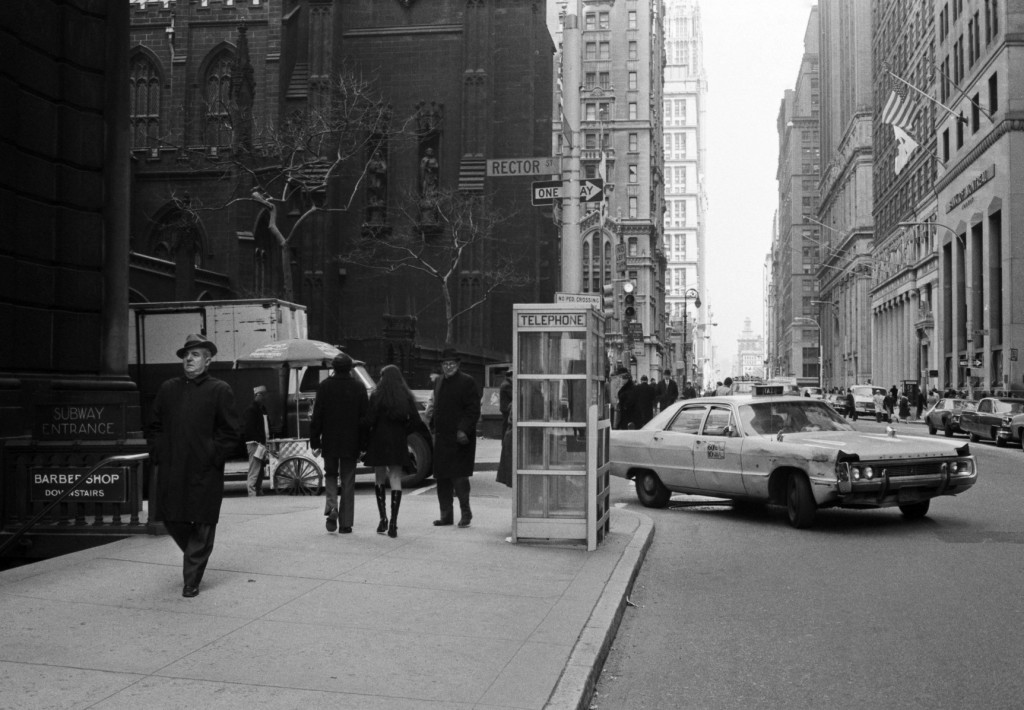 Shot entirely in 1972, the series on display has figured in little Beckergeschichte. Jörn Laakmann's exhaustive 1997 dissertation doesn't mention it, and the images were first published in 2012 by the writer's son (Boris Becker, a better-known photographer than he). Suhrkamp Verlag declined to put the pictures out as a follow-up to Eine Zeit ohne Wörter, and it is not hard to see why. If the first book explicitly translates Becker's conceptual writing into visual form, with a representative segment titled Dreißig Minuten in der alten Umgebung [Thirty Minutes in the Old Environment] featuring page after page of the same snowy scene, the New York photographs seem to play it straight. At first glance, they are a kaleidoscope of shop façades and pedestrians, screaming signs and the playfully self-aware children who crop up, without fail, in most mediocre street photography. The museum suggests some obvious points of comparison: Robert Adams, Robert Frank, and Lee Friedlander, to which, after a first look at the show, I mentally added Paul McDonough, Richard Sandler, and even Diane Arbus.
But it would be surprising if the author of Felder made something on the order of Walker Evans. And for all the superficial similarities between Becker's pictures and the work of the photographers just named (the urban setting, the subject matter, the rough framing and cropping that says I present the world candidly), there are more telling points of departure than points of convergence. This is in Becker's favor, because he measures up poorly against the conventions of street photography. While Arbus and McDonough excel at capturing the strange—the babies wrapped in newspaper, the cool priest in dark glasses, the human pincushion—Becker springs for a plainer sort of everyday life. He is not confrontational like William Klein. His cityscape has none of the grit that Mary Ellen Mark seeks out. He lacks Lee Friedlander's spatial awareness, his knack for foreground incidents.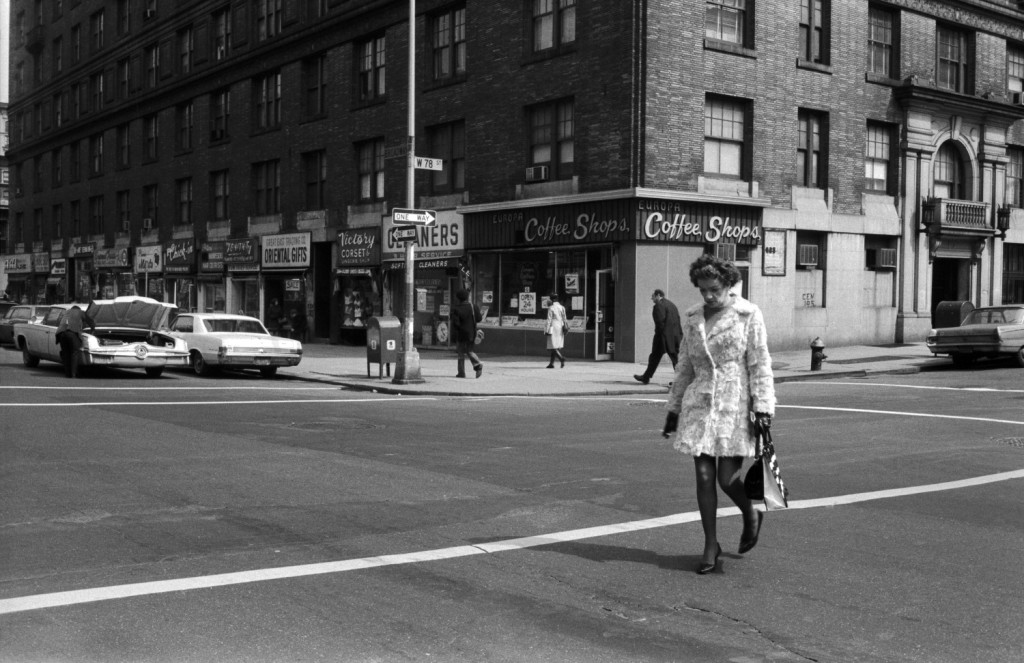 To be clear, this tally of Becker's shortcomings is not meant to imply that his 1972 series is unsuccessful. Rather, I think he aims at a different target than most street photographers working during the early 1970s, and that difference has something to do with a conceptually rich notion of the everyday. Jeff Wall, photographer of a later generation than Adams, Frank, and co., called the everyday "the most basic and the richest artistic category," and part of the richness of the commonplace lies in the multiplicity of ways that art can reconstitute it. Becker's early writings obsess over time and experience. Through experimental forms of presentation, they not only taxonomize time but also bring different kinds of time into being.
Let's start with repetition. One quartet of photographs shows a set of subway stairs (revealed in another shot to be the 96 Street station), a different group of children descending in each image. A few of figures reappear, but by and large the groups are different. A different adult woman takes center stage in each photograph, shepherding the kids underground. There would seem to be something of a typology being posed, an anthropological experiment underway. But the images do not present a carefully calibrated vision of scientific accuracy; they are inconsistently cropped, the angles demonstrably imprecise. In short, Becker has not committed to a painstaking process of variable control in order to record some insights about everyday human behavior. He, his camera, his subjects, and their environment are thoroughly entangled. (The large number of images in which Becker and his Rollei 35 are reflected in shop windows and mirrors supports this reading.)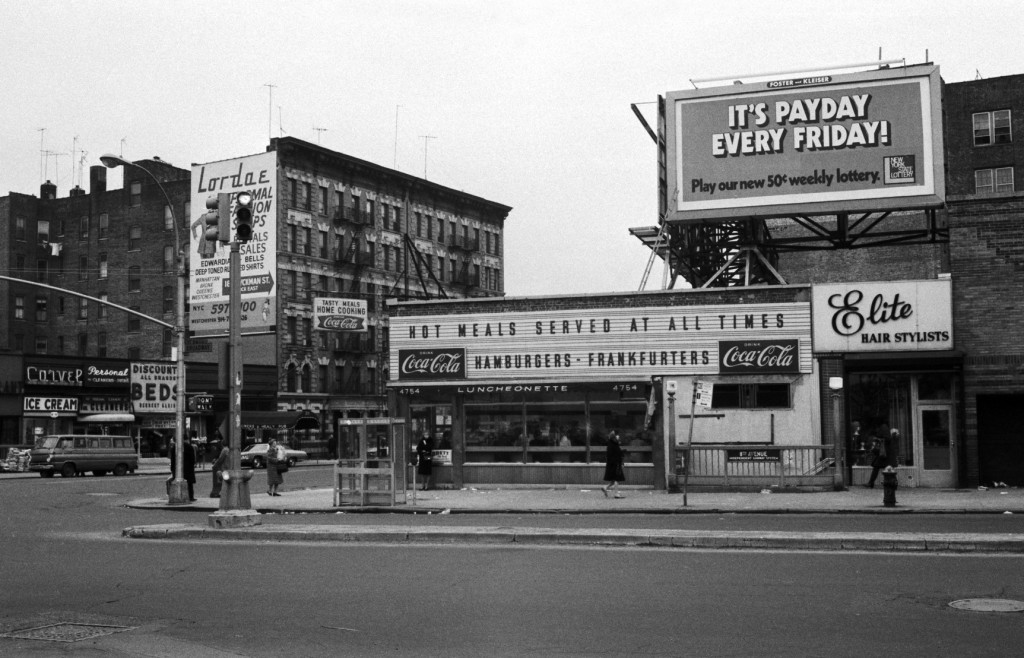 The most haunting photographs, however, show figures thoroughly absorbed in their own thoughts. A dog presses nose to glass, engrossed in their own reflection. A woman crosses a street, her head down and feet pointing inwards. She is alone in the crosswalk, an uncanny state of affairs on West 78th. Another isolated figure, hands tucked in pockets, gaze directed off into the distance. This interest in absorption holds true even for the images that depict subjects noticing Becker's camera. The forthright stare, often interpreted by Michael Fried as a theatrical moment that shatters the fiction of the beholder's own immersion in the scene, is somehow blunted. In the most obvious case, a construction team works at a street corner. To the left of the scene stands a pedestrian, wrapped in an overcoat and clasping his papers, squared up to the camera and facing it head on. But sunglasses mask his eyes and a mist of steam (smoke?) drifts between man and camera, halting the beholder's gaze in its tracks. Becker gives us an everyday poor in panache but rich in analytic rigor.
---
Jürgen Becker, New York 1972, at the Museum für Photographie, Braunschweig runs from August 11 to September 24, 2017.