April 1st, 2014
04.01.2014
Kunsthalle Wien: Silke Otto-Knapp
Questions of Travel: Silke Otto-Knapp and Carl Fredrik Hill
There is an explicit correlation between gallery space and artwork presented in the exhibition Questions of Travel (Wien) at Kunsthalle Wien Karlsplatz, which would be difficult for even the most casual visitor to ignore. Upon entering the museum, one must step onto an elevated, steel gray platform that leads into a cubic volume with transparent floor to ceiling glass windows. In this setting, a shift in reality occurs where one feels as though they are transported onto a stage, with clear views of Viennese urban drama materializing around them. Once the real-time observations of speeding cars and opulent architecture have faded in all its arresting glory, the viewer begins to engage with the artwork on a more conceptual level, creating an in-depth analysis that is based on spatial perceptions and theatrical undertones in relation to its surroundings.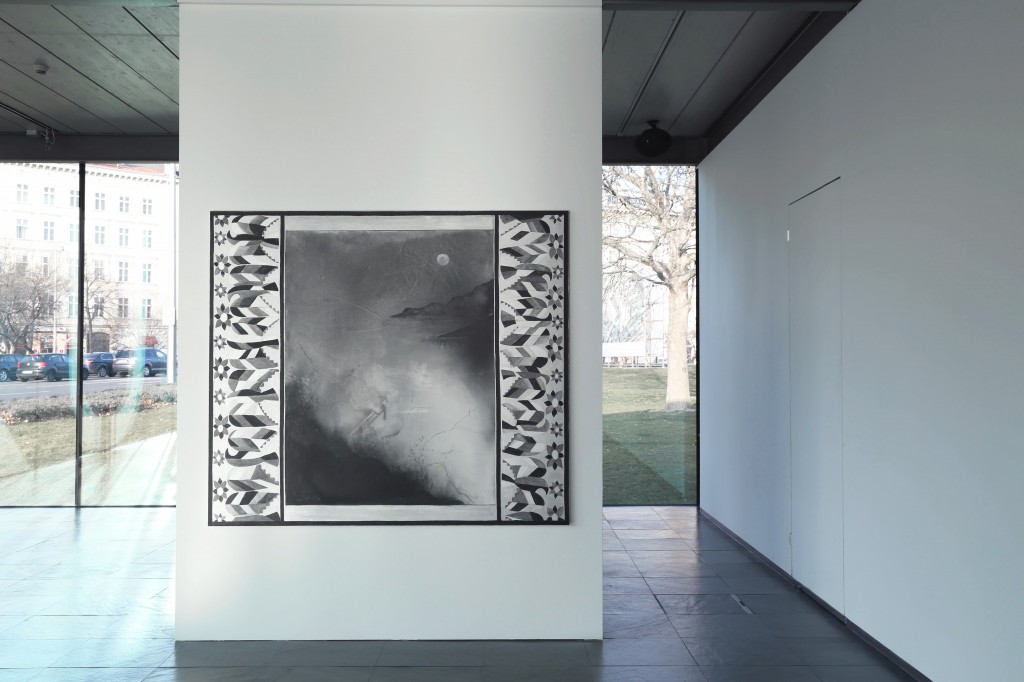 The two artists presented in the exhibition, Silke Otto-Knapp (*1970-) and Swedish painter Carl Fredrik Hill (1849–1911), known for his post-humus contributions to the French avant-garde of the 1920s and 30s, have committed themselves to producing work that is a reflection upon their individual genre and time. American author Elisabeth Bishop's (1911-1979) work provides the context for Otto-Knapp to explore notions of body, space and travel.  Through her poem "Questions of Travel" (also the title of the exhibition), Bishop questions the arrival to imagined places – be it through one's mind, or through reality.  One part of Bishop's poem states, "Should we have stayed home and thought of here?  Where should we be today? Is it right to be watching strangers in a play, in this strangest of theatres?"1 Directly influenced by Bishop's work, Otto-Knapp visually deconstructs the poem through eight separate colorless acrylic paintings, each existing on an individual freestanding wall. Every piece relates to the edifice of theatrical space, design and decoration. Repeated images of the natural world, such as birds and floral motifs, are arranged decoratively inside vertical columns that resemble theatre curtains, creating an architectural framing of her compositions. Otto-Knapp's individual observation of places she has traveled is appropriated to a stage-like setting, where layered and exaggerated images of mountains, bedrooms, and nighttime gardens serve to create an atmospheric scene.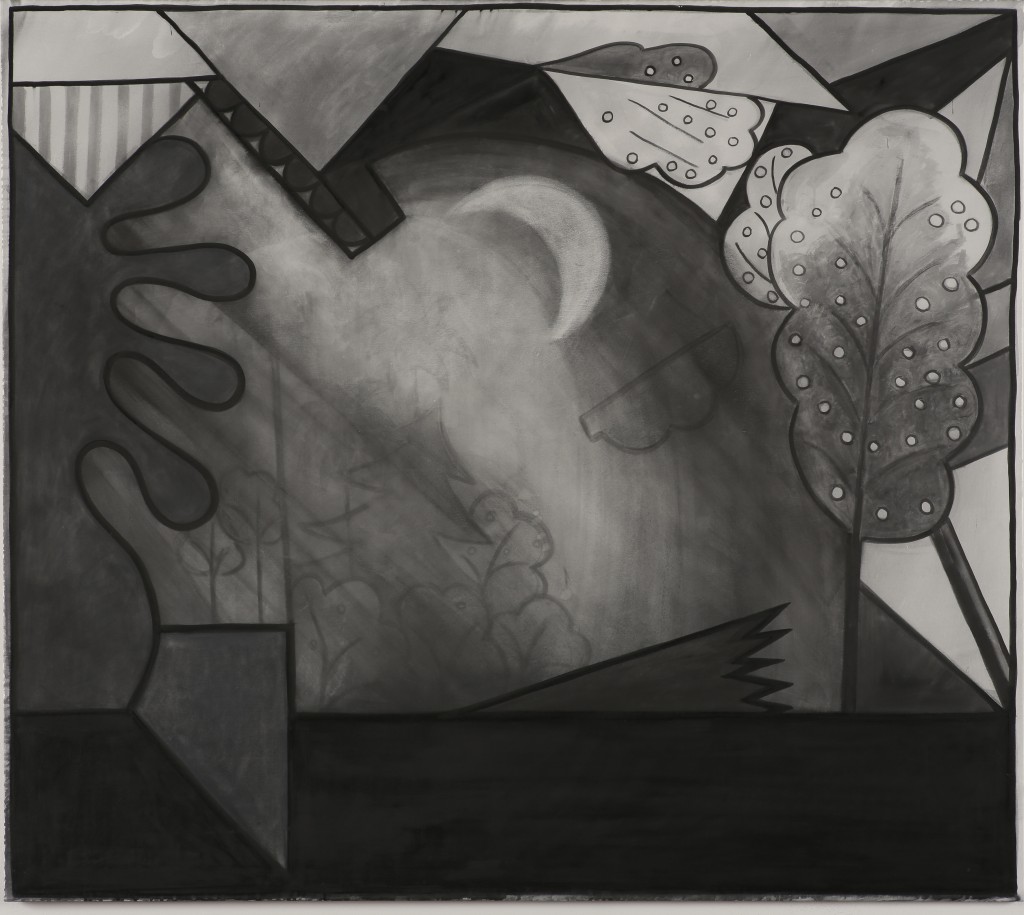 Curator, Martin Walkner's choice in combining Hill and Otto-Knapp for this show extends beyond a visual conversation of self-exploration through stage-space and design. Although Hill's theatrical scenarios were completed over a century ago, both artists resonate an assurance in graphic lines, composition, and mono-tonality. The performative dancers Hill depicts provide the viewer with an insight of how modern artists have dealt with themes of subjective theatrical observation. Tucked away behind two dark blue walls, his body of work is physically segregated from Otto-Knapp's paintings. This allows the viewer to distinctly appreciate each artist's strengths, be it through the intensity of Hill's drawings or mysteriousness of Otto-Knapp's canvases. However the analyses of both artists together creates a new context for the works to exist. There is not so much an evidence of a chronological evolution in artistic styles between the two artists; rather, they support each other by allowing for a more in-depth reading of how the contemporary can live in a specific time and place.
Keeping in-line with the formal inventiveness and subjective perception in exploring space, Otto-Knapp's work is complimented by seven of Carl Fredrik Hill's earthen toned chalk-drawings. Inspired by Corot and the Barbizon School, Hill expressively depicts groups of tightly packed ballet dancers with contorted bodies, while allowing them to become an extension of the theatrical stage's fabrication. The small imaginative world that Hill creates on paper is the product of his nervous breakdown and retreat from society. Isolated in his own fantasy, he delves into the realm of personal memory and visually executes scenes of stage performances and landscape. The works, segregated in a small and protected space from Otto-Knapp's large-scale paintings, deserve close scrutiny to appreciate the tenderness of an artist who intertwines body and space with personal intensity.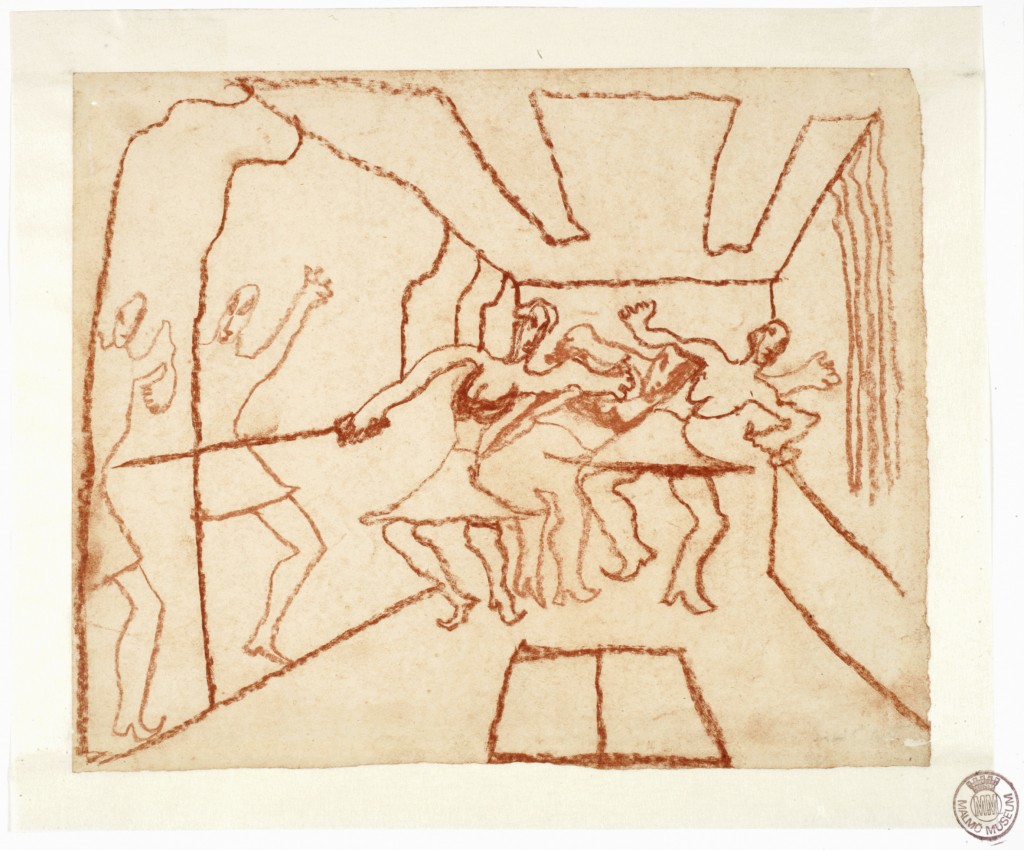 While the show successfully communicates themes of theatricality through both artists' work, the exhibition's achievement is most strongly apparent through the site-specificity of the gallery's architecture, artwork, and spatial perceptions it constructs. Leaving the space, one is reminded that existing in this context is ephemeral – and it is this precise temporality that allows a relevant relationship to form between art, space, and body.
---
Questions of Travel (Wien), Silke Otto-Knapp and Carl Fredrik Hill, at Kunsthalle Wien Karlsplatz runs through April 16, 2014.
You can read the full poem here.