March 14th, 2017
03.14.2017
Landscapes, Selections from the State Collection: Evagora & Kathleen Lanitis Center
LANDSCAPES, Selections from the State Collection held at the Evagoras & Kathleen Lanitis Center, Limassol, Cyprus encompassed a wide range of the country's artistic production that goes back to as early as the 1930s. The exhibition, featuring 32 artists, was selected by curator and artist Dr. Savvas Christodoulides from the State Collection—numbering over 3,350 works—highlighting an institution that is continuously enriched with by new acquisitions. Spanning the venue's ground floor and upper-level spaces, the works on view negotiate notions of spatial awareness filtered through the prism of topical socio-economic constraints. Each generation of artists on view represented the uniqueness of distinct and pivotal time periods closely associated with the country's turbulent twentieth-century past. From the struggle for independence from British rule leading to the formation of an independent country in 1960, to the military events of 1974 and its associated post-war trauma, the exhibition points to the unavoidable influence inspired by political circumstances that has altered and formed the course of modern Cypriot history.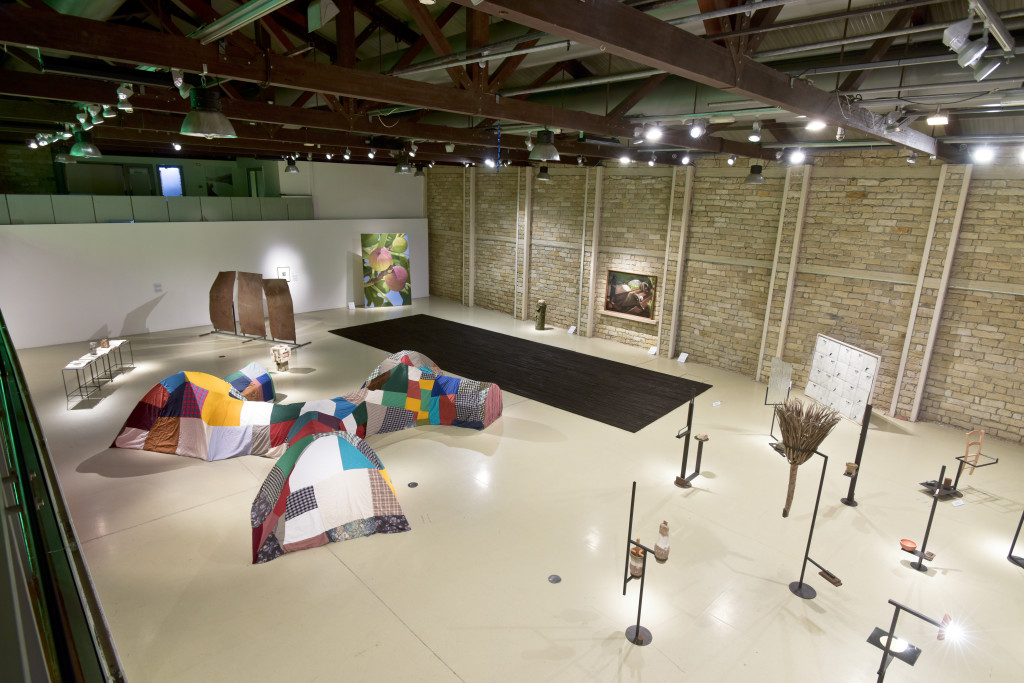 Highly engaged with international art movements such as cubism, abstract expressionism, arte povera, and conceptual art—but also having studied and lived in Europe and the United States—an older generation of the artists on view pioneered modern art in Cyprus, through a dialogue within local traditions. The works of Christoforos Savva (1924–1968) Cube (Abstract sculpture) (1962/65), Nikos Kouroussis (b.1937) Untitled (1970), Angelos Makrides (b.1942) The Great Greek Encyclopaedia (1972), Aristidis Anastasiadis (1940-2014) Positive Space (1992), and Mary Plant (b.1943) Anthograms (2004-2005) are studies of personal and interpersonal topographies embracing diverse materials and ranging from wood, iron, and paper to stone and gypsum. Placing emphasis on the significance of surfaces as the conduit for reality, perception and interpretation, the works on view also survey the materiality and the multi-dimensional aspect of the object and its assignment within its surrounding environment.
The black and white photography series of Renos Evryviades-Wideson (b.1920) Buffavento Castle (1950), Harvest Time (1953), and St. Hilarion Castle-Aerial (1955) as well as Zenon Sierepeklis' (b.1947) Latchi (1998/99), Terra (1999), and Latchi (2002) unfold the transition from documentary and landscape photography to a more conceptual rendering of space imbued through the aesthetics of industrialization and monumentality as a result of human intervention on natural habitats. The antithetical or apparently incompatible narratives of the two photographers embody a generational reconciliation that brings together the modern with the contemporary, activating an ongoing cross-generational exchange.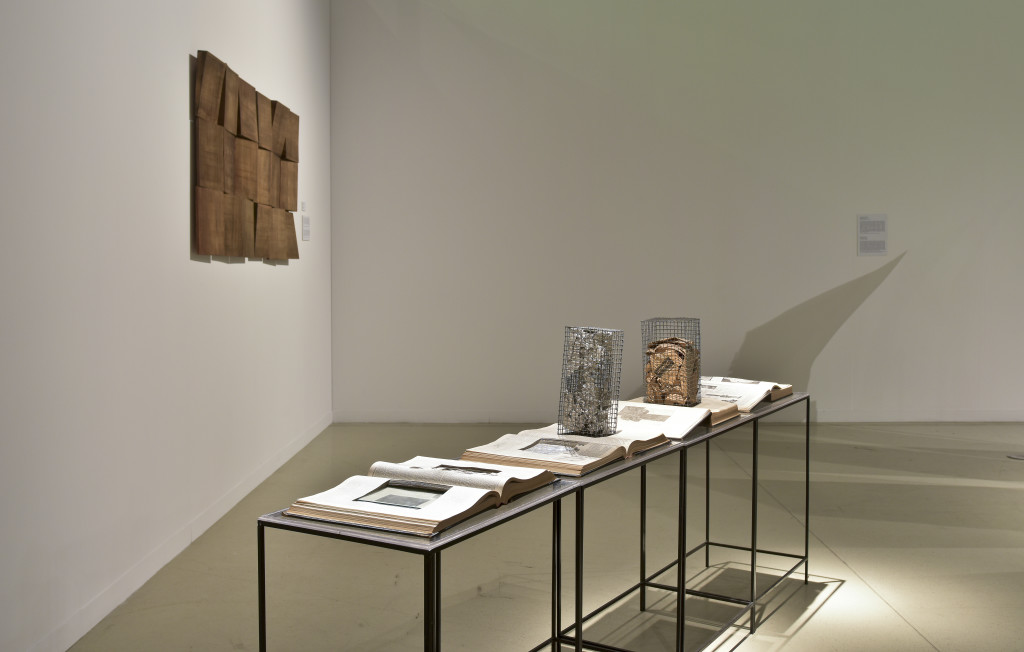 The understanding of space gradually adopts a multifaceted representation with the younger generation of artists. Blurring the boundaries between objective and subjective landscapes as well as between human and non-human topographies, a cohort of contemporary Cypriot artists convey their own sophisticated percipience and cognizance of spatial ideologies.
Works by a selection of younger artists who also represented Cyprus at Venice Biennale during the last ten years or so, traverse across ideas of construction and deconstruction, presence and absence, while concurrently investigate issues around the subjectivity and arbitrariness of mindsets as well as the mapping of oneself in the sphere of existence. Haris Epaminonda, Untitled (2005/6) and Hulusi Mustafa, Two figs (2008), (co-represented Cyprus at the 52nd Venice Biennale in 2007), Socratis Socratous, illegal installation (2004) (53rd Venice Biennale in 2009), Marianna Christofides, Logbook Entries: Braunsfeld (2012) (54th Venice Biennale in 2011), Phanos Kyriacou, Oo (2013) (55th Venice Biennale in 2013) and Christodoulos Panayiotou, Untitled (2015) part of Two Days After Forever (56th Venice Biennale in 2015) characterize a generation of artists whose visual language corresponds to themes of self-reflective practices, esoteric exploration and philosophical discourse.
Another group of artists such as Vicky Pericleous with Paradise on the Rocks (2012), Maria Lianou, Falling (2014), Michael Anastassiades, Jibutsu-Seki (2015) and Peter Eramian Hopelessly devoted to you (2016) fabricate a personal vocabulary within the grid of urban domain intertwining idiosyncratic experiences and deciphering a terrain of hybrid realisms.
LANDSCAPES is an homage to the Cypriot artistic utterance of the last century, providing a great opportunity for viewers to explore and learn about the past and present of the local artistic scene. As it would be impossible to cover the wealth of a country's production with a selection of just 32 works, we hope that this exhibition will be the starting point for more in the years to come. The frequent visits by local schools and other educational institutions as well as the big turnout of tourists unquestionably demonstrate the public's deep interest in modern and contemporary art, an integral part of the country's identity and cultural heritage.
---
LANDSCAPES, Selections from the State Collection at the Evagoras & Kathleen Lanitis Center, Limassol, Cyprus runs through February 24, 2017.