April 21st, 2016
04.21.2016
Laura Poitras: Astro Noise // Whitney Museum of American Art
Freedom Lost. Freedom Transformed.
I am fighting, but they've gotten inside so that I don't know if anyplace is private. If anyplace is safe. I'm trying to keep this new flat off the radar, so no phone, no connecting to the Internet without Tor. I've created my own isolation, so they win. They always win. I can fight all I want and I will lose. I will be destroyed, paranoid, forsaken, unable to sleep, think, love.Laura Poitras
Privacy is a difficult issue to grasp. Common sense wants us to think, who needs privacy unless they have something to hide?, but privacy is a safeguard, a firewall that keeps safe the ability to feel free. Hacktivist, Jacob Appelbaum, in Laura Poitras' documentary on Edward Snowden, CITIZENFOUR, states that the loss of privacy is the loss of freedom. Not a freedom, but freedom.
This is true. The ability to think, act, and speak without paranoia is the freedom to be. That is why the right to privacy is an important—perhaps the most important—human right. It is responsible for creating space for the generation of progress and change. Without privacy, we live under circumstances that aim to co-opt our expressions and identities, not for the sake of freedom and difference, but for the sake of capital, power, and stasis.
Our freedom is lost.
Laura Poitras: Astro Noise, on view at the Whitney Museum of American Art, deftly explores the very complicated post-911 landscape in which freedom is lost. Security vs. Terrorism. Safety vs. Surveillance. Visibility vs. Invisibility. These oppositional concepts form constellations, indelibly trapping us—we the people—in a web so tight that if it were visible, we would feel Poitras' paranoia expressed above much more acutely. This invisible web is what Astro Noise attacks and drags into the light.
Large abstract prints of data intercepts and drone paths from Poitras' ANARCHIST (2016) series present an aesthetic, but opaque, frontispiece on the exterior of the galleries—much like the surveillance apparatus itself, architecturally speaking, the NSA headquarters in Fort Meade is overtly appropriate. A reflective, black box, containing nothing and everything all at once. Moving into the galleries, the first projection screen shows close-up footage of people observing, with varying degrees of emotion, ground zero in October/November of 2001. O'Say Can You See (2016) presents a meditation on devastation distanced from the event. We are never shown ground zero in the 14-minute video. The eerie accompanying audio is an elongated broadcast of the National Anthem sung during a Yankees game. Early in the video, a well-dressed woman is seen describing what used to be to her pre-teen daughter.1 The daughter appears disinterested while we see a realization cross the face of the mother: something very profound has changed.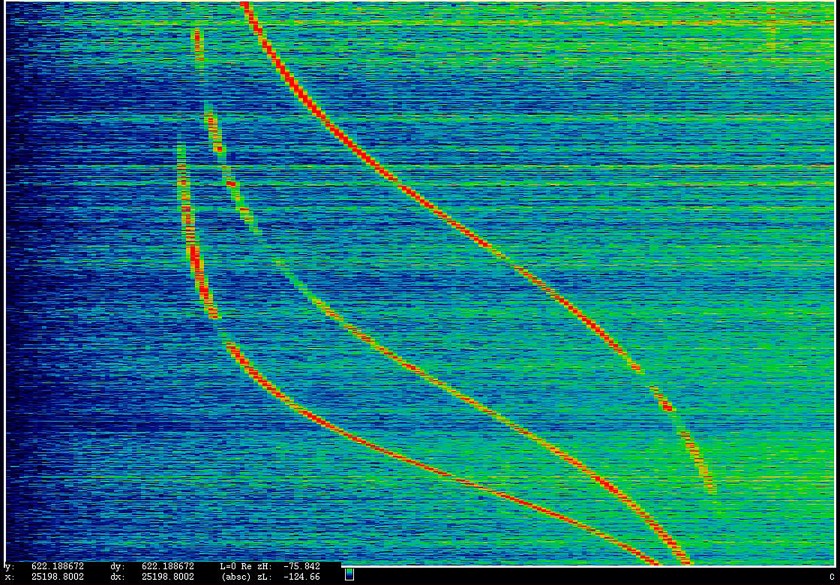 On the rear of the screen, an interrogation is projected. A detainee person is questioned repeatedly about his familial relationships; his wife, his daughter. He kneels uncomfortably on the dirt floor, shifting his weight as a beam of light tracks his face. A soldier in the background steps forward and puts a bag over his head, his answers appear not to satisfy his captors or justify his detention. As his face disappears inside the bag, we are faced with the fruits of trauma and its continuation.
The exhibition then turns a corner to Bed Down Location (2016), a dark room with a large, low platform in the center of the gallery that viewers can lie down on. The night skies over Yemen, Somalia, Pakistan, and the United States are projected overhead. One thinks about what they had just seen, takes some peace from gazing up at the stars like a child. Takes a breath. A faint hum is heard overhead. The realization slowly crawls over you that although this feels safe, the people in Yemen, Pakistan, and Somalia cannot have the same experience. Instead, the night sky shrouds wanton predators, watching from high above. Stargazing does not elicit the same sense of wonder when tinged with fear.
Incidentally, military drone flights occur in the United States as well.
A small, winding hallway, Disposition Matrix (2016), leads out of Bed Down, backlit slits like luminescent redactions allow you to glimpse classified documents released by Snowden, memos indicating that cyberattacks are an act of war, and interviews with former detainees. High above the rest, impossible to view for anyone under 7 feet tall, plays cellphone footage of casualties from a drone attack. Towards the end of the hallway, a video of William Binney plays in which he speaks about the security agencies post-911 rationale, "Taking these people out was most important."2 He looks down and gulps heavily. It's a reckoning.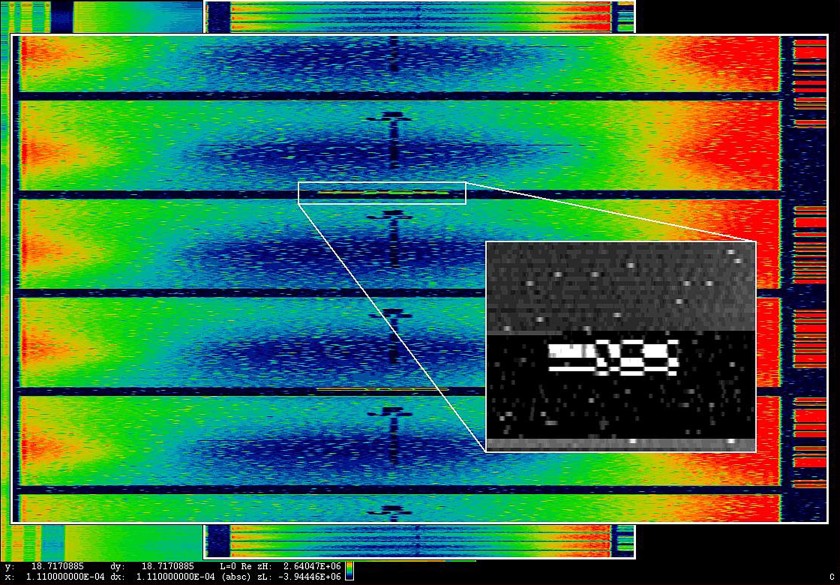 After passing through the redacted gauntlet, you are left with a choice: left or right. To the left, a video plays on loop, framed by declassified documents on the wall. The documents are the traces of Poitras' multiple detentions at airports and border crossings. For years, Poitras had been detained and questioned when coming back to the United States and she never knew why. It took her submitting a FOIA request to finally get a few redacted clues as to why she was being harassed by her own government. The video shows the family of Riyadh al-Adhadh, a Sunni politician and physician in Iraq that Poitras stayed with while filming her documentary My Country, My Country. It shows the family inside their compound, peering curiously over the walls, the rooftop after a bomb exploded in the neighborhood. The kids were pensive, energetic. This was the clip the authorities were seeking.
Heading towards the exit, glancing right, is a monitor playing a thermal image feed of individuals lying in Bed Down. Immediately, I felt naked. My eyes scoured the figures to see what could be seen. To see what vulnerabilities I had exposed. Next to the monitor, another screen relays Wi-Fi information gleaned from visitors' cell phones, a gentle reminder that we are transmitters, constantly relaying information that we may or may not be aware of.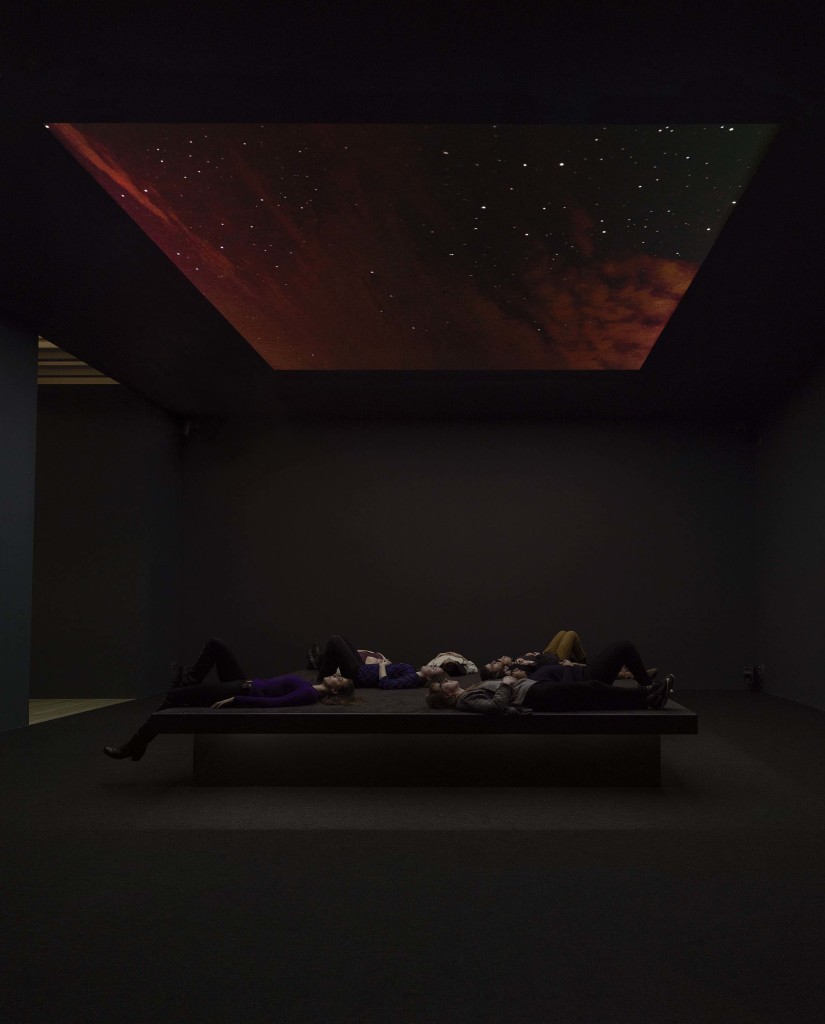 Our freedom is transformed.
In the midst of my research on this article, I have come to grow somewhat paranoiac myself. It is hard to accept that all my online communications are collected somewhere outside of my control. It is hard to even be upset about it. It seems like a foregone conclusion already.
Curious, I downloaded a Tor browser, opened it and was met with a blank browser window. I typed in a SecureDrop address I know, the page loaded, but I had no information to divulge, nothing to drop. Nowhere to go. Nothing to do. I closed it again, going back to easily navigable, familiar Chrome. The Deep Web may be the Internet's vast and free underside but it is invisible. It is unknown. It is un-navigable save by, sometimes spurious, insiders. Surveillance has not charted these waters.
The web we are accustomed to is navigable because of a concerted effort between surveillance and sousveillance. Our world, the one in which we feel safe, is predicated on a lack of privacy. With the loss of freedom based in privacy, we are forced to either beat back an already insurmountable digital edifice—built to track and trace our digital footprint, and therefore our personalities—or redefine what meaningful freedom is. Could it be that the only freedom left is that of self-expression—archived, categorized, and put to use? And what then if, like now, democracy is threatened by a demagogue who vows to use information to restrict and persecute people out of fear and ideological opposition? In CITIZENFOUR, Snowden said his motivation lay in the idea of "state power vs. the people's ability to meaningfully oppose that power."3
He may have already been too late.
---
Laura Poitras: Astro Noise is on view at the Whitney Museum of American Art through May 1, 2016.
O'Say Can You See?, Laura Poitras, single-channel video, 2015. https://www.youtube.com/watch?v=8n5MV8UzVqE – 00:56
Interview with crypto-mathematician William Binney, a retired NSA Technical Director and CIA Contractor, Interview by the artist, filmed by Kirsten Johnson, 2012.