January 20th, 2014
01.20.2014
Lionel Maunz: Bureau, NYC
by Tara Plath
In stark contrast to white walls and light patchwork floorboards, the sculptures of Lionel Maunz shade the space of Bureau in New York. The methodically placed cast iron and concrete sculptures stand and lay around the gallery, feeling neither cluttered nor sparse.
For his third solo exhibition with the gallery, Lionel Maunz takes his title from Paolo Uccello's 1457 fresco, Deluge : a scene of violence and confusion in the confines of the looming walls of Noah's Ark. Walking amongst each sculpture, I felt a similar sense of merciless abandon. Maunz creates objects and scenes that ask not for a viewer, but for a witness. Some time after I left the gallery, I read the take-away interview, a piece of a conversation between the artist and Bureau's owner and director Gabrielle Giattino. I was nearly distressed to find that this resonating feeling, of being left to deal with the pieces, is articulated perfectly in Maunz's own words: "I would hate to wallow in representation if it meant squandering cruelty in favor of communication." The statement feels almost like an admission that the artist, or rather the work, has no interest in a dialogue with its viewer. It is an authoritative force. The sense of being nothing more than a bystander is enforced by the traces of crude process – unfinished seams in the cast iron, bits of foam in the concrete, and the abrupt appearance of plastic zip-tie forms in the cast assemblage of a piece, entitled Discipline. The works within Deluge have an impetus that is independent of those in their presence.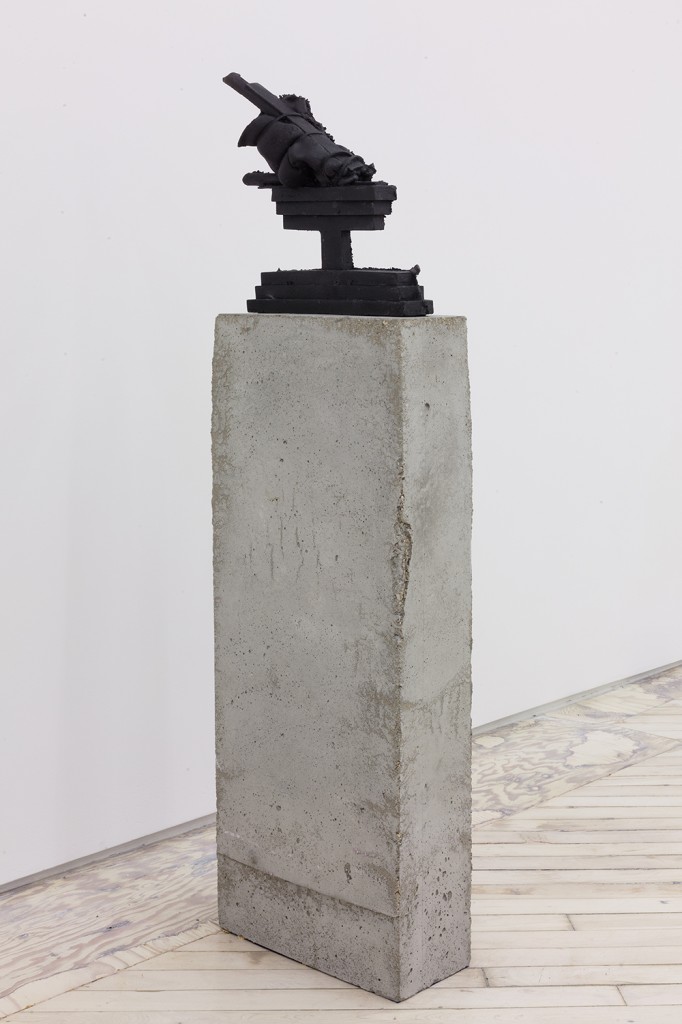 In the exhibition, Maunz employs the figure in a fashion that is illustrative, but not overly allegorical. The romance and grandeur of horses' bodies and graceful nudes are reduced to their parts – in the form of hooves and fabric, even further disfigured and fractured by the presence of intersecting geometric forms. The exhibition is deathly silent, yet succeeds in bypassing melancholy or drama, arriving swiftly at disquietude.
Each piece is, in its own manner, disjointed and shrine-like. In the first space of the gallery, Cone of Erebus and Crawl, Conquer press themselves against the floor, like bowing figures to What Crawls Must Be Crushed, which stands tall and centered behind them. In the backspace of the gallery, the compositions are reminiscent of a Salvador Dali desert painting. Horse fragments, severed feet, and melting hands are scattered and infused alongside more anthropomorphic abstractions that emulate joints, vertebrates, and clinging fabric. At times, the black cast iron oozes like molten lava residue.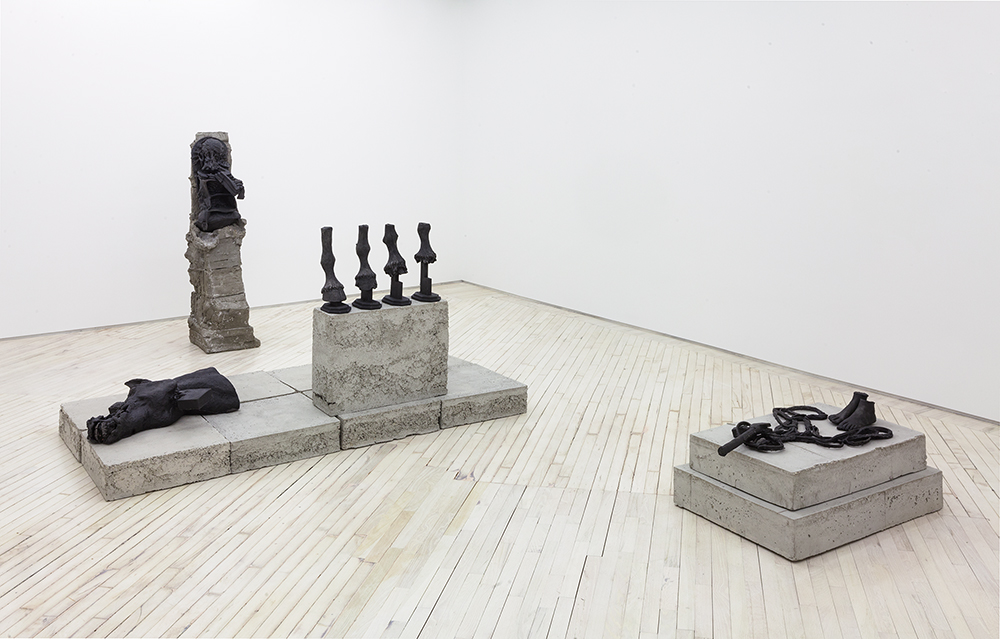 A decaying horse head lies upon a stone in Regime, adjacent to four partial horse legs and hooves that stand like busts. While Maunz cites his own references for the power of imagery of abuse against the horse, I found myself sinking back within the pages of writer and translator Daniel Borzutzky's The Book of Interfering Bodies. In "Resuscitation," Borzutsky writes
Chop off the legs, they demanded
I chopped off the horse legs and the vermin that sucked on the dead beast
scrambled across the floorboards
I chopped the horse legs into thousands of pieces and they said what do
you see
I said I see thousands of bone shards and blood and bits of hair and in
each fragment there are villages, towns, hamlets, inlets, streets, suburbs,
cities, states, and countries
Nations or countries? They asked
Countries1
Supporting some of these animal parts and organic forms are simple rigid shapes, traces of buildings once inhabited by the artist, cast in concrete and stacked in piles. Below the pieces are thick concrete tiles, or platforms that allude to interiors. Maunz's preoccupation with the violence of architecture, the forces of structures imposed upon bodies, is an echo of Borzutsky's text. But where Borzutsky illustrates life, in his title as well as the visceral account of blood, loss, and imminent death, Maunz presents us with a sarcophagus: small but weighty memorials to histories of violence and iron-cast traumas.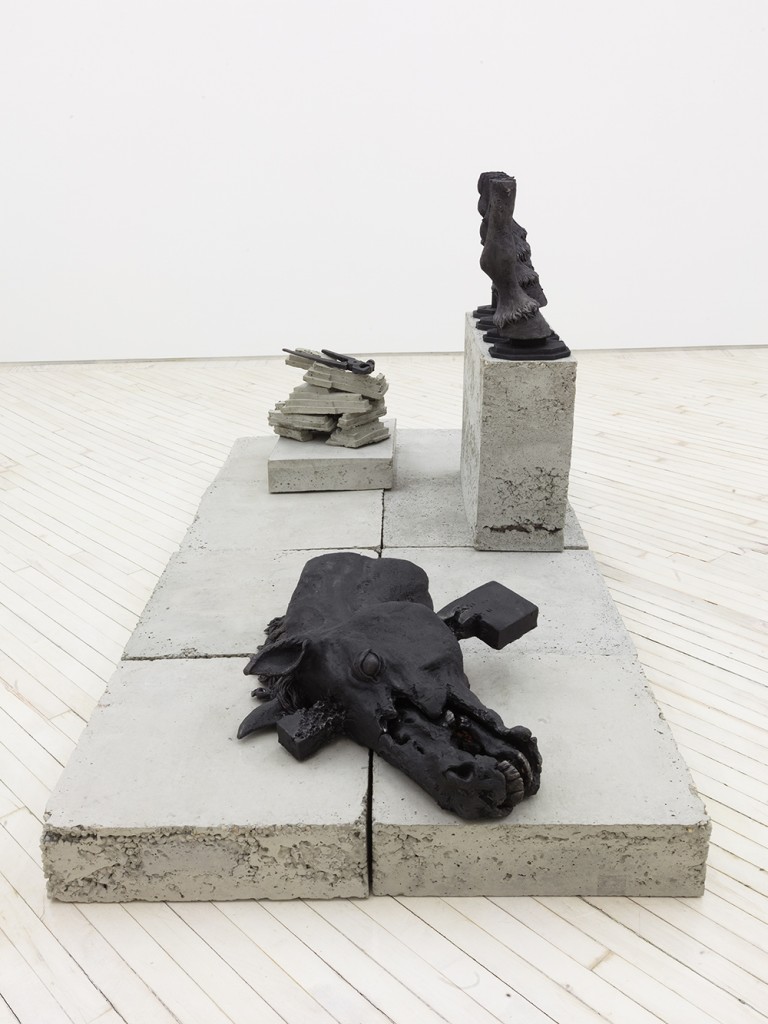 ---
Lionel Maunz, Deluge, runs at Bureau through February 9, 2014.
Daniel Borzutzky's The Book of Interfering Bodies, here.