Michael Joo: Blain|Southern, London
The new body of work by New York-based artist Michael Joo demonstrates an intricate artistic practice certainly not easily bypassed. Entitled Radiohalo, this solo show, presented at Blain|Southern gallery in London, dissects notions of human hypostasis, presence and absence, energy consumption, nature and environment. All are filtered through the spectrum of idealism and embody Joo's noetic experimentations by simultaneously utilizing an underlying pragmatism.
Spanning the gallery's entire ground floor, Joo's exhibition encompasses a body of new 'caloric tray paintings,' as described by the artist himself, influenced by an older series, The Saltiness of Greatness, produced back in 1992. There, the basis of his investigation lies in the calculation of the amount of calories that several historical figures depleted throughout their lifetime. In the new series on view at Blain|Southern, the artist expands his survey towards a wider context of calorie consumption by the human body during numerous activities or actions. These are given an additional yet ambiguous—almost abstract—character; they concentrate on aspects of a person's life such as lying for one second or driving for a specific amount of time.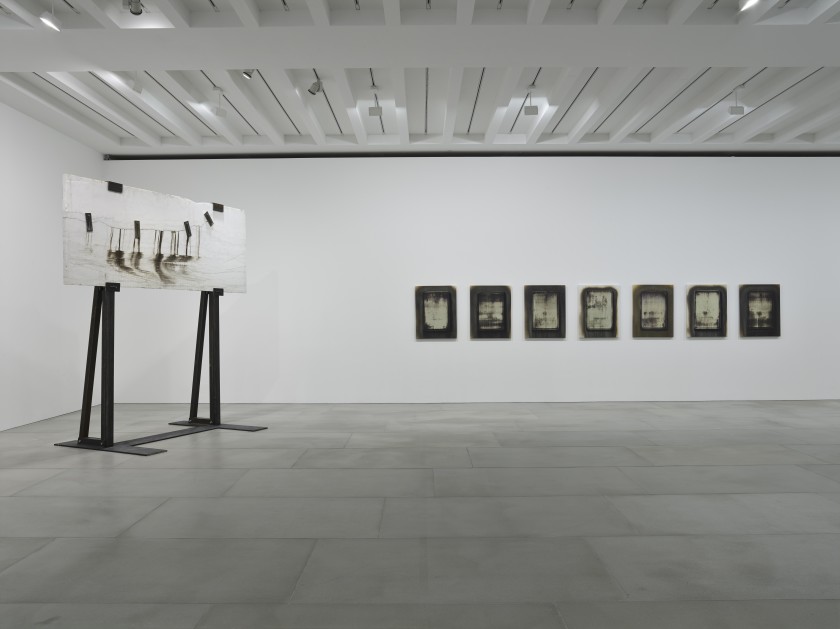 Joo's fascination with the applications of silver nitrate expands over a decade. In the 'caloric paintings' his favorite medium engages with a sensitized epoxy ink. The complicated process involved in producing these paintings embraces the use of actual food trays which are stamped with carefully chosen caloric values. These are then transferred onto a canvas surface where Joo's signature methodology is implemented as he combines painting, print-making, photography and sculpture. The placement of these pieces at the viewer's eye level initiates, not only a direct dialogue between the two, but allows for a mirror-image situation – the surfacing of the spectator's self-portrait.
Situated on either side of a floating wall, two large works embark from the same context of the 'caloric paintings' but this time Joo surveys and conveys the meditation processes of Buddhist monks and those energy levels that transform and elevate both human body and soul. Spiritualism has been among Joo's main interests for years; back in 2006, he received the grand prize at The Sixth Gwangju Biennale for his work Bodhi Obfuscatus (Space-Baby) (2005) which traversed similar parameters. Back at Blain|Southern, Untitled (Give) represents the amount of calories that the body requires to consume itself while Untitled (Take) portrays the energy levels at which the body can be considered a source of sustenance. Both works mediate the artist's inner explorations towards aspects of energy transformation, equation and recycling.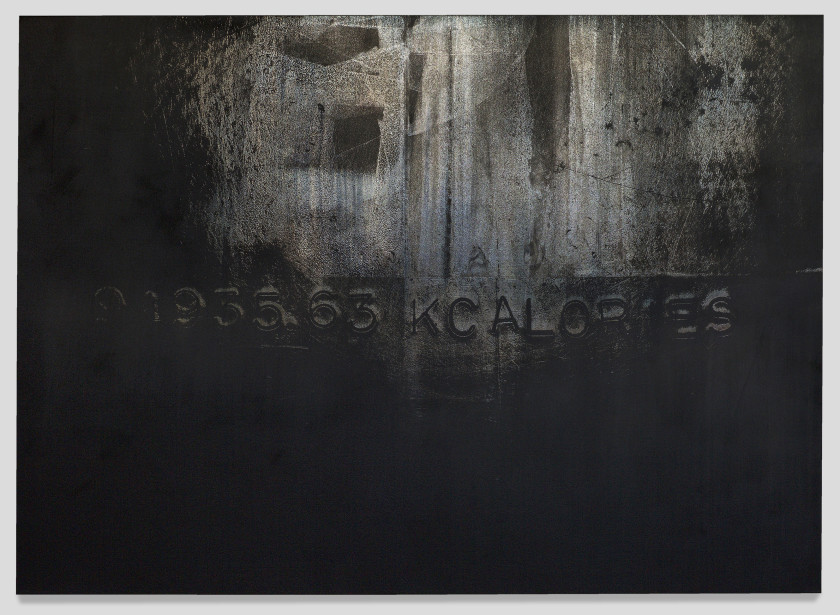 Prologue (Montclair Danby Vein Cut) (2015-2016), a three meter tall sculpture comprising a marble slab extracted from a mountain quarry in Vermont supported by a sturdy steel frame is the epicentre of the show. Taking advantage of an accidental crack in the marble slab Joo applied his favorite silver nitrate, which in turn formed to its marks and stains traveling through the pores of the metamorphic rock's surface, reminiscent of a bleeding body wound with metallic stitches bonding it together. The resulting landscape undoubtedly generates an imposing effect, which references Joo's great interest in geological phenomena and particularly that of Cameron's Line, a tectonic zone in the northeast United States impregnated with vast amounts of marble deposits. His sculpture renders metaphors, accentuating placement and displacement as well as the redefinition of geographical and human boundaries.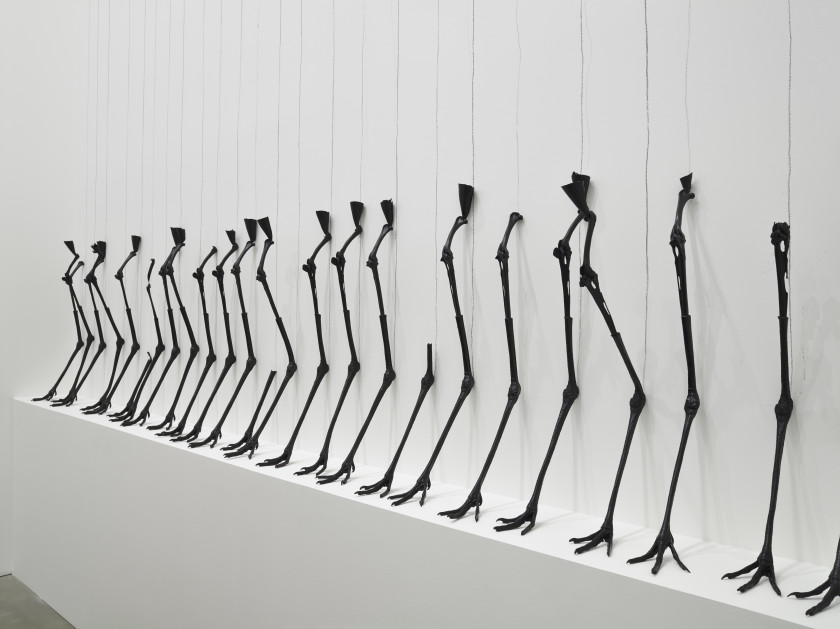 A separate sculpture situated at the gallery's stairwell is inspired by an older body of work produced during a residency at the Smithsonian in 2012. DRWN (Carunculatus) features models of endangered African crane legs cast in graphite and resin. The marking of a series of vertical lines on the wall is a manifestation of not only the sculpture's spatial relationship to its immediate surroundings, but also of the birds' fragility as defined by their migration movements, in search for ideal feeding conditions depending on human intervention on wetland habitats. Similar constraints were also part of the artist's work presented at the Korean Pavilion of the 49th Venice Biennale in 2001.
Michael Joo's visual lexicon speaks to issues of transformation of matter and energy. It emerges as a response to everlasting questions concerning lifecycle and the recycling of our natural powers and resources. While being strongly anthropocentric, he concurrently demonstrates a stance of respect and admiration towards the natural habitat we live in transmitting his anxiety and distress about our responsibility towards our surrounding world and the very identity of our existence.
---
Michael Joo, Radiohalo at Blain|Southern London runs through April 9, 2016.