September 20th, 2014
09.20.2014
Mickalene Thomas: I was born to do great things
Mickalene Thomas' I was born to do great things, currently on view at Kavi Gupta is her first solo show with the gallery. While the work in the exhibition was clearly conceptualized by the artist, it would seem unfair to call it a "solo," as Thomas did not create this exhibition alone. Thomas has used her late mother, Sandra Bush, as her muse for the past 14 years. The current exhibition, produced in the space of the gallery, is an environment that embodies the woman that has shaped both the artist's life and practice.
The space, in the Washington location of the gallery, is brimming with Sandra Bush. One of her portraits greets you as you enter—objects that belonged to her are collected and displayed on round wooden tables, sometimes under glass domes, sometimes arranged on tables, as if in a retail establishment or garage sale. Two sayings that Sandra lived by, one of which shares the title of the exhibition, loom large and brightly colored with subtly glittering black painted letters. Her soft, alto voice drifts out of a wallpapered, wood-paneled living room filled with her things, modeled after a living room. The living room is meticulously detailed in its objects and their placement, walking in feels as though you've entered a relative's home. The wood-paneling, heavily patterned rugs and furniture, carpets that cover alternating linoleum patterns and wallpapers that are crowded with thick designs produce a sense of intimacy that is striking and similar to looking at the open tube of lipstick on the wood tables in the adjacent room.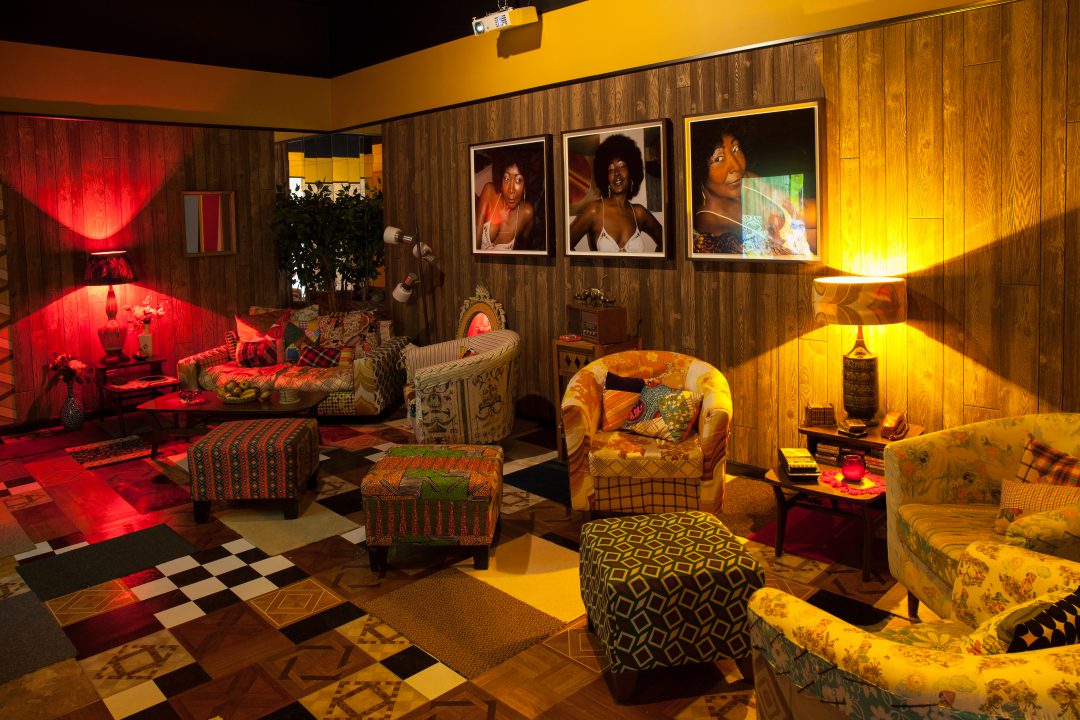 Sandra's presence vis-a-vis the objects is overwhelming; her most iconic articles of clothing hang, cast in bronze, on wood-paneled backgrounds. Other items, not all of which are cast in bronze, fill the room—earrings, lipstick and lip-gloss, a pair of Crocs, a bra positioned on a low pedestal—their years of use exude a personal connection that is as touching as it is expressive of who Sandra Bush might have been. The objects also raise the question: what does one do with cherished things that were owned by someone who has passed? How is it possible to begin to know how to treat these things that, no matter how small, how trivial, are a part of the story of that person and the life they lived?
Objects have their own life cycles that are distinct but not separate from our own. Evidence of the object's relationship to its owner is everywhere—from the SKU barcode applied by the manufacturer, to the labeling that has been worn away by frequent touch. The lives of some of the things within the exhibition has been doubly interrupted, they are like a photograph, frozen in time. The bronze casting within the process of each object simultaneously destroys and preserves exactly how they existed at that moment. The documentary Happy Birthday to a Beautiful Woman plays on a loop in the living room space. Made near end of Sandra's life, Bush discusses her ambitions, struggles with drugs, her abusive relationship with Thomas's father, and the way she feels about her life and her appearance as a woman with a terminal illness.
I was born to do great things is an amazingly aspirational statement, it is decisive and hints at destiny and meritocracy in the same breath. Hidden amongst the items on the wooden tables are two sculptural works—the first is Thomas' first sculpture, a broken, lumpy, vaguely figurative work, the other is a hand that Sandra made herself. Their inclusion in the exhibition speaks volumes to the nature of the emotionally heavy affect throughout the space. In the film Sandra says, "To work along with you, makes me feel like I've accomplished something." Read as a whole, the exhibition might be a tribute or a celebration of the story of a woman who had a difficult life. But it is equally the story of an artist and a muse who made each other's lives what they are.
---
I was born to do great things at Kavi Gupta runs through November 15, 2014.