October 9th, 2017
10.09.2017
Multiple Shadow House: MACM
Olafur Eliasson's identity is hard to grasp, much like his ephemeral creations of light, shadow, and water recently on display at the Musée d'art contemporain de Montréal as part of Eliasson's first Canadian solo exhibit Multiple Shadow House.
Olafur Eliasson is neither of one place nor of one practice. Raised between Denmark and Iceland, and with a studio in Berlin, Eliasson's many projects range from prestigious art exhibitions, to gorilla-style public installations, to launching art studios and social enterprises. The nexus of Eliasson's practice, Studio Olafur Eliasson, defies easy categorization just as much as its founder. Between its high ceilings and window-lit rooms, Eliasson has assembled a creative hub where artists engage in intellectual sparring with engineers and scientists, while archivists share quarters with cooks and administrators. The remarkable thing about Eliasson is that he actually seems to live his approach to art. The tendency to foster exchange is at once central to his oeuvre and his accomplishments outside the realm of artistic creation. For Eliasson, human perception and physical environment are integrally entangled. His works are often incomplete until human interaction renders them so.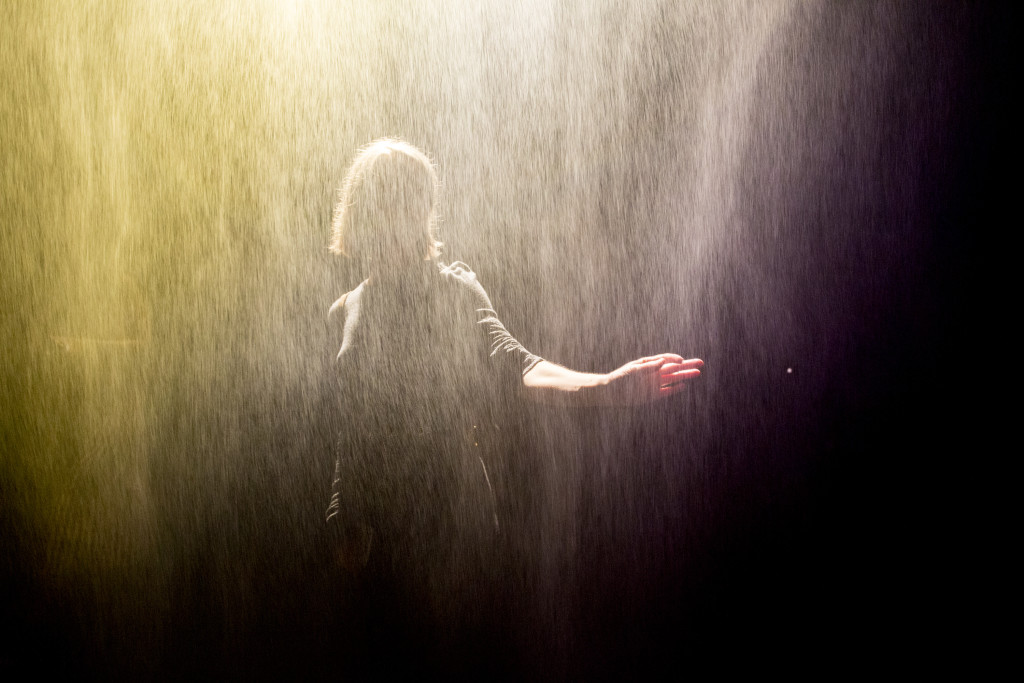 Eliasson's Multiple Shadow House is a spare yet satiating exhibition. It could easily have gotten swallowed up by the Museum's major exhibition on display, In Search of Expo 67, which shares a gallery wing. Yet there is a silence and an enveloping experiential quality to the rooms of Multiple Shadow House that demand attention. The selected works, reaching as far back as 1993, at once question our relation to architecture and environment while emphasizing the existence of bodies in movement, using light and water as sounding boards to tease out these concepts. The exhibition begins and ends with two water-based works that are revealed to us by dichotomous usages of light. The opening installation, Big Bang Fountain (2014), creates finite sculptures of gushing water as revealed by a strobe light in a pitch black room. As the room is cast in a blue-white light for a fraction of a second, viewers are revealed to one another while moving water becomes static sculpture that reinvents itself with each flicker of the strobe. Beautiful in its harsh and fleeting immateriality, the work provokes both awe and detachment. On the opposite end of the exhibition, Beauty (1993), repurposes water and light to create a soft, continuous wave of golden mist falling from the ceiling. The viewer creates its own relation to the work, free to immerse themselves in the ethereal wave.
Other works on display interpolate the viewer in more literal ways. Both the 2008 installation series Mirror Doors (spectator, visitor, and user) and Polychromatic attention (2015) play with perception and reflection to create effects of what Eliasson calls "seeing yourself seeing". In Your space embracer (2004), a suspended, rotating mirror-ring lit by a spotlight creates cinematic depth as rings of light and shadow move slowly and cyclically across four gallery walls.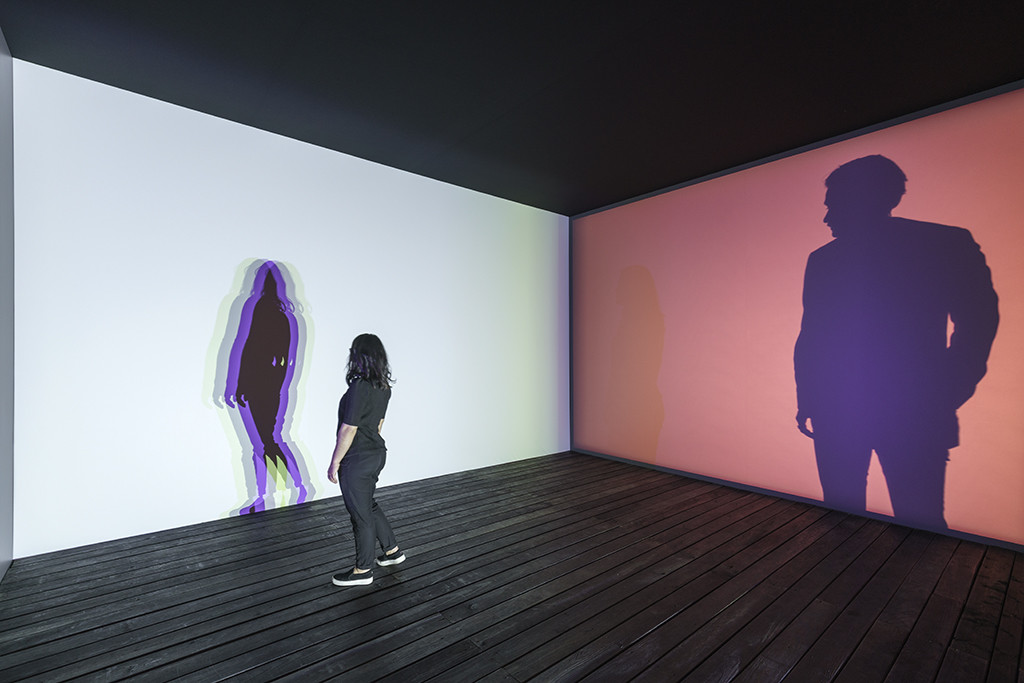 However, no work presents an overlapping of Eliasson's major themes more than Multiple shadow House (2010), at once the exhibition's central work and namesake. In this immersive installation, projection-screen walls act as canvas, as some are front-lit and others back-lit by colored halogen lamps. The visitors' movements through the pavilion choreograph their collective experience, as multicolored shadows grow, fan out, and disappear.
Throughout Multiple Shadow House, one does not simply observe or admire a work; one inhabits it, shapes it, and participates in its being. One becomes entangled in it. Considering Multiple Shadow House from this reality clues us into Olafur Eliasson's larger oeuvre and elucidates just how he is able to jump seamlessly from creating, for example, meditative experiential works of art to politically-charged installations on climate change. Regardless of his point of entry, be it in the studio, the institution, or the public space, Olafur Eliasson behooves us to acknowledge our shared existence with our environment, revealing ourselves to us.
---
Multiple Shadow House ran at the Musée d'art contemporain de Montréal through October 1, 2017.