February 17th, 2014
02.17.2014
The Myth of Participation: CAA 2014
by Tara Plath
The College Art Association's Friday morning panel, The Myth of Participation and the Growing Realities of Critical Exchange, brought together artists, scholars, and educators to evaluate the relationship between artist and audience, and the importance of site and objects in participatory art practices. The speakers did not achieve a debunking or confirming of "Myth," but instead problematized the oversimplified approaches to social practice in contemporary art, and the role of the participant in these actions.
The emphasis on location in a participatory model was emphasized again and again, in various capacities. Abigail B. Satinsky, of threewalls in Chicago, who spoke about selling editions as an art practice and effort to sustain one's life as an artist, noted that models such as Community Supported Art depended on local interest and participation, while operating under a nation-wide initiative. Drawing from the farm-share model, the CSA at threewalls aims to create public support for local artists in Chicago, which according to Satinsky, is still lacking a substantial collector base.
Artist and professor Conrad Q Bakker of the University of Illinois at Urbana-Champaign spoke about his own practice, and specifically his work in PUBLIC THINGS + Untitled Project: LIBRAIRIE [Geneva] at Galerie Analix Forever in Switzerland, which included a work composed of a table display of hand carved wooden and painted objects, in this case Rolex watches, which existed as an operational vendor's table at a flea market, and was later transferred into the gallery. In this shift from commercial transactions to gallery display, the ideas of value and meaning come to light, entertaining the young Marxist scholar passerby's and perplexing shoppers who struggled with the undefined regulations of such a transaction: "How many can I buy?" asked one interested customer.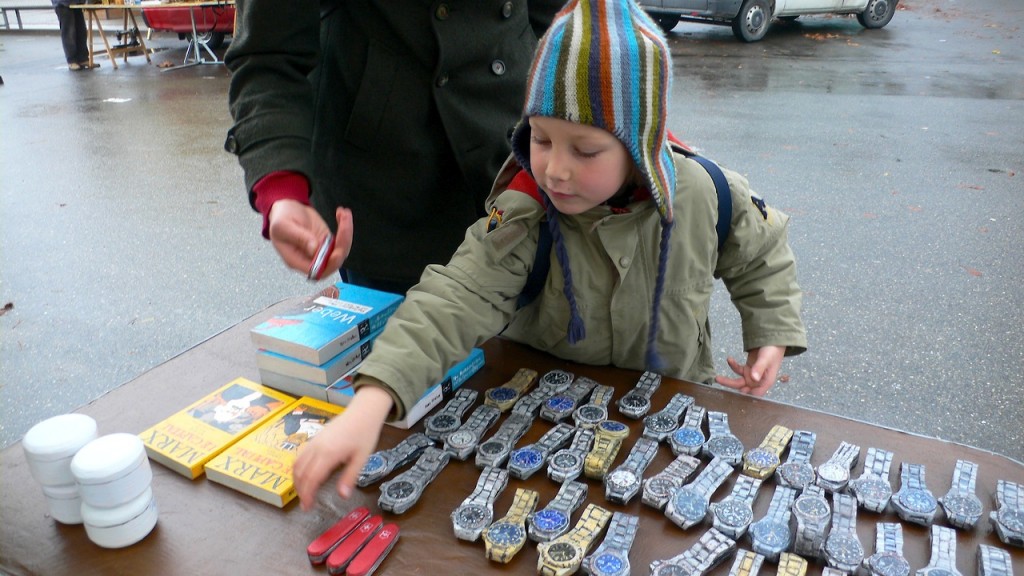 Perhaps the most straightforward approach to site specificity in participatory practice was defined by Nick Tobier's performance series Marvelous Guests, in which Tobier creates interventions, or interruptions in non-art spaces. The most interesting aspect of Marvelous Guests were decidedly not the interruptions themselves, but the social exchange that Tobier had to navigate in order to get permission to stage such actions. The conversations that arose from requesting access to spaces such as Laundromats, gas stations, and riverboats created an awkward exchange that centered on purpose, intention, and value. Upon entering a space not designated specifically for art, one is forced to recalibrate one's language and expectations. It is this drastic re-negotiation that can spark an interesting and critical discussion, and may be at the core of such participatory practices.
What are the possibilities and perhaps risks that arise when an artist chooses to step outside of a neatly packaged art platform, which has widely understood expectations and regulations of participation and authority? Moving quietly through the museum, not touching the artworks, polite receptions of performances­ – these are anticipated behaviors in art institutions that indicate a silent art-social contract. Meanwhile, outside of the art world, the social contract extends beyond these behaviors to include the silent agreement that one will remain clothed and not approach subjects of sexuality and race in confrontational manners, several characteristics often seen in performance art. When one of these spaces actively enters the other, i.e. when an artist steps outside of the museum and gallery and into public space, do we have a conglomeration of all of these social standards? Or do we explode both systems and find ourselves with no clear definition of appropriate behavior?
An admittedly imperfect example of the extent of this agreement can be observed in the recent controversial interruption by performance artist Ann Liv Young of another's performance at the American Realness Festival at the Abrons Arts Center in New York. I won't delve into it deeply here, as it has been thoroughly parsed through in articles and interviews, which can be read here, here, and here. As a summary for those unfamiliar with the event, Liv Young spoke out in the middle of artist Rebecca Patek's piece ineter(a)nal f/ear , which addressed issues of rape and H.I.V., to challenge the quality and authenticity of the work as well as the choices of festival curator Ben Pryor, who also sat in the audience. What I will address is that even in regards to a medium that is often provocative and challenging, an unscripted and unwelcomed challenge is met with severe disdain, articulated, as critique often is these days, through a social media wild fire. While many had something to say about it immediately following the spectacle, no one in the audience was prepared to receive the challenge in any manner other than silently.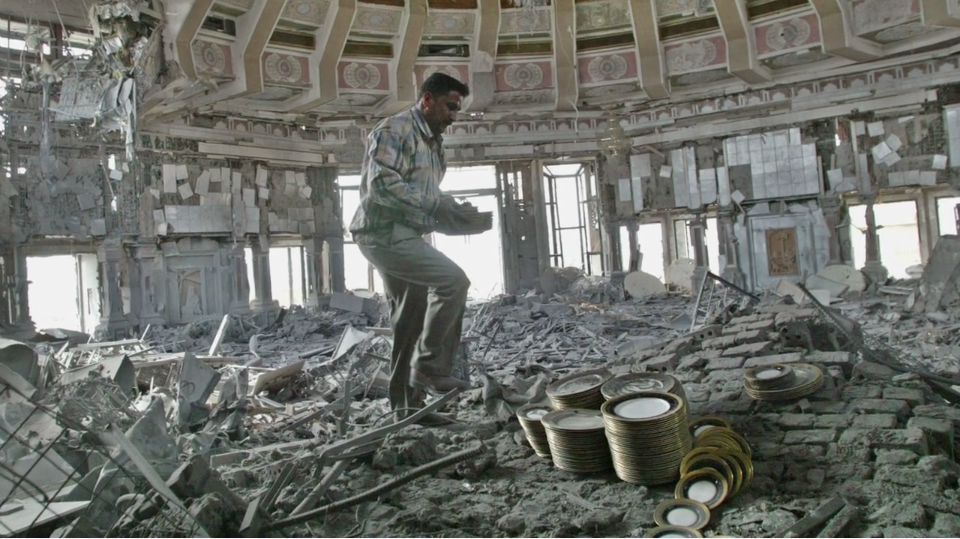 I bring this rather dramatic example into a discussion about otherwise relatively polite participatory practices in order to highlight the more subtle aspects mentioned by the speakers on Friday's panel. While most accidental audiences receive the works of participatory practices as expected, examples that only include instances of respectful reception fail to address the potential of such artwork. The consumers of CSA packages might go home and give the carefully and lovingly made art to their destructive and careless small children in an attempt at art education, or the diners at a restaurant entitled Park Avenue who ate off of plates once owned by Saddam Hussein in a piece by Michael Rakowitz, as detailed by panelist Kelly Rae Aldridge, could choose to instead smash these objects in an act of protest against the former dictator.
The conflation of the non-gallery spaces that these artists work with poses a challenge: would there be consequences for the diner? And if so, would it be the restaurant or Lombard Freid, just one gallery that represents Rakowitz, that demanded retribution?
There was a distinct invitational quality to many of the works detailed in The Myth of Participation and the Growing Realities of Critical Exchange. While each panelist raised interesting questions of how to present art to an audience who may or may not be interested in experiencing it, I am more interested in what happens when the invitation is actively denied. A new language, a new social contract, must be written in order to navigate this intersection between accidental audience and artist that allows for the work to operate outside of passive reception and into a productive, if not difficult, dialogue.