January 2nd, 2017
01.02.2017
Oliver Ressler: Salt Galata, Istanbul
Who Throws Whom Overboard? is a survey of the work of Austrian born and based artist Oliver Ressler at SALT Galata in Istanbul, Turkey dating between 2004–2016 and addressing issues of migration, borders, citizenship, capital, society, ecology and alternative economies.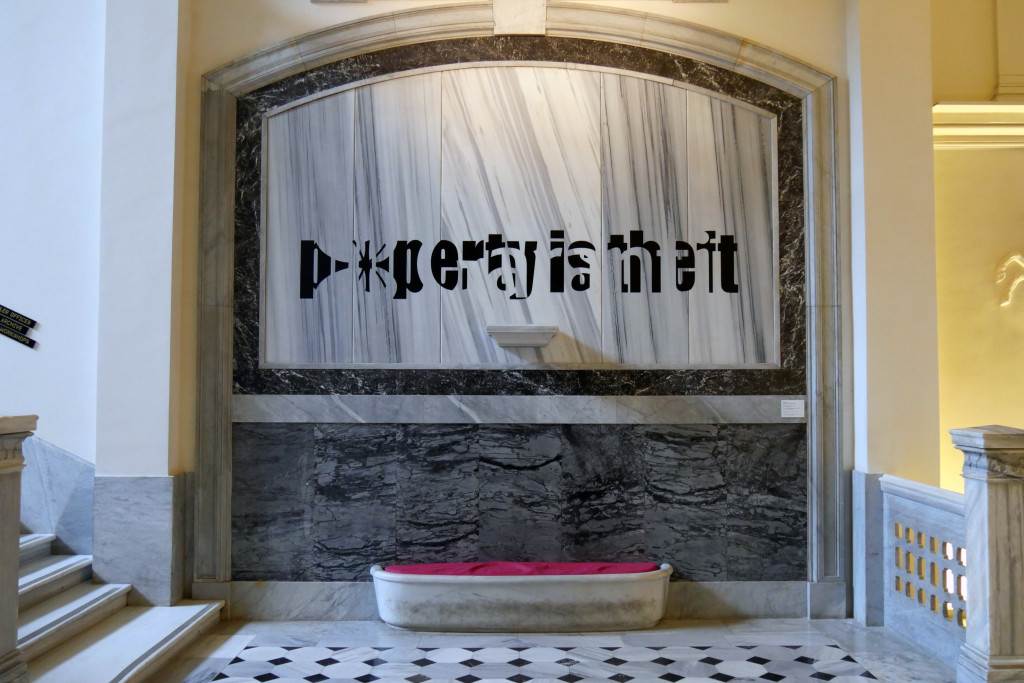 Spanning numerous areas of SALT, the exhibition brings together photographic works, wall texts, films and installations, including the newly commissioned film There are no Syrian refugees in Turkey (2016), shot in Istanbul in the summer of 2016. The video investigates aspects of life of Syrian individuals who have declined to beg for asylum from institutional Europe, choosing to continue their lives in Istanbul. The film unfolds a political analysis of Turkish and European politics from the viewpoint and experiences of five Syrian refugees. In the same space, a second film titled Emergency Turned Upside-Down (2016) examines the reality of migration and human trajectories through the prism of country borders and their fluctuating status. Two large-format digital prints Stranded (2015) and The economy is wounded – let it die! (2016) accompany the previous two videos followed by a 3-channel video installation Occupy, Resist, Produce (2014/2015). Through his collaboration with political analyst Dario Azzellini, Ressler produced a triptych that explores alternative economic models of factory occupations and self-management in Thessaloniki (Greece), Milan and Rome (Italy).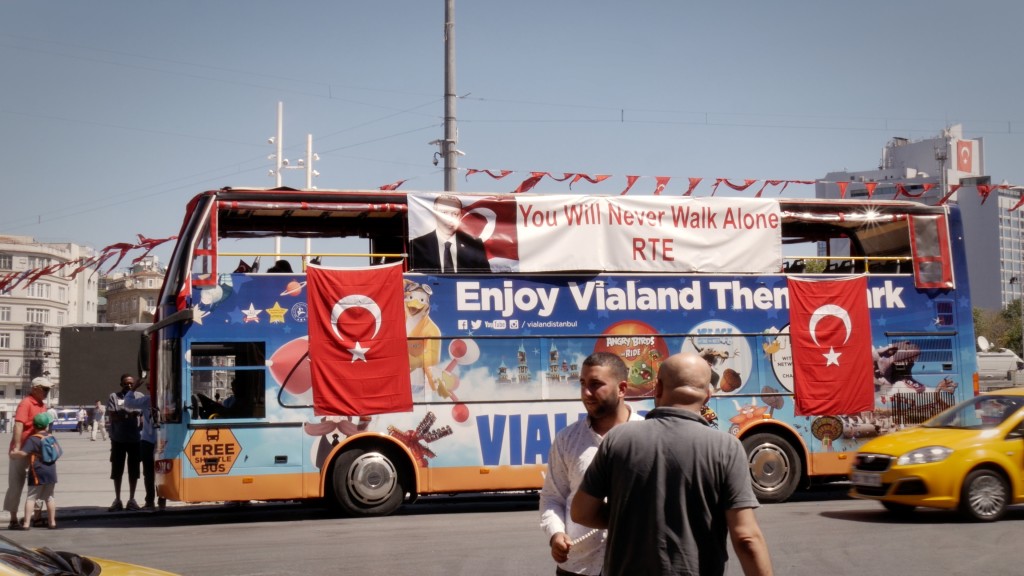 Oliver Ressler discussed his work and current show at SALT in depth with Staff Writer Kostas Prapoglou – a transcription of their conversation is below.
---
Kostas Prapoglou: To what extent do political turbulence, socio-economic crisis, war, and human displacement affect your work and your visual vocabulary?
Oliver Ressler: My work is influenced by and deals with the current social, economic, ecological and political situation of our world, therefore information is highly influential for my artistic work. While some works try to analyze or to find images for certain circumstances that interest me, a large part of my work deals with attempts to overcome the current situation. For years I have set my work in dialogue with forms of resistance, I followed different social movements, blockades of summits, workers' controlled factories, and tried to excavate and present existing concepts and models that might be important to imagine alternatives to capitalism and representative democracy.
KP: Your exhibition at SALT Galata partly surveys topical sensitive issues involving immigration and societal injustices in Turkey. What was the feedback from local audiences?
OR: If there would be another government in Turkey, the European Union would praise Turkey for its refugee politics. Turkey accepted 3 million Syrian refugees, much more than all European countries combined. And Turkey even provides basic support for the refugees such as free access to hospitals. But of course it is clear that the situation of Syrian refugees is far from being perfect. The majority of them is forced to accept work under extremely exploitative conditions in order to survive, as they live under legally unstable circumstances. But the refugees to whom I talked consider living in Turkey more acceptable than to be forced to risk their life to enter the European Union that does everything in order to hinder the refugees reaching their territories and where the governments and the majority of people do not want any refugees at all.
From the Turkish people to whom I talked in the exhibition, there were a few comments on the film There are no Syrian refugees in Turkey (2016) that has been carried out especially for the exhibition. It appeared that many people are not aware about the precarious situation refugees and these Syrian refugees at this particular juncture in time, live in, which makes them the weakest link in Turkish society.
Another interesting comment I heard, was that it is only possible for a foreigner to make art in such a forthright way on these topics at this moment of time – with freedom of press and social and political liberties of the people are trampled upon by the AKP (Adalet ve Kalkinma Partisi = The Justice and Development Party).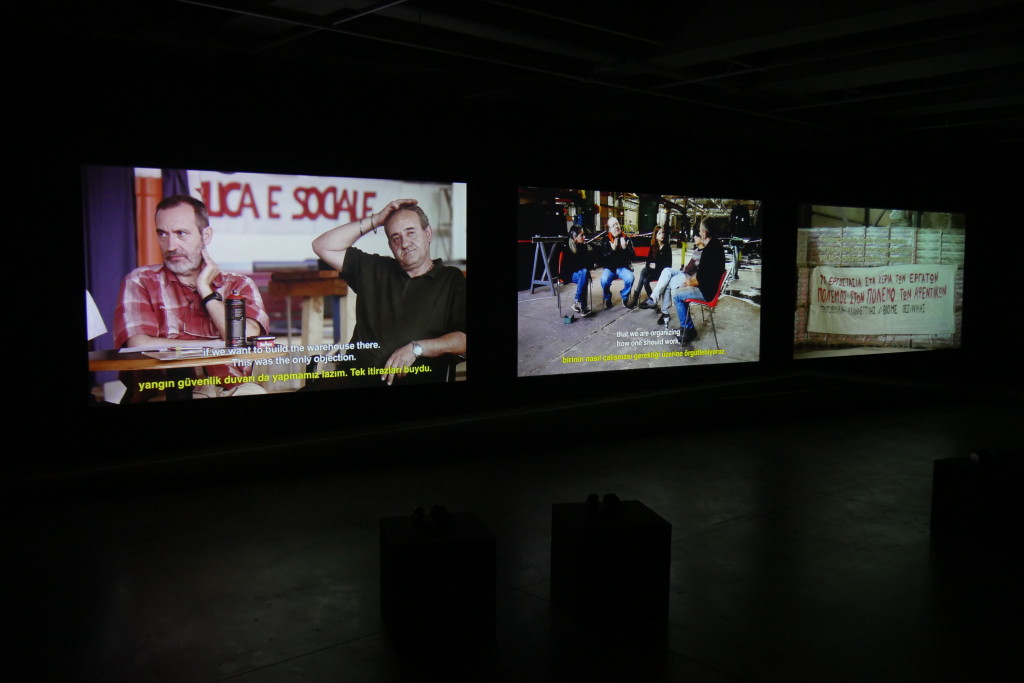 KP: Your 3-channel video installation Occupy, Resist, Produce (2014/2015) investigates alternative economic models taking place in three different cities experiencing an economic crisis. How do these examples of micro-communities inspire you and what was the process of choosing these particular three cases?
OR: Occupy, Resist, Produce is an ongoing collaborative project with Dario Azzellini. The three films discuss occupied factories in Milan, Rome (Italy) and Thessaloniki (Greece), in which workers managed to organize work under their control. In the factories we selected for this series, the workers' struggle went beyond being a means to fight for higher wages or against outsourcing the production, and the struggle radicalized and lead towards taking over the factory and run it without bosses in a democratic manner.
This is a quite a new phenomenon for Europe, while being quite common in Latin America. In times of an economic crisis, for many workers the only chance they have to continue working in a factory is to take it over and run it on their own. For each film, discussions with the workers were initiated and the workers' assemblies as the main decision-making body, were recorded. The recuperated workplaces often reinvent themselves and build ties with local communities and social movements. While it is fundamental to recognize the diversity of situations, contexts and modalities of workers' controlled companies, it is nevertheless important to understand workers' control or recuperation of workplaces as a socio-political operation and not as a mere economic procedure.
We find that ecological aspects and questions of sustainability are central, be it an orientation on recycling, as in both Italian factories, the change from industrial glue and solvents to organic cleaners in Vio.Me. in Thessaloniki. The importance of ecological aspects is part of the new society envisioned by the workers as are the democratic practices.
KP: How does the physical location of SALT being a venue owned by Garanti Bank conceptually fit with your narrative and the works presented in the show?
OR: In Turkey there are no public funds for contemporary art or for contemporary art institutions. So contemporary art institutions are private initiatives and foundations. If you want to present work in Turkey, there are no alternatives. SALT has been initiated by the curator Vasif Kortun who is the director of research and programs at SALT. I have been working with Vasif for nearly 15 years and have always been in good hands. Also the collaboration with SALT was very constructive and extremely professional—almost making you forget about the difficult political context in which this persists.
The first thing the visitor sees on entering the SALT Galata building is Pierre-Joseph Proudhon's anarchist slogan Property is Theft, which is attached to the marble staircase in letters interlaced with the logo of Garanti Bank, the financial backer of SALT. In his text from 1840 Proudhon opposed unused land being regarded as property, believing that land can only be rightfully possessed by use, while he considered the result of an individual's labor a legitimate form of property.
Today's "accumulation by dispossession" (David Harvey), a form of appropriation that involves not primarily the generation of wealth but rather taking possession of existing wealth, usually from the poor or the public sector, makes this slogan a perfect candidate for re-use in the context of global capitalism. The slogan points to the Garanti Bank but also to the banks role in general as central profiteers of all kinds of catastrophic economic activities around the globe.
KP: What is your next project and how do you see your artistic utterance involving in the years to come?
OR: I am currently focusing on the continuation of an ongoing project dealing with the struggles against global warming. I think as humanity we are currently at a watershed and it is up to us people living today to define under which conditions future generations will be forced to live – or die. Global warming is a theme I have been working on since the beginning of my professional career. One of my first solo exhibitions was 100 Years of Greenhouse Effect at Salzburger Kunstverein (1996). Lots of time has been lost since then to set up a new economic regime that does not depend on fossil fuels. In my project Everything's coming together while everything's falling apart, I follow the climate movement in its struggles to dismantle an economic system heavily dependent on fossil fuels. It is recorded at events of importance for the climate movement, bringing together different situations, contexts, voices and experiences. These locations so far are the COP21 summit in Paris in December 2015 and a blockade of a large open pit lignite mine in Germany.
Today many people believe that personal acts in private life are what matters in this crisis of global warming. It's great to take the train rather than the plane, eat vegetables instead of meat, and install solar panels on your roof. These are important things, but not the key thing. We are not just consumers. As citizens of this earth our responsibility is not private but public, not individual but social.
There are powerful structures that force us into lives that destroy our livelihood, and these have to be changed. It is up to us as active people to change these existing structures. And I hope my work can play some role in this much-needed struggle.
---
Oliver Ressler, Who Throws Whom Overboard? At SALT Galata, Istanbul, Turkey runs through January 15, 2017.