April 6th, 2015
04.06.2015
Fables of Home: What Remains at MoCP
by Gregory Maher
What is perhaps most striking in the exhibition What Remains, which recently closed at the Museum of Contemporary Photography, is the sense of isolation that surfaces in each of the artist's work. These photographers, as they grow up and apart from their communities, begin to develop a mythic sense of home—a sense of place frozen in memory. How do we remember the places where we grew up? And in that process of remembering—of recovering the physical space—do we forget the darker moments, the incidents of violence? In photographing the present reality of place, an alternate reality is constructed to cover an existence too forlorn, too desolate to face directly. Exhibition curator Allison Grant describes how these photographers co-opt, and in turn "inhabit a multiplicity of places that could never coexist in reality." Such constructed narratives precipitate from a deep force of loneliness prompted by separation or even exile. The photographers—Japanese, German, Canadian, Hmong-American—confront a complex duality of identity between countries, and communities which have undergone drastic change. For these photographers, nostalgia serves as a way to reify and come to terms with one's identity in the narrative of the prodigal son (or daughter). Through the undertaking of a pilgrimage—a return, these artists negotiate their "past and present selves" and capture a narrative (false though it may appear) wavering between promise and isolation.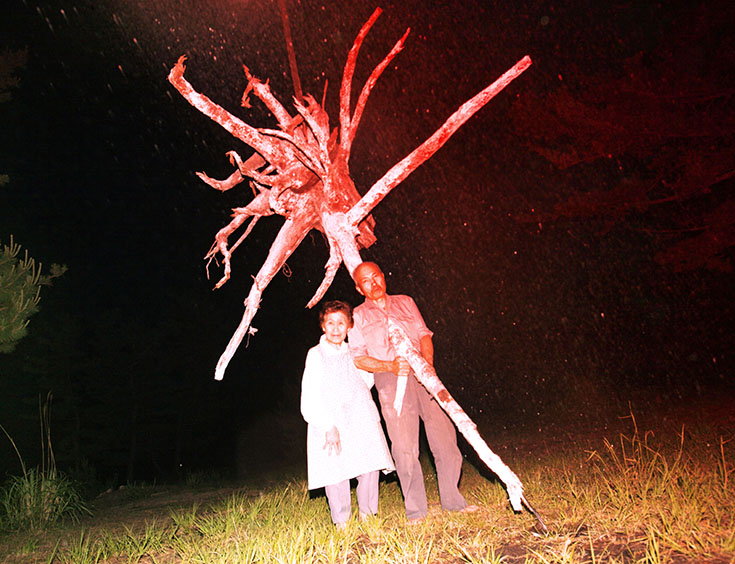 The exhibit opens into the main vestibule with expansive photos from Lieko Shiga's Rosen Kaigan series. After a moment of observation, eerie narratives of what seem to be unpeopled landscapes surface. Turn westward and there is a retinal scan of a horse—or a fish, as the opalescent scales imply—plumbing its murky blue depths like a globe unto another sun, another cerulean sky. Within these landscapes, bodies rest, rot, or remain as manifestations of cryptic pasts, or incipient conflicts. Bodies are a tense potential, a locked narrative only a forensic scientist can uncover—or, an artist. In one of Shiga's photographs, a red-tinged couple stares at the camera unamused, perhaps at the tree which has impaled the man, or at the double exposure which has produced the trick. Visual frames are aslant, colors off as if the film has traveled by itself across the Sahara, bleeding a fuzzy red. Liquid seeps off the frame in one image while light glows in inchoate blasts across seemingly placid environments. The focal image, stretched life-size on the north wall, is turned vertical so that the crowd-surfing teen depicted is suspended in a perpetual fall.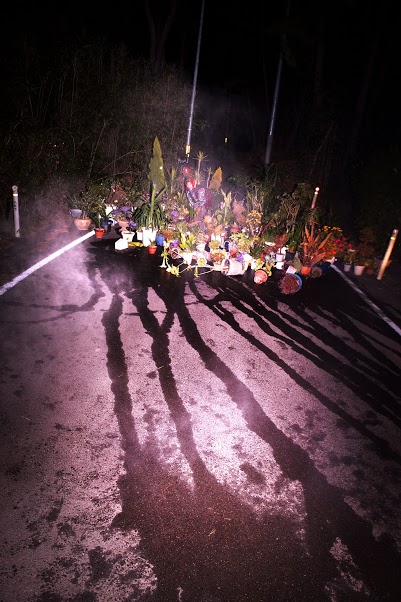 This tension is at the heart of Rasen Kaigan (2008–12), a meditation on land and people before and after the effects of natural disaster. Yet Shiga does not tell a linear narrative of place. She conflates the two impressions to create a timeless, but false reality; one in which even death and life are in question, where stasis and violence are diametrically opposed. Each scene contains potential, insinuating a darker narrative. Returning to the couple, the overlay of the tree through the man might be seen as synecdoche of a broader instance of violence. The tree is turned weapon in the aftermath of a hurricane, the stasis of nature underpinned by a violent potential. Families and lives once preserved like Polaroid snapshots can be broken, maimed, erased.
The next room plays with the notion of nostalgia seen in the return home. Barbara Deiner captures images that belong in Nebraska—the 2013 film or the soil-and-prairie state which holds its own peculiar bubble of Americana. These photographs capture the breadth of rural life with alacrity and familiarity, whether across endless tilled fields, fireworks frozen mid-burst, a sunrise cast through blinds, or an early morning swim. Yet behind this sentimentality a huge distance is implied, a solitude and creeping sense of being the outsider. Sehnsucht (2012–14), the title and catalyst of the series, translates to "unfilled and unattainable desire." It relates the artist's experience as a German immigrant in America trying to recover a sense and comfort of home she cannot access. What she recreates in these scenes are memories based on experiences never had. And if we look again at the images, they begin to look more strange and remote . . . something's askew. A pine bough levitates in twilight darkness, the swimmer floats awkwardly at the surface like a poached sea creature, and trees are sprung so close together that their limbless, stringy cluster feels more akin to the setting of a Black Forest fable. Perhaps the most striking image is George (2012), a portrait of a pew-bound older man at church. Here, in what should be an uplifting community space, there is only isolation as the subject sits glassy-eyed, frozen, endlessly listening to some immortal homily.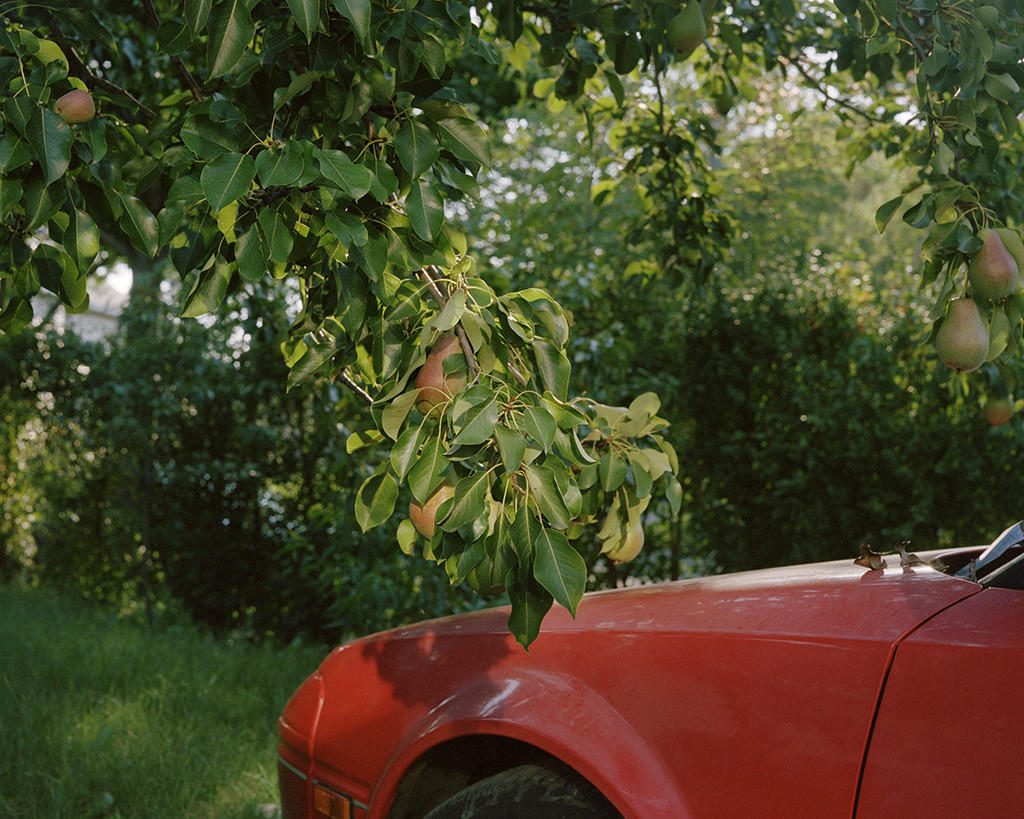 Past Shiga's images of transformed landscapes, in a compact room, Jon Rafman's video Codes of Honor is projected. The short film is animated with the same jerky graphics of arcades, the same tropes and sounds funneled through the partly-autobiographical rumination on gaming and community. The object of the video is "dismantled physical place," the loss of the actual Chinatown Fair Arcade and the allegorical loss of the home he had found there. What does it mean to tell a personal history with an avatar? For one, it covers a dismal reality with a more heroic narrative (and narrator) constructed with noir-like lighting, 8-bit intertitle screens, and midi theme songs. It is the actualization of memory, the enigma of a dream crafted into the very substance dreamed.
Finally, mounting the stairs to the upper level, we face the sad intimacy of Pao Houa Her's images. Projected in portraits of Laos refugees in America, Her's images speak in the wistful language of nostalgia for what is only a half-real dream of America. Russet pears, velvet-curtained portraits, and carefully made-up beauty contestants bely the difficult reality of life for immigrants. 2009's Car on Door reveals this disconnect, as mal-framed shot of a Toyota advertisement. It holds the same kind of anachronism as IBM ads in 1980 National Geographics. Nonetheless, there's a strong childhood nostalgia in the off-kilter hang of the car poster, taped to the back of a scratched and beaten door with gaps and discolorations from past latches and knobs. It's the wear of a lifetime, and these kinds of details are striking in their ability to move us as viewers and help us forget, for a moment, the reality on the other side of the door.
The inability to truly connect with home is the same problem with nostalgia attached to place. Humans are propelled forwards in life, as careers, abodes, loves et al change. We just don't expect the place where we come from (or to which we were transplanted) to change too, sometimes in ways that make the once familiar feel odd, recondite, alien. What Remains creates a poignant reflection on human and place that delves not merely into our complicated relationships with home, but with the inevitable reshaping ushered in by time.
What Remains at the MoCP closed on March 22, 2015.