Chicago-based artist Theaster Gates presented his first public project in the UK in the fall of 2015. Invited by Situations, a Bristol based public arts production company, Gates conceived of Sanctum—a continuous performance running 24 hours a day for 24 days from October through November—in a temporary architectural intervention within the bombed out remains of the fourteenth century Temple Church in Bristol.
With two large-scale exhibitions of his work in White Cube's Bermondsey gallery in London in the last three years, and with winning Artes Mundi prize in Cardiff this year, Gates' work has been well represented, and equally well received in the UK. The "poster boy for socially engaged art," a label brilliantly coined by ArtReview and now widely circulated, seems to follow Gates everywhere. Sanctum exemplifies this aspect of Gates' reputation—a project that simultaneously brings bodies together through production, creativity, and performance—while also navigating the boundaries, definitions and restrictions of socio-political issues. Put simply, Sanctum exists in two utterly dependent halves. There is the form itself—a three dimensional mood board of shards from Bristol's past, temporarily erected as a structure—and the performance, a non-stop open mic night that presented a new group of musicians or performers approximately every half hour.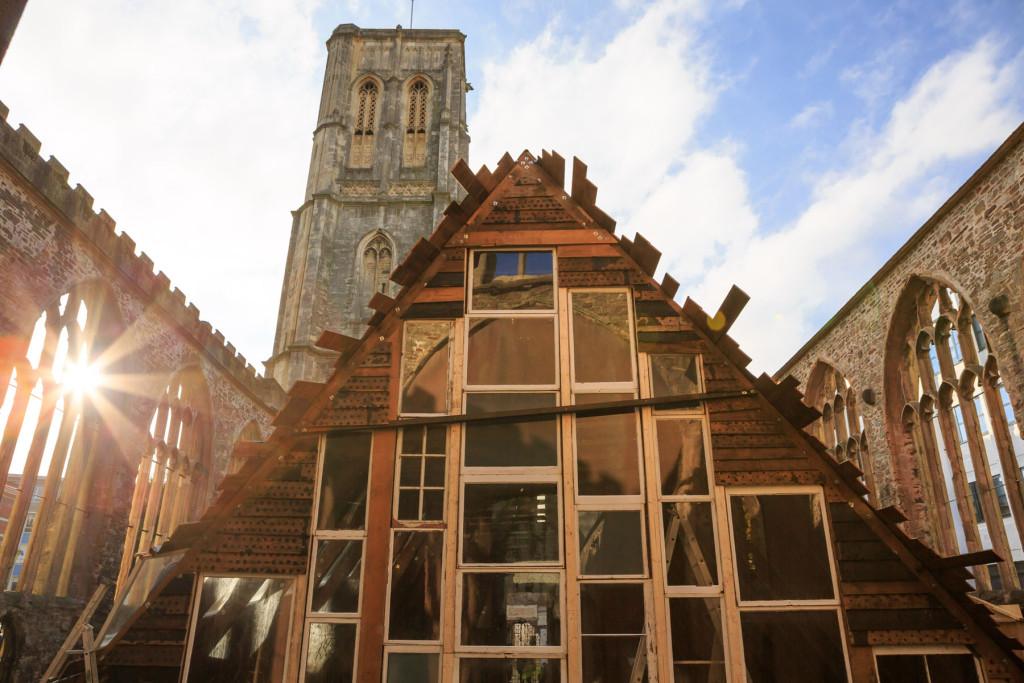 The installation, a haphazard assembly of stuff—salvaged beams, rescued wood, recovered windows—all appeared very much textbook Theaster Gates on first sight. Though Sanctum delved deeper. During its occupancy in the bombed shell of Temple Church, the work acted as a gathering spot for artists and musicians within the public, amplifying voices and establishing relationships that would have otherwise inactivated. The rhythmic quality of Sanctum's context set it apart from the pace that comes with the magnitude and diversity of his south side regeneration in Chicago with Dorchester Projects and Stony Island Arts Bank, the most recent addition to the Rebuild Foundation. In contrast, Sanctum seems to have disappeared as fast as it came; the structure is to come down, and the open mic nights to cease. Yet in experiencing the interactions that occurred in this Bristol space, there is still an intriguing sense of what-may-be in how the work will continue, through the relationships forged and the patterns developed.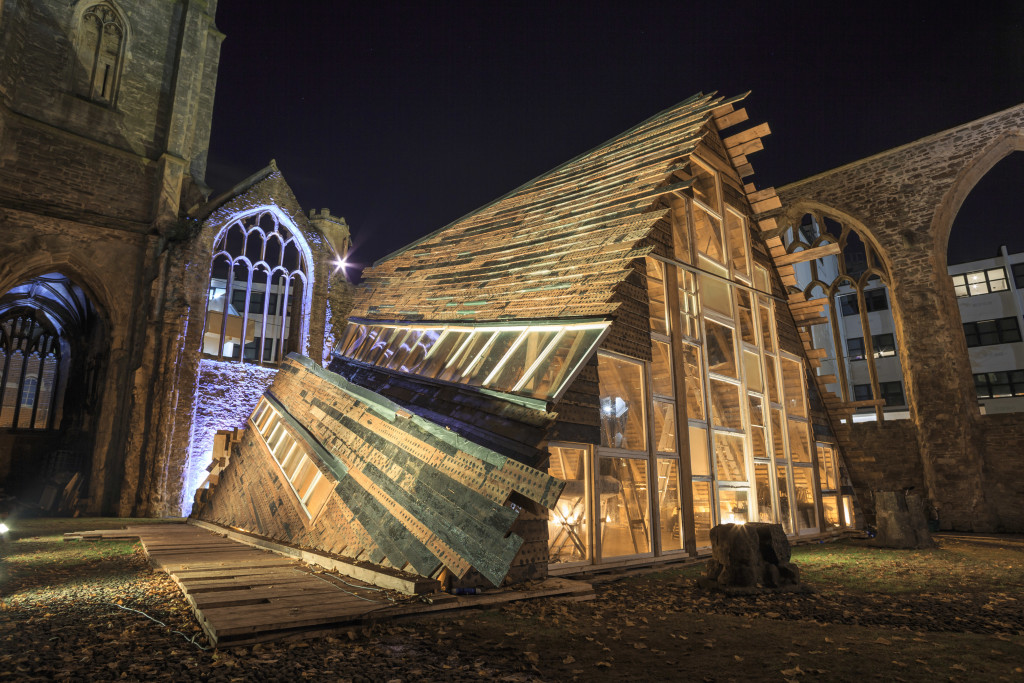 The Temple Church was built on the ruins of an earlier twelfth century monastery, which had been constructed by the Order of the Knights Templar. Gates' framing of this location allows for reflection and reconsideration of the architecture's previous lives through a peeling back of implied historical layers. This idea furthers Gates' ongoing intrigue with how place and time weave together and exist in flux. As the artist elucidated in conversation with Situations' Director Claire Doherty: "The work is asking questions about how materials accumulate, how a place accumulates; how time is actually something that is not as linear as we imagine…"
Sanctum's temporality commemorates the past at the same time it references the site's varied histories. Similarly it's timelessness is exposed through the brevity of both its physical life, and the duration of the project.
In just one afternoon I witnessed MCs, Yoruban drummers, a punk band, singer-songwriters, and spoken word artists, all standing on floor planks from a Georgian house built by a sugar merchant. Their sounds reverberated off bricks borrowed from a Salvation Army center. The intimately staged structure was erected within the Church's remaining walls. Performed against Sanctum's wall of salvaged windows, the environment allowed these crumbling remnants to be visually present and have resonance. As intriguing as this juxtaposition of material and place is, it is the transitions between acts, and the interactions between these performers that not only amplified musicians, but augmented the bravado or nervousness of artists—the awkward transitions as someone lugs a 4-foot drum through an impossibly tiny stage door, or the onstage relationships formed through acknowledgments of one performer by another.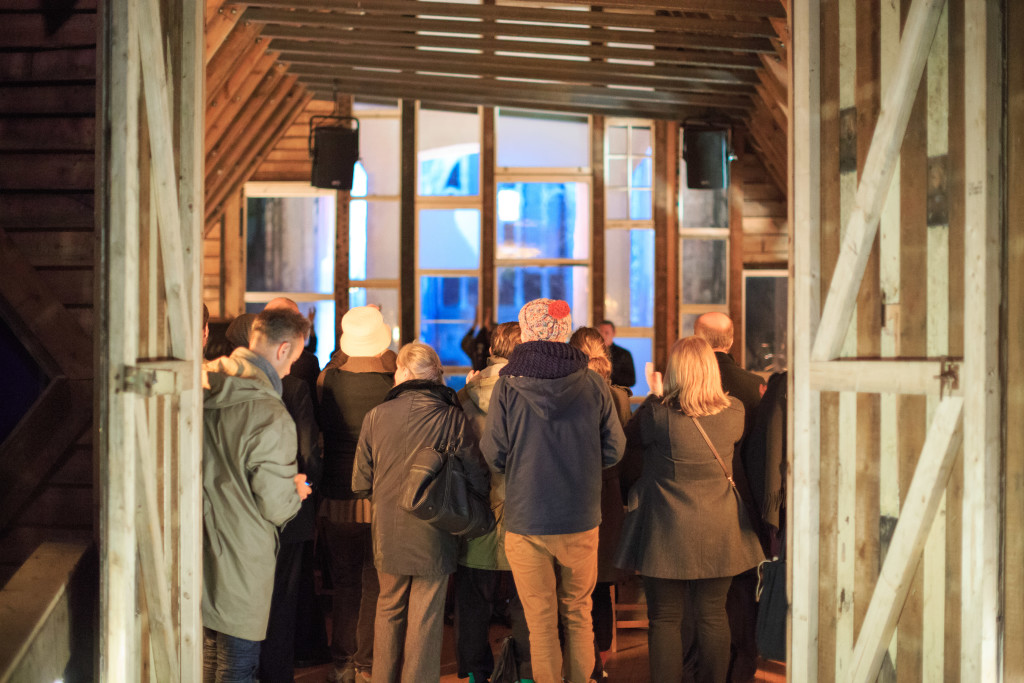 It is compelling to consider how ideas of material and place in Sanctum will continue and remain out of temporality. As the "project" side ends, and the physical structure is taken down, Gates proposes that the connections made between people in relation to their city and its history will need to find new structures or patterns to exist. Or not. Exposing the constant flux of urban environments through an open-ended approach—an ambiguous balance of progression, politics, and poetics—Gates chooses to avoid sentimentality and sidestep any romantic lament on the derelict site. Instead he exposes the past to address the here and now. As Gates continues to move beyond Chicago, it is the commanding potential that Sanctum exposes and leaves behind that bears the most possibility of our futures.