Scenic Overlook: In Conversation with Susan Giles
Acclaimed skylines serve as a mirror for a pulsating city; consequently, the people's identity is boiled down to the tallest building, the brightest lights, and the awe-struck, open-mouthed, rubbernecking tourists. Those who beat along in the urban playground are depicted by its buildings—by the shape of the towers and the way they extend, stretch, and illuminate once the sun sets.
At the Hyde Park Art Center, Susan Giles, the 2014–2015 Jackman Goldwasser Resident, is featured in a solo exhibition, Scenic Overlook. The exhibition presents four large-scale wooden sculptures in Gallery 1 which resemble the four highest observation towers in the world: Tokyo Skytree, Canton Tower, CN Tower, and Ostankino Tower. Giles' 20-25 foot towers appear like archangels gracefully poised; they extend themselves up towards the second floor of the gallery, greeting visitors on the catwalk with their wooden tips. Additionally on the second floor of the Art Center are three smaller sculptures made from the contrasting materials, concrete and paper.
In advance of Giles' concurrent solo exhibition at THE MISSION, I visited the Hyde Park Art Center to discuss her residency and upcoming work amongst her sculptures. What follows is an abridged transcript of our conversation.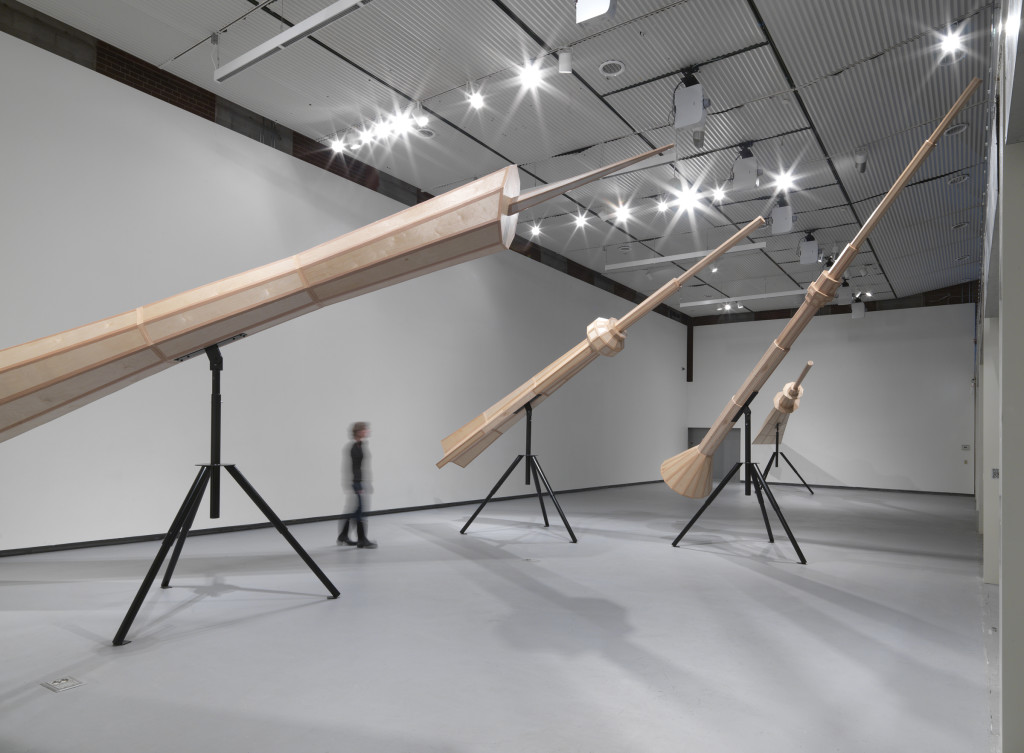 S. Nicole Lane: I want to start with your earlier works—where you blended two monumental structures into one—for example, the Taj Mahal and the Sydney Opera House. Have you at any point consider yourself an architect? How does architecture play a role in your creative process?
Susan Giles: Well, it's something that I admire and that I love. I'm not native to Chicago—I'm from New Jersey—and where I was from, the most significant thing was the mall. There was nothing to know architecturally. It was only coming here and then going elsewhere and saying, "I'm a Chicagoan" and getting, "Oh, the Sears Tower" that buildings became part of my identity. Of course this is where the skyscraper was invented and I think that's so cool. I've been on Architecture Foundation Tours. I have this background in researching tourism and culture and I spent a year on Fulbright in Indonesia. I realized what Chicago is to everyone else. It's the Sears Tower, it's these buildings. Then I started looking at buildings from other places, like the Eiffel Tower, where it's just so incredibly cliché. I started thinking about how I can take these incredibly cliché buildings and make them interesting again. So, my interest in them is more of what they symbolize and how they look and what they mean to the visitor, or how they symbolize place and identity, rather than them as functional architectural structures where people move through them. I imagine that the architect is more interested in the outside but also the inside. I'm interested in them from the outside.
S.NL: Do you think you will ever be interested in making your pieces more interactive?
SG: Yes—actually an architect recently said to me, "Do you wish you could make buildings?" And I thought, "Well no, I haven't actually wished I could but I wouldn't close that path off." Especially if there was a collaborative aspect. I made one piece once that you could walk into. It was basically just to house a video. So you went in and watched a video. That was just an intimate little space. For a newer video piece, I've had people describing these buildings by looking out. That might be some of my first adventures to the interior. But it has been so much about what they signify from a distance.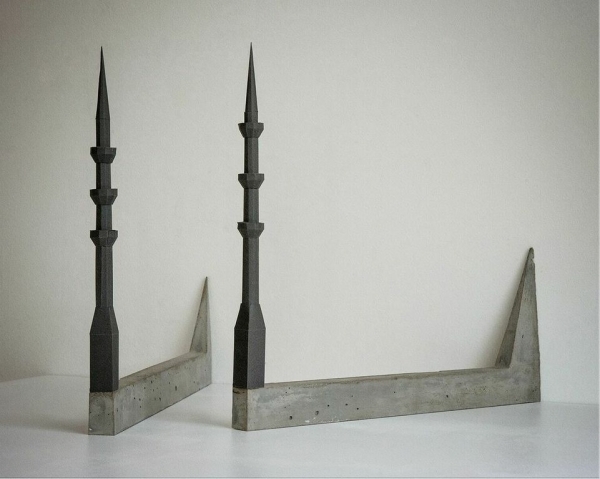 S.NL: I read in another interview, and you also mentioned earlier, that you have been materializing this idea of observation towers for several years and that it first came to you when people in Bali associated you with the Sears Tower after telling them that you lived in Chicago. During that time you were working with video.
SG: That's right.
S.NL: When did you decide to begin working primarily with sculpture?
SG: Well, my BFA is in sculpture. I moved away from it because when I was living in Indonesia and there were all of these weird things going on with language that I thought the only way to deal with that was with video and people talking. It evolved into other things but I also felt that my videos were very sculptural. They were about how images slide together or peoples gestures or how they are speaking or the way that I was editing them. It felt like this massive material that I was cutting and putting together, like an assemblage or something. Conceptually, there was this overlap and when you are trained as a sculptor, whatever material best suits the idea is what you do. Video made sense for the ideas. Lately, I've just had more sculpture ideas but I'll be coming back to video. Allison Peters Quinn, the curator here, asked me to do this right at the end of 2011–12. I was so focused on this, and I knew this was going to be a sculptural exhibition that I didn't have a lot of video ideas to focus on. But I'm getting a new video camera, so I have plans.
S.NL: These large pieces originally were placed on block-like structures and lie flat. Are these tripods something new that you have incorporated?
SG: The tripods were always apart of the plan for this show. The tripods are all about different ways of looking. I made the CN Tower and the Tokyo Skytree a couple of years ago and Sebastian Campos, from The Mission, who represent my work, said, "Well this is just a cool object. Can we take it?" I had not received the grant for the funding of the tripods yet, so I was still grappling with what I would do with these if I couldn't get the money, or couldn't get it yet. It was another way of playing with how they could be presented. To me, it was kind of funny to make them really low. There is so much verticality and then to just bring it down. However, this is my preferred presentation of them.
S.NL: And it's such a great space for them. I kept wondering what the people on the 2nd floor were seeing when looking down and I went up there today. It's a totally different perspective. You can really see the detail of the work. Is there a reason in working primarily with wood for these specific pieces?
SG: I chose the wood because I like contrasting materials, which you can see in the paper and the concrete. They were going to be so missile-like already and although that's an important layer of the meaning here—you know there is an aggressiveness to building the tallest structure—I didn't want that to be the only thing and I didn't want it to be overwhelmingly threatening. I was thinking originally of using aluminum, or an acrylic, but anything sleek like that I felt was too missile-like. I thought that the wood had a warmer feel that would be unlike missiles or rockets. It's also really easy to work with. It's really light weight, it wasn't that expensive. It fit all of these different criterium that I had for the project. I'm happy with how the wood turned out. If you gave me $10,000 I don't think I would do it differently.
Also, one of the really cool things about having a residency here is they have open studios and you meet a lot of people that you wouldn't otherwise. This woman came into my studio a couple of months ago and I had a tower or two on the tripod just horizontal up above our heads in the space and she said, "You know, I am an architect. Did you know that we make these little models and we make the big thing but we also do a mid sized model out of wood". For me, these are huge but to her they are mid size. I had no idea. There was an after connection.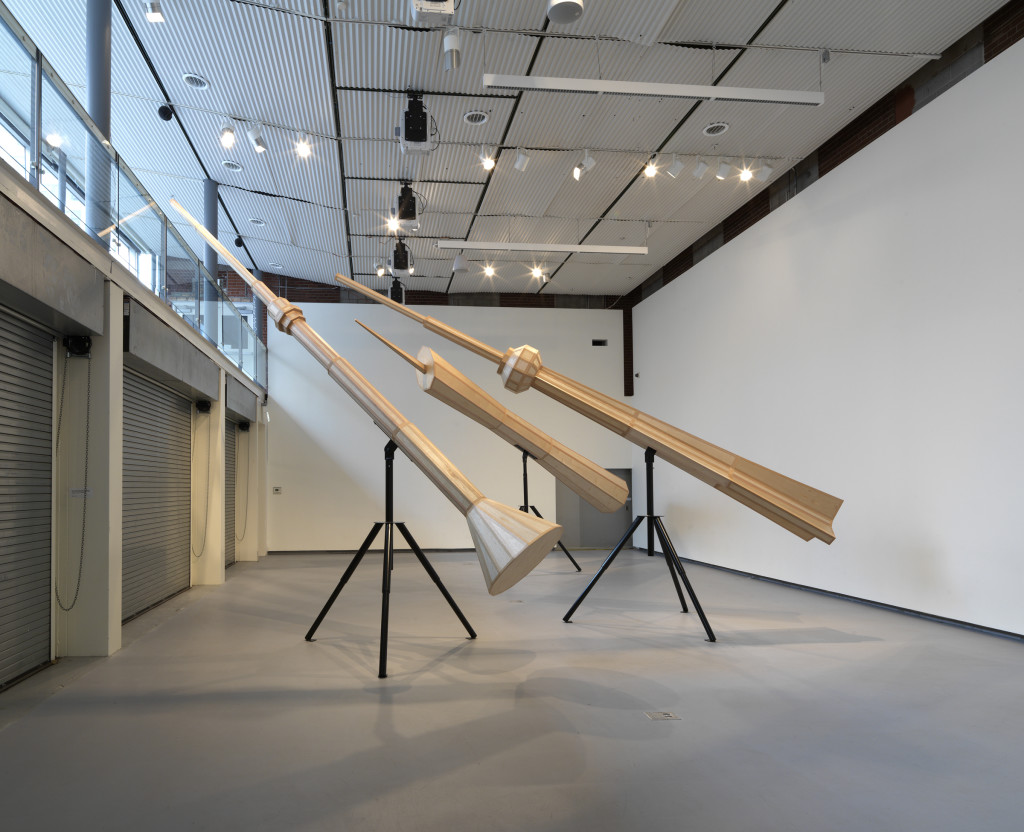 S.NL: Something that I found interesting was that your work, in addition to the pieces upstairs, doesn't focus on the grime and grit of a city, tourism, and traveling, but is rather focused on precision, beauty, and craft. Is this something that is intentional? Are you thinking about this in any way when you're making your pieces?
SG: Well, I also have a BFA in ceramics. I am an object maker and I love to make things that are nicely made. I think it comes out of that sensibility but I have an enormous respect for people who don't work that way. I hope that there is still room for all of us. Regarding the contrast to some of the darker aspects of tourism, or the need to build the tallest tower, you're right, that's a good point. Hopefully that comes off in the way that they are presented. I mean, all of these buildings are really beautiful. The Canton Tower is my least favorite because I don't like the way that the architects referenced it as a woman's body. It's squeezed in at the waist and I hated that statement that these architects made about it. Actually, I played it down a little bit in my own version. Anyway, to make a building is all very carefully put together. Hopefully the critique of the dark stuff comes through with the contrast of materials and the way that they are presented. It's important to me that it not just be about this beautiful object—that the concepts come across too.
S.NL: Did you build each of these in your own studio?
SG: I planned, cut, and fit all of the wood at DePaul, where I am teaching. They are all modular. I brought them all here [HPAC] but there was a ton of finishing work to do. I assembled and finished them here.
S.NL: Okay, wow. Then you had them all in your studio upstairs.
SG: Yeah! So, now it feels really big and open but it was smaller last week.
S.NL: How long did each piece take to complete? Did some take longer than others? What is the time-frame for each one?
SG: If you were to boil it down to intense weeks of working, the basic structure was built in one to two weeks, sixty hours a week, two people. Then a few weeks of finishing. I would say at least a couple of months of two people working on them. You try not to add these things up. That was the luxury of being invited to do this back in 2011–12. I don't teach in the summer so that's a great time to crank out a tower. Just drop everything and focus. I can't imagine having less of a time frame for this show.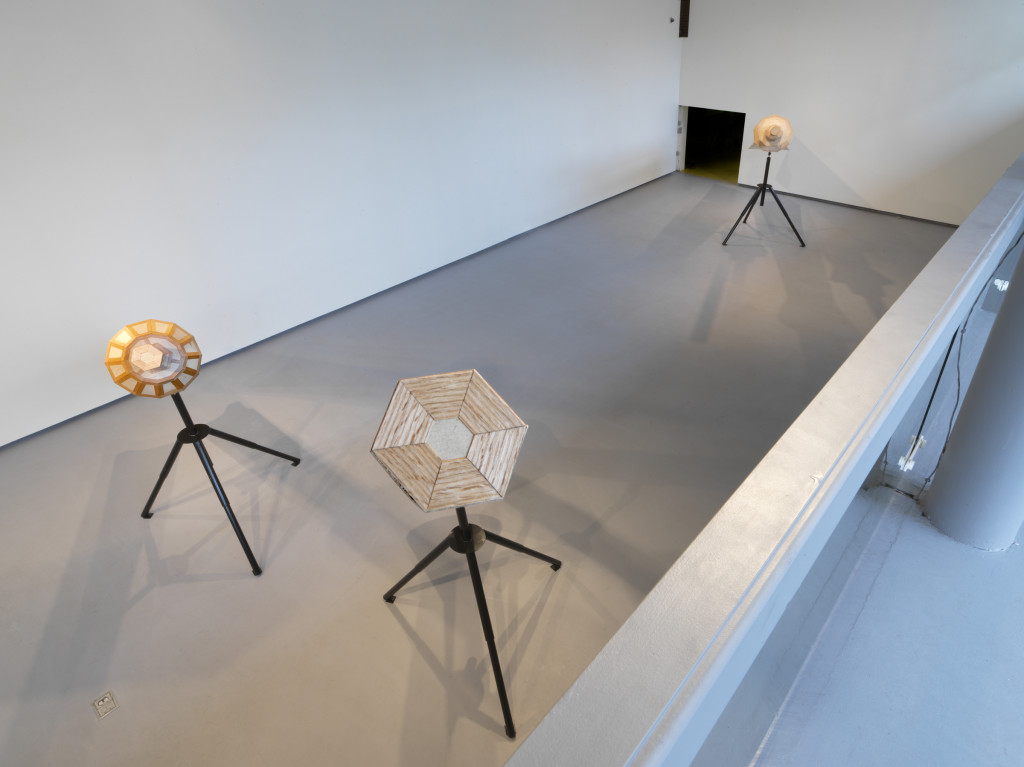 S.NL: Can you talk a little bit about your residency in general?
SG: It's been so great. I knew it was going to be good and I was looking forward to it but everything has exceeded my expectations. These guys are so fabulous, so supportive, and there are so many elements that have been so important. They gave me this huge, beautiful, studio, and I've hardly ever had a studio in fact, but that ability to live with the work is a luxury I haven't been able to have. The big stuff, I usually have to pack it away, and it feels riskier because I don't know what's going to happen when I put it together. I was able to live with this and see the towers being set up and think about the scale of them a little bit more. They do all of these open studio events, so I've been meeting a lot of people that I wouldn't have otherwise met. I've also been reconnecting with artists who live in Hyde Park but don't get out as much, but they come here all of the time. That's been really nice. My kids also take ceramics classes here and then they come up in the studio. The Art Center supports you on every level. I didn't know the extent of that when I walked into this.
S.NL: Now that you have concluded this solo exhibition, what's next?
SG: Well, I know some things I want to make. I want to make video. Again, I'm thinking of the inside, looking out. I'm wanting to get into some digital 3D rendering. I'm looking at social media images, street view, Google Earth, and then figuring out how the model should look. I would like to do something that takes all of these pictures and then renders it 3D but wherever there is missing information, I hand build it. I'm still at the very early stages of figuring out how that would work. I'm meeting with Greg Lunceford from the Cultural Center and he's talking about something in 2016–17. Sooner news is that I might have a show in Dallas.
---
Scenic Overlook runs through July 26 at the Hyde Park Art Center. Concurrently, Points in Space, at THE MISSION runs through June 27.