April 4th, 2014
04.04.2014
Interdisciplinary is in. If you're involved in the art world and someone asks what you do, they are expecting a list, not a title. Scott Reeder has more lists than anyone – some of his lists have advanced into paintings while hundreds, probably thousands more, fill pages of private notebooks, binders, and however much data the specially downloaded list-making application on his phone allows. If you have viewed any of Reeder's recent exhibitions, either People Call Me Scott at Lisa Cooley, the MCA in Chicago, or his current show at 356 Mission in LA, then you have seen a list or few.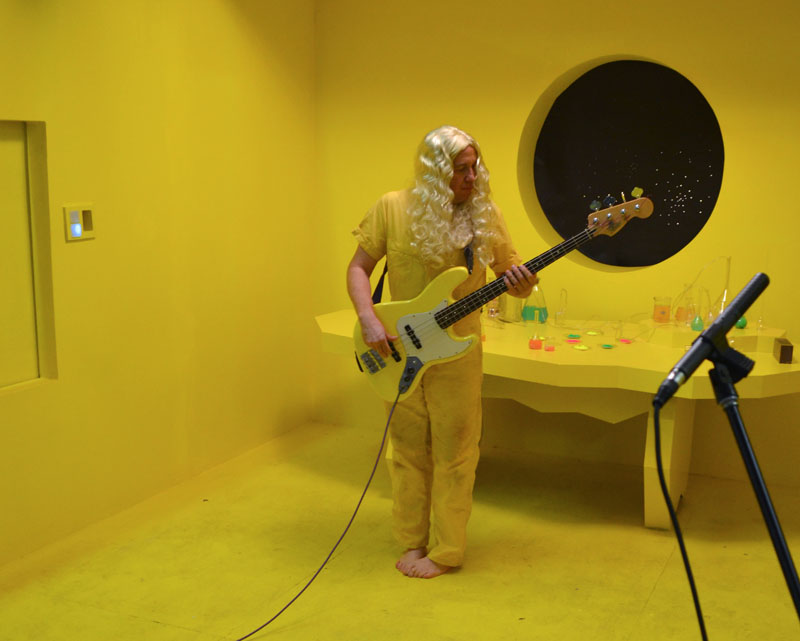 The warehouse space that houses the exhibition is offset from the highly trafficked hub of the LA art scene. Though it is in an industrial district, it is albeit a very nice warehouse. Walking into the massive space is similar to walking through a production studio after hours. Monochromatic sets, featured in Moon Dust itself, are composed throughout the space with props, paintings, and moving images intact – but no actors. The space is large and quiet until the buzzing sound of a Roomba with a styrofoam head cruises by. Paintings from Reeder's more recent series are hung throughout the space and within most sets. In relation to one another, the sets and paintings exist in a way similar to the illusionistic cube drawing, alternating between states. The paintings serve the sets as ambient accents offsetting the monochromatic color schemes and adding depth to the invented spaces while the sets (and film) exists as a supplemental narrative to the paintings.
Since completing his first feature length film, Moon Dust, screened in conjunction with his exhibition at the 356Mission warehouse, Reeder adds director, set designer, script writer, costume…something, and movie producer to his arsenal of positions. In his words, "the movie is about a hotel/resort on the moon, set 100 years into the future from whatever date you are watching the movie." In advance of tonight's official screening, some lists:
Amber Renaye: Themes?
Scott Reeder: I think the themes [in Moon Dust] are: Technology vs Man, Labor vs Leisure, Marx's Theory of Alienation. Other themes are: Office Politics, Casual Fridays, Garanimals brand clothing from the 70s', Consciousness, Natural Selection, Class.
AR: I saw a glimpse of a set list on your studio wall; you had a set named Salmon. Do you have a complete list of set names?
SR: Yes, the color-coded class system is: Green, Yellow, Red, Blue, Purple, Tan, Salmon.
Narrative has, in the past, been a major element in Reeder's paintings, often in the form of figuration or satirical jest. This same satire still prevails in his newer body of work – referring to his text and pasta paintings, as well as his newest series of Landlord Paintings that anchors the back wall of the warehouse, a long row of paintings layered with streaks of color made by household paint rollers. Yet, the element of story telling has been extracted from the paintings. The paintings are not narrative so much as still.
SR: Less important colors in the movie: Brown, Orange, White, Olive green, Silver.
Rumor is, tonight's Moon Dust premier will not be the only one.
---
Moon Dust premiers at 356 S. Mission Road in Los Angeles on Friday, April 4th at 8pm.