January 9th, 2020
01.09.2020
An Introduction:
Degenerative blindness runs in my family, a strain that distorts sentences on a page and pales the colors of the visible spectrum. It degrades central vision. Once it starts it does not stop moving outward, swallowing the whole. The peripheries, where the shadows move, go last—shadow into shadow into night. I am told the disease is "something to watch for," but really, how could I not? I am advised the disease is "something to prepare for," so I shall, while things still look good. As someone dedicated to art, for whom the experience of seeing is integral, I am stilled to the core by my potential blindness. So in preparation for what may come, I endeavor to understand art in a sense heretofore superficially known to me, that is, through sonic avenues. Over the course of 2020, I will explore ideas of sound as it arises in, emanates from, and occurs around art, and I will my file my notes from the field here. Whereas I might once have alerted readers to keep an eye open for new installments, I think it more appropriate, given the circumstances, to simply ask those interested to please stay tuned.
I begin by meeting Jónsi of Sigur Rós.
The temperature in Hollywood is 65 ̊ Fahrenheit, wind speed westerly at 16 miles per hour, air quality: moderate. It is the eve of Jónsi's self-titled gallery debut at Tanya Bonakdar in Hollywood. The exhibition is concise and atmospheric, with enough sculptural anchorage to keep it from floating into the marine layer. The artworks comprise fabricated space, fabricated sound, and fabricated scent, but the sound predominates, filling the gallery with a sirenic calls and seismic rumblings. Thus, Jónsi, the lead vocalist of Sigur Rós, and I are squirreled away among the sundries in the gallery kitchen, attempting to escape—of all things—his famous voice.
Jónsi freely discusses his proclivities and influences, including his plight as the only queer person he knew while coming of age in rural Iceland. He has told this story before in other interviews, but his experience of "being taught your whole life that you're doing something weird or wrong," bears repeating, and it arises in conversation several times during our meeting. The queer psyche, and the common queer narrative of profound self-doubt followed by hard-won triumph that Jónsi experienced, like so many LGBTQ+ youth, infuses the artwork's subtext.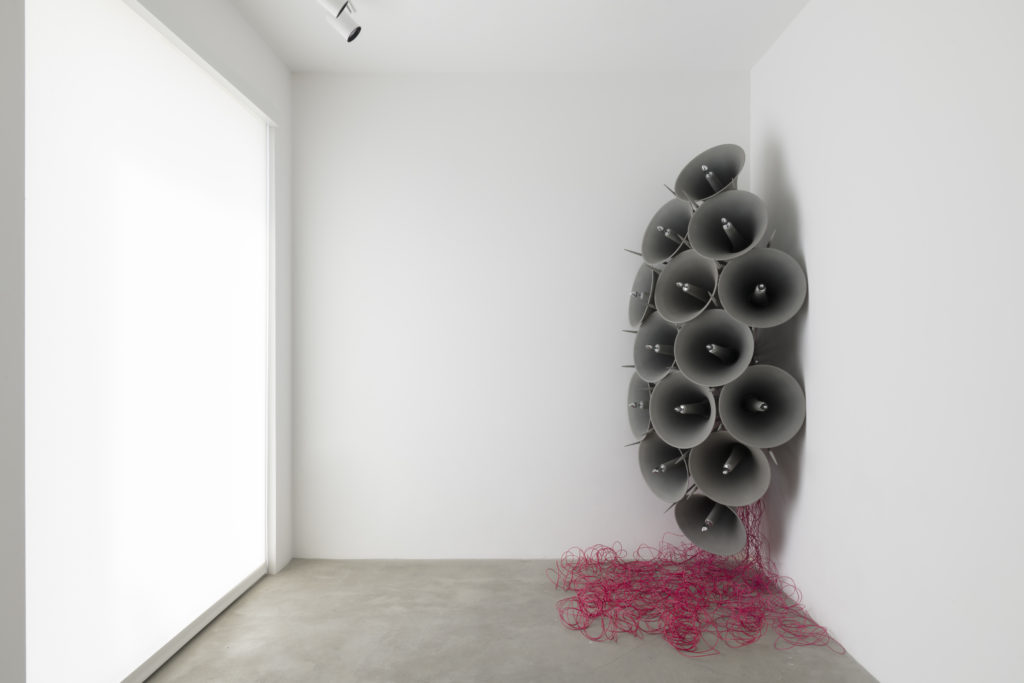 As such, our first order of business is the question of butt plugs: Jónsi has fourteen, all prominently featured in Í blóma (In bloom) (2019), a sculpture made of horns and spikes configured to resemble foxglove. The plugs protrude from each flared bell, enhancing the sculpture's sexual-botanical characteristics and the impression of sonic penetration. The gallery text describes the sonic elements as "multiple iterations of the artist's own voice—which have been layered across processed field recordings of the normally imperceptible sounds generated by the [foxglove] flowers themselves." At its base is a thicket of tangled, pink cords that one might liken to candied pubic hair, and the entire thing is doused in perfume: Cadaverine by Jónsi. It has the sharp metallic smell of semen and the funk of a corpse. Í blóma is a feast for the senses.
The sculpture is a composite of elements united by the attraction/repulsion of typically forbidden fruits: kinky sex, toxic beauty, and the taste of death—smelling is tasting, after all—as well as an ode to curvilinearity. The horn, which Jónsi lauds for its visual grace, was the germ for Í blóma, and one horn lead to another until the cluster developed into the final "foxglove arrangement." The butt plug Jónsi likewise admires: "It is a beautiful form. Its shape is beautiful, somehow kind of classic," he opines, adding, "and also at the same time it is kind of taboo."
Poetic yearning and titillation, rather than a critique of the horn as an apparatus of the State, appears to be Jónsi's main agenda; yet is a klaxon by any other name less fraught, even if it sings the sweetest song? Probably not. So what can one make of the whimsy that upcycled a bunch of loudspeakers into a sound flower that ostensibly does little to undo its constitutive elements' link to authoritarianism?
Imagine a dramatic swap.
Imagine that the spatial divisions standard to the input/output roles of a horn are flipped, and content from an interior source that is normally delivered through the mouthpiece of the horn and expelled to an exterior beyond its bell (i.e. a person's voice amplified before a crowd) becomes content from an exterior source delivered through the mouthpiece to an interior zone (i.e. a sex toy inserted into a cavity). With this reversal, the horn as a symbol of social control transforms into the interior portal of an orifice, and we as viewers are no longer a public but witnesses to manual stimulation at zero-degree intimacy. The deepness is almost mystical, and it compels one to perceive moans of pleasure in the work's layered, quasi-scientific recordings.
Hvítblinda (Whiteout) (2019) is the largest artwork in terms of square footage. Its complex aural textures produce an all-encompassing environment, which is an impressive feat considering the work is simply a white room filled with white light, unfurnished but for two low sitting-platforms. When its audio climaxes, it sounds like a ship is being torn asunder by the sea.
Jónsi's fascination with invisibility is the inspiration behind Hvítblinda. "I mainly work in music, and I've also been perfuming for eight years," he tells me, "and I really love the idea of working in something that you can't touch or see. I always thought that was so interesting as a concept." I press him for technical details regarding the audio effects and the illusion of sweeping motion they produce; he explains, "There are ten speakers in the walls, and they are all spatialized, and under the seats there are subwoofers hidden. That's why, when you sit on it or lay on it, you get the rumbles…It is very engulfing. It is all around you, but still, it is invisible." As invisible as ozone, the artwork's signature smell.
As a general rule in the history of Western art, when one sense is privileged, another protests. The primacy of the visual in painting and sculpture denies the desire to touch, especially within contemporary museums and galleries. Taste seems relatively untroubled, though I have wanted to eat the polished crown jewels imprisoned by vitrines—also a prohibited wish. Art devoted to sound is often complicated by (the lack of) visual perception. In Jónsi, blindness is a recurring motif. For example, the sight-impairing brightness of Hvítblinda makes private reference to photokeratitis that the artist's father experienced as a young metalworker, and the sightless holes in Í blóma, doubly blinded by their plugs, evoke a profound interiority, the darkness of which is developed further in Svartalda (Dark wave) (2019), the exhibition's final stage.
Entering Svartalda means slipping past a curtain into near total void. The odor of seaweed cools the space, and not until one's eyes adjust does a series of gently rocking ceiling panels emerge from the shadows. ASMR sounds accompany their movement. What is becalmed in this small chamber is the sea of the self. For some, the whispers that escape the kinetic panels might simply quiet their busy minds. For others, the ASMR sounds might reveal hidden distress, betray the ache they are meant to soothe. And the queer cohort might recognize a sigh of relief, grateful for respite from a hostile world.
Forty-two years Jónsi lived in Iceland, but now, aged forty-four, he is a sun-kissed Angelino. "LA is the exact opposite of Iceland," he says, a refrigerator humming behind him, "no seasons." Jónsi does not miss the snow.
---
Patrick J. Reed is an artist and writer living in Los Angeles.