September 12th, 2017
09.12.2017
Space, Force, Construction: Revoliutsiia! Demonstratsiia! Soviet Art Put to the Test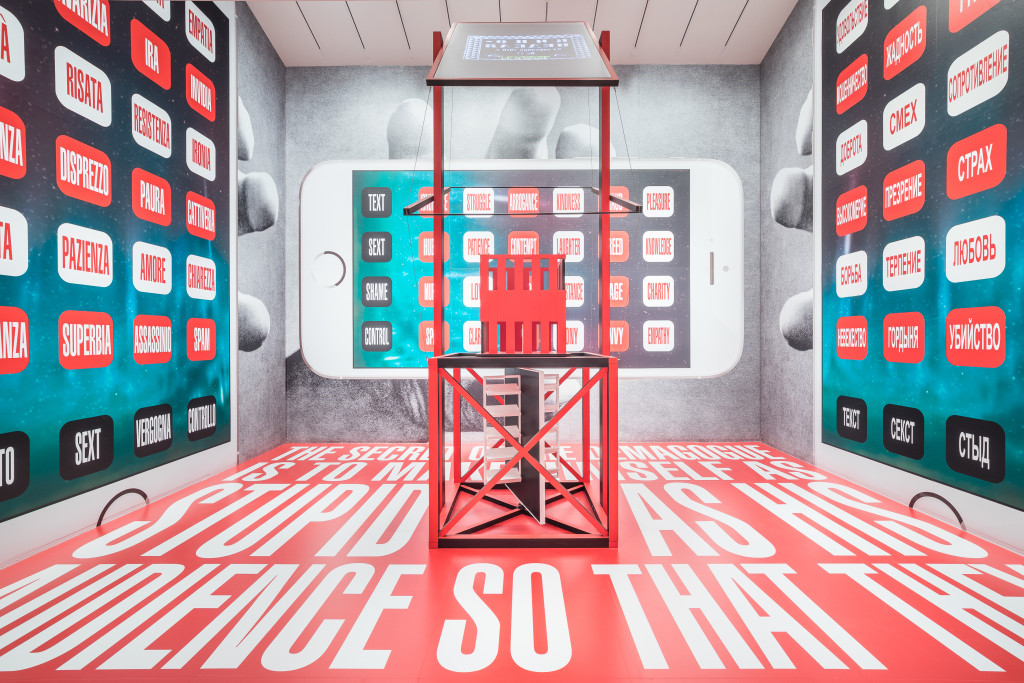 In a time when Russia-US relations are in a strange state of perpetual turmoil, subterfuge, and incongruence, it may come as an after-thought that 2017 marks the centennial year of the October Revolution, in which the Bolsheviks toppled the Tsarist Russian Empire and instigated the communist Soviet Union. Several international museums have marked this occasion with exhibi-tions on the idealist, utopian, and radical art that proliferated in the 1910s and 20s, before the Marxist experiment went awry and Stalin clamped down on free expression.1 The Art Institute of Chicago's Fall 2017 exhibition, entitled Revoliutsiia! Demonstratsiia! Soviet Art Put to the Test sets that chronology aside and instead focuses on how, where, and above all for whom artists re-alized their revolutionary, socially engaged, avant-garde ideas. The exhibition was developed in partnership with the Moscow-based V–A–C Foundation, and a first version of the show took place this Summer in Venice. The resulting two-part exhibitions at the AIC and V-A-C uniquely focuses on re-creating artist-imagined public and utilitarian spaces designed by Aleksander Rod-chenko, El Lissitzky, Gustav Klutsis, Varvara Stepanova, and others.
The exhibition's first iteration, entitled Space Force Construction, opens V–A–C's new permanent headquarters in Venice and incorporates contemporary projects by international contemporary artists such as Tania Bruguera, Abraham Cruzvillegas, Barbara Kruger, Taus Makhacheva, Mikhail Tolmachev, and many others. Meanwhile the Art Institute's iteration Revoliutsiia! Demonstratsiia!, opening Fall 2017, is a historical overview without contemporary art, but with four hundred more historical art objects and an accompanying scholarlycatalogue. Staff Writer Anastasia Karpova Tinari spoke with the exhibition co-curators Matthew Witkovsky and (for the Venice version) Katerina Chuchalina (who was assisted by Anna Ilchenko and Peter Taub) about the exhibition and partnership.
Anastasia Karpova Tinari: How did the two-part exhibition Space Force Construction at the V–A–C Foundation in Venice and Revoliutsiia! Demonstratsiia! Soviet Art Put to the Test at the Art Institute of Chicago and the collaboration between the two institutions develop?
Matthew Witkovsky: The Art Institute had been planning a survey exhibition of early Soviet art as part of the Fall exhibition program, for the 100th anniversary of the October 1917 Revolution. We have worked with V–A–C for several years, so I brought up the exhibition to them. V–A–C has interest in public art and audiences, and in this exhibition I wanted to look at the audiences for Soviet art: Who was it made for? What conversations were artists and other makers starting with citizens of this newly formed country?
For the Venice version we decided to bring old and new art together, but in both places the show is structured around places of display—spaces where art was deliberately put on view: the theater, street festivals, the pages of the press, the factory floor, the art school, and others. Each section [in the exhibition] features reconstructions of display objects or spaces: Constructivist theater props; Aleksandr Rodchenko's thirty-foot-long Workers Club; and a fourteen-foot-tall multi-media news kiosk designed by Gustav Klutsis, but was never actually built.
Katerina Chuchalina: Each of these reconstructions will become a part of V–A–C's collection, and we are very happy that these pieces will be presented in Chicago. We managed to create a unique, universal model that you can twist and turn in a various ways.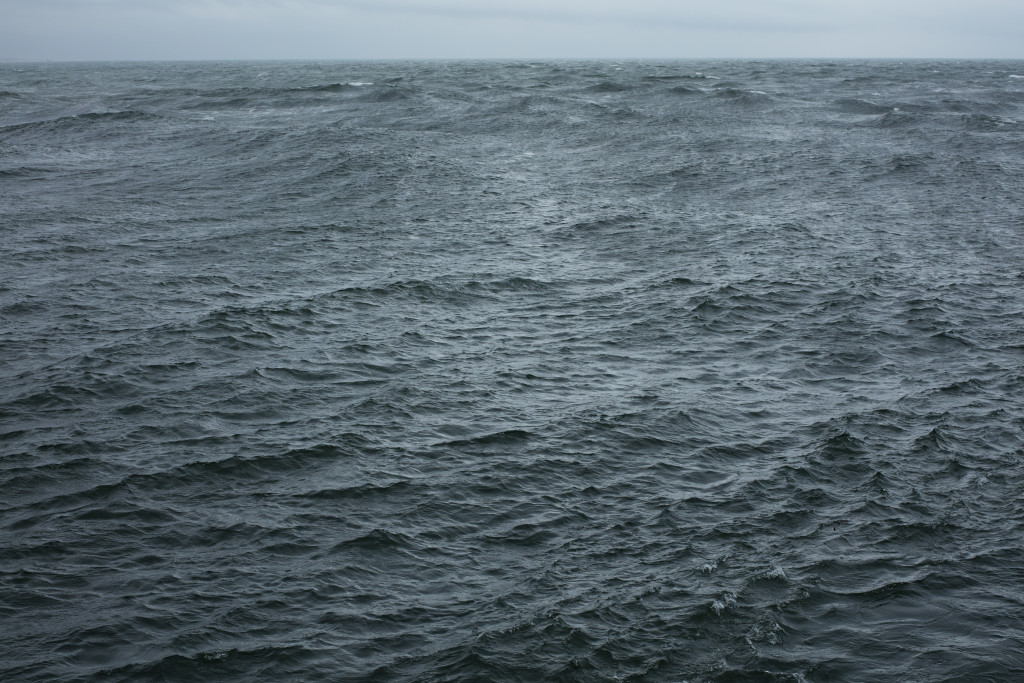 The collaboration and constant dialogue were a great experience; The Russian avant-garde is an area of deep research at the Art Institute, and V–A–C was keen on working with this historcal context—culturally rooted in Russia but also a rouce for global artistic practices. We were interested in revitalizing Soviet avant-garde material to see how it relates today.
AKT: Katerina, for readers who are not familiar with V–A–C, can you tell us a little bit about the institution?
KC: V–A–C Foundation was founded in Moscow in 2009 by Leonid Mikhelson, under the Directorship of Teresa Iarocci Mavica, for the development and international presentation of Russian contemporary culture—across joint exhibition, educational, and publishing-related programming. In 2014, we began collaborating with the Whitechapel Gallery in London, and in 2016 we launched a first "V–A–C live" project, with three evenings of experimental performance.
From 2010–2015, during the Venice Biennales, we produced exhibitions in temporary spaces.2 V–A–C's new Venetian headquarters, the Palazzo delle Zattere, consists of approximately 21,500 square feet over four levels, half of which will be dedicated exhibition space.
We also continue to broaden activities in Moscow—in 2019, we plan to open V–A–C's major new site for contemporary art and culture, designed by Renzo Piano Building Workshop in a former power station on the Moskva River bank.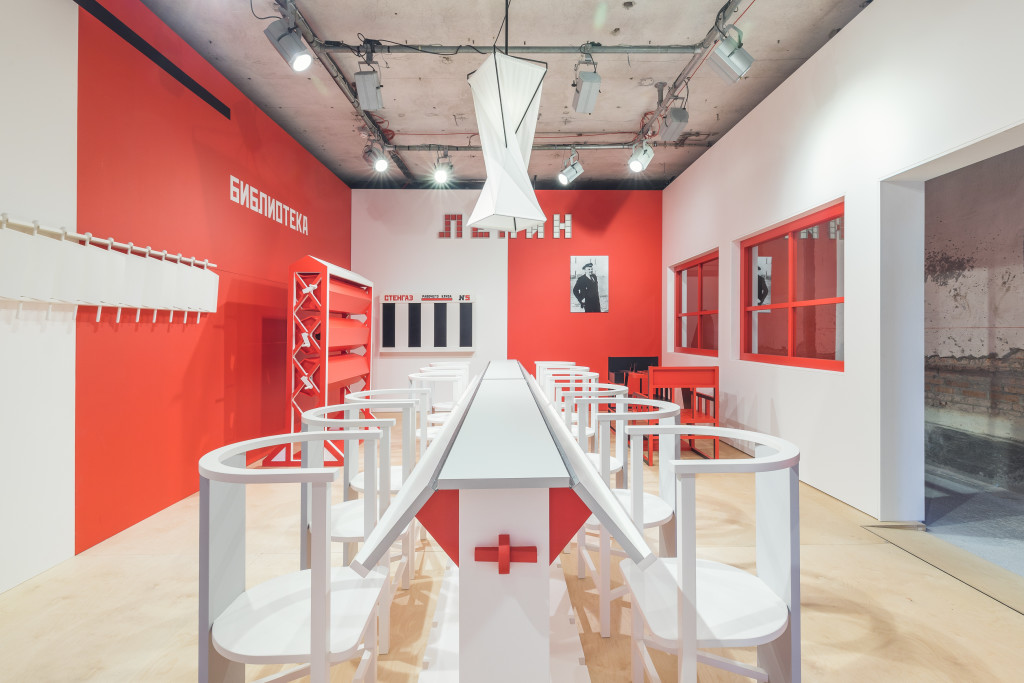 AKT: When did the two different versions of the show develop, with Venice featuring contemporary artists responding to historical Soviet works, while the exhibition in Chicago remained more historically focused?
KC: In Venice, working with contemporary artists was the idea was from the very beginning. Matthew and I did not want to create a historical retrospective exhibition, but rather a review of early Soviet artistic ideas and methodologies through contemporary practices. In this way, Space Force Construction shows how contemporary artists relate to the great historical moment of cul-tural, political, social and economic shift during the early Soviet period. It is not a nostalgic relation, but rather a critical reflection, which is also crucial for better understanding how avant-garde art is perceived today.
MW: Both shows are structured around spaces of display. In Venice, we asked contemporary artists to enter into a dialogue with a particular reconstruction (or original artwork) and its corre-sponding display theme. For example, we said to [Viennese painter and sculptor] Florian Pumhösl: "We're remaking El Lissitzky's Dresden Room from 1926 but without the original works shown in it; what would you want to put in their place?" Or to Abraham Cruzvillegas, "we're remaking the sculptural contents of the groundbreaking first Constructivist show from May 1921, and we think your work would speak well—do you have a proposal?"3
AKT: Tell me more about the curatorial process: how did you two selected the contemporary artists and how was the performance program developed?
MW: We did everything together. Katia [short for Katerina] has terrific knowledge of the Russian, post-Soviet scene; she came up with Russian artists, and I proposed the international artists. Then we discussed all the choices—who would be good where, and so on. Even though the Soviet art is a hundred years old, and has a particular political and social history, our project seemed exciting and relevant to artists working today.
KC: The performance program was curated by Peter Taub, the former Director of Performance Programs at the Museum of Contemporary Art Chicago. It consisted of seven projects inhabiting various locations of thepalazzo during the first weeks. Before the exhibition was installed, we had invited Peter to Moscow, where he met local artists and got a certain understandingabout what is happening now in this field in Russia. I am very glad we could see new pieces created by very talented people.
In Stomach It (2017), a menu by Taus Makhacheva, the artist explores the politics of food during the early 1930s, mainly the period of starvation in the Ukraine and Caucasus, raising questions about the value of art. In her performance Isasthenai (2017), Tania Bruguera creates sculptural clay portraits of random people, only to watch their images destroyed and reformed as a portrait of the next visitor in line. The work challenges institutional power and control, in a show built around the question of models, monuments, and commemoration. Documentation of each performance became a part of Space Force Construction, occupying the same gallery space that was devoted to Soviet avant-garde theatre.
MW: It was critically important that about one-third of the contemporary artists and performers come from Russia or the former Soviet Union. While the artists are keenly aware of current political developments in Russia, they were really responding to the early Soviet artworks.
It is noteworthy that Russian artists had a more measured assessment of the Russian Revolution, its impact and consequence. For example, Irina Korina's installation, entitled The Hall of Columns (2017) fills one of the galleries with earth and trees, as that is where people lived during time of festival or spectacle. The viewers navigate the tents within the installation—dark, below, cut off from the light—and in the middle of the space is a gangplank. One can walk up a few steps to see very brightly lit monstrous, caricatured heads of the leaders guiding the festival. The piece is experienced as a split vision of events.
Similarly, Sergei Sapozhnikov, an artist from Rostovondon, Russia, made a monumental structure in the backyard of the V–A–C space, fashioned out of metal, inflatable beach floats, mat-tresses, and other impermanent materials. It is messy, punk, youth culture on display. The artist invited dancers to make a performance on the structure, and then left it to decay under the humidity and open skies. It is an anti-Vladimir Tatlin Monument to the Third International. It is not going to last, or turn around and around forever, it is just going to fall apart. That is a perfectly valid, contemporary Russian take on monumental sculpture.
AKT: Matthew, will any of the contemporary commissions or performances travel to the Art Institute? Where are the additional four hundred historical works in the exhibition coming from?
MW: No, they are quite different shows in that respect. The Art Institute will include all the re-constructions, but none of the contemporary art. We will continue one idea from Venice: using Rodchenko's Workers Club as a gathering place. Artists, teachers, and others are being asked to hold weekly seminars in the Workers Club throughout the run of the Chicago show. The Art Institute will have more than five times the Soviet art works, more than five hundred pieces altogether. The Art Institute has one fantastic Malevich painting, and a few dozen multimedia early Soviet photographs, as well as selected items in other departments, but this is a major loan show. We are borrowing heavily from public and private collections across the United States and Europe. Current Russian law bars the country's museums from loaning to America.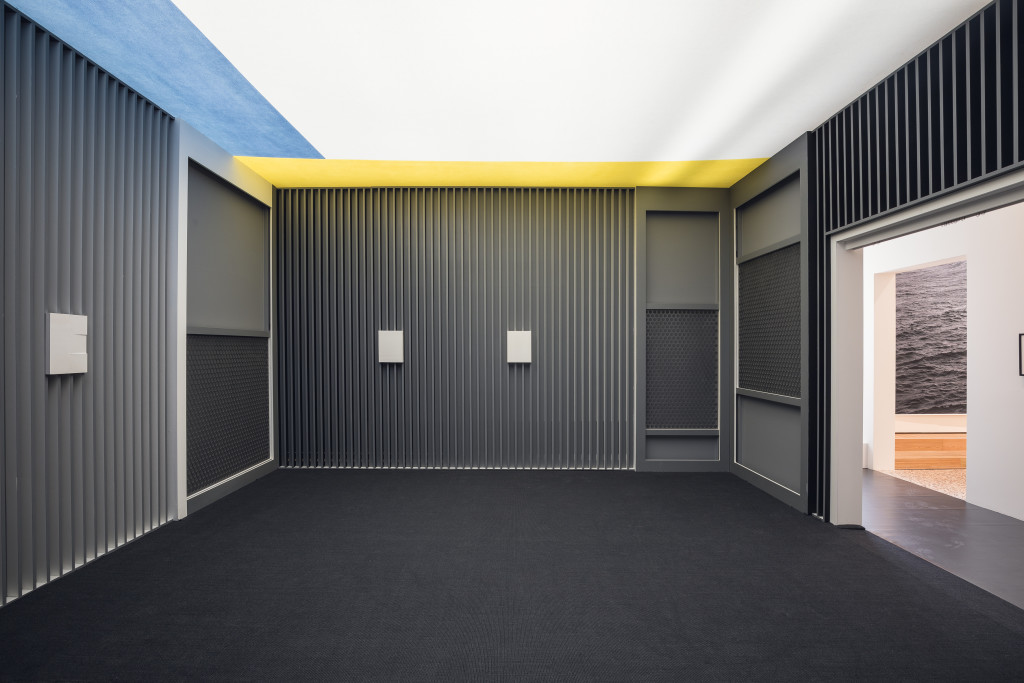 AKT: One of the stand-outs in the Venice exhibition is Barbara Kruger's installation in response to Gustav Klutsis' prototype for a multimedia kiosk, designed in 1922. Contemporary artists Kirill Savchenkov, and Cao Fei also focus on how systems influence and shape individual thought: in the Soviet Union but also in the contemporary moment, through Globalization, Technology, and Social Media.
KC: Yes, this is a very important part of the exhibition—the constellation of the kiosk of Gustav Klutsis, installation by Barbara Kruger, and an educational unit by Kirill Savchenkov. Each of these pieces is dedicated to the mode and regime of the dissemination of information, as well as the algorithms and educational programs introduced in the beginning of the century, paired with those that are used now.
MW: Barbara Kruger's own space of conversation, or one of them, is the media world we live in dialogue with the media world imagined by Gustav Klutsis. His idea for a media kiosk had magazines shelves on the bottom, a tribunal where someone reads the news live, and at the top—a screen to show newsreel film. It is multimedia, live, and real time. Of course, Klutsis did not imagine the iPhone. Kruger's installation uses iPhone apps that show allegorical vices and virtues: you can go good, you can go bad. That room is a showstopper—her vinyl covers the seventeen-foot-tall gallery walls, which only she would know how to use to the fullest. Across the she quoted the 1920s critic Karl Kraus: "The secret of the demagogue is to make himself as stupid as his audience so they believe they are clever as he."
Kruger is not concerned with politics in a narrow sense—she is not working for or against a particular issue—but rather, she interacts in a broader sense, which makes her the perfect interlocutor. The point of this show is not to moralize, or wag fingers. It is not to say Russia today is great or evil, nor is it to demonize the United States. Maybe in some large-thinking way, the exhibition is a form of conversation between American and Russian institutions—although the artists were deliberately chosen from around the world, to show the reach of Soviet ideas—but the main point is to have a dialogue.
---
Matthew S. Witkovsky is the Sandor Curator and Chair, Department of Photography at the Art Institute of Chicago.
Katerina Chuchalina is Curator and Program Director at the V–A–C Foundation.
Other exhibitions organized on the centennial occasion include "Revolutionary Impulse" at the Museum of Modern Art and Revolution: Russian Art 1917-1932 at the Royal Academy in London, and Revolution Every Day at the Smart Museum, Chicago.
V–A–C produced exhibitions during both the Venice Visual Arts and Architecture Biennales, including Mark Di-on, Arseny Zhilyaev: Future Histories (2015) and IK-00 (2014), a group exhibition focused on the architecture of exclusion.
The full list of participating contemporary artists is: Cao Fei, Abraham Cruzvillegas, Melvin Edwards, Kirill Gluschenko, David Goldblatt, Janice Kerbel, Irina Korina, Barbara Kruger, Cao Fei, David Musgrave, Christian Nyampeta, David Musgrave, Flrorian Pumhöosl, Irina Korina, Janice Kerbel, Kirill Savchenvkov, Melvin Edwards, Mikhail Tolmachev, and Wolfgang Tillmans, and Mikhail Tolmachev; with an additional seven artists in the performance program performance contributions: Tania Bruguera, Pablo Helguera and Yevgeniy Fiks, Dmitry Volkostrelov, Olga Jitlina with Lampedusa, Tania Bruguera, DJ Spooky, Taus Makhacheva, and Sergey Sapozhnikov, DJ Spooky (Paul Miller), and Dmitry Volkostrelov.