March 13th, 2015
03.13.2015
Virginia Overton: White Cube, Mason's Yard
Following her show at the Museum of Contemporary Art North Miami (MOCA) in 2014, American artist Virginia Overton arrives in London with a solo exhibition at the branch of White Cube gallery in Mason's Yard. Spanning the gallery's ground and lower ground floor areas Overton has populated the entire space with three new works.
Known for utilizing an array of found materials such as wood, cement, lumber, metal, rope, sandbags, chairs, and ladders, the artist has chosen to employ whitewood as the main medium for her White Cube installations. The ground floor space contains an assortment of planks of whitewood (Untitled, 2015), all placed in line and set against the two opposite long walls flexing naturally and forming a semi-arched structure. Viewers are free to wander underneath it, walk along its entire stretch and reach its edge where a small gap allows the wooden frame to be observed from the outside.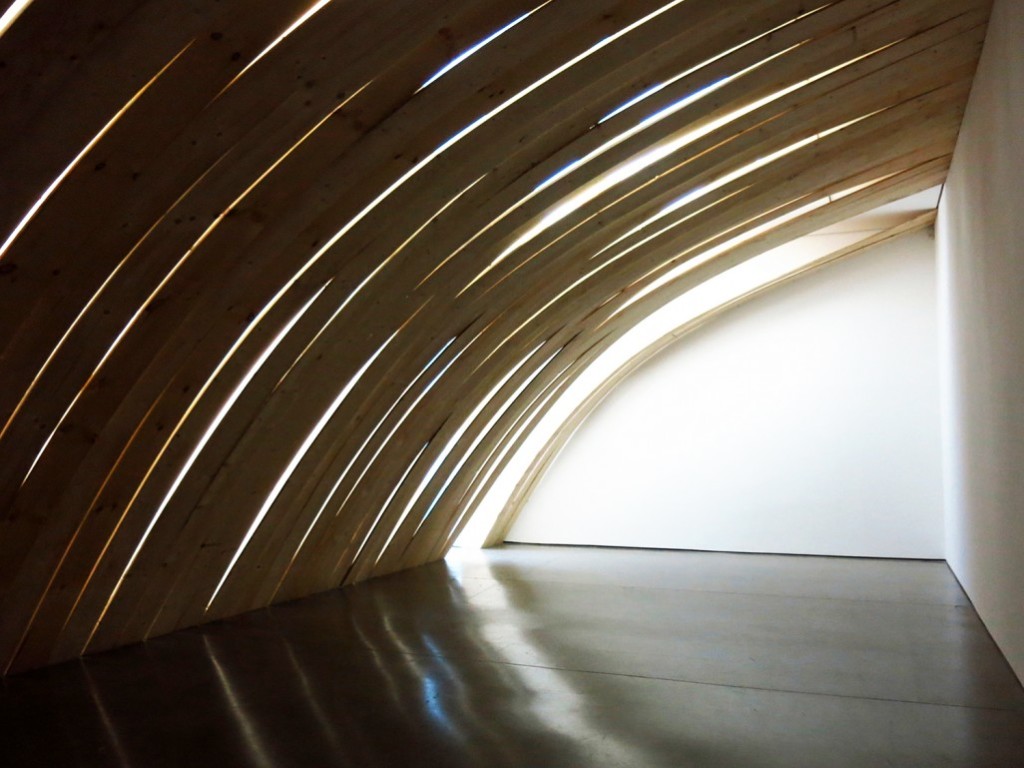 The enormous lower ground floor space features three large-scale whitewood boxes (Untitled, 2015), open from both sides and suspended from the ceiling by single cords of different lengths, permitting them to freely swing or spin, performing what appears to be freestyle balancing act.
Another structure of interwoven whitewood planks has taken over the smaller back gallery (Untitled, 2015). This 2.40 meter-high pyramidal formation expands almost aggressively from the central corner of the room, invading the immediate space towards two different directions.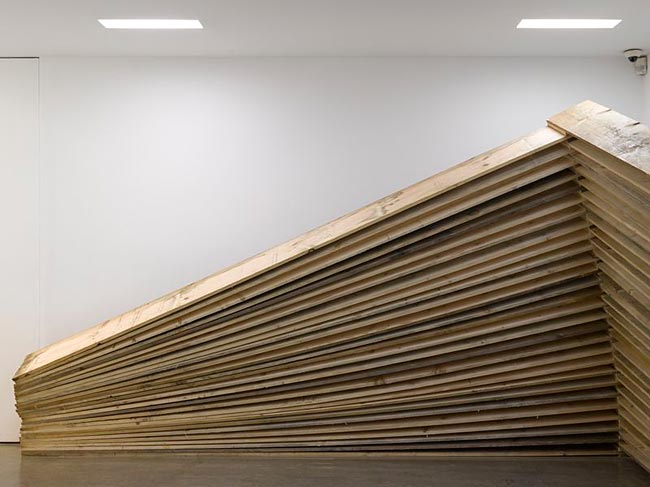 Reminiscent of objet trouvé and Arte Povera practices, one of Overton's main interests is to investigate the use and role of space by confronting it with the importation of objects inside its territory. Surveying their emerging inter-relation, this ongoing dialogue between a chosen locus and found objects demonstrates Overton's explicit need to explore the characteristics of natural law, concurrently involving the human presence in constant conversation with space and objects. This triptych appears to be a regular point of reference within the artist's visual lexicon.
All of the works on view at White Cube are site-specific interventions, a clear indication of Overton's passion to inspect the properties of a given space and respond to its concealed challenges for spatial elucidation. The implementation of ready-made materials without necessarily having been relieved from their original function is a manifestation of the indirect psychological effect of dependency of an object over its surrounding space and the involving human element.
Explaining the idiosyncrasy of the three large hanging boxes at the lower ground floor, the gallery literature refers to a "constant search for the perfect balance". This seems to be one of Overton's long-term quests, which not only evokes the objective sense of balancing principles but also renders the equilibrial relationship of a given environment with its constituents.
While reviewing Overton's works on display, it becomes evident that her artistic vocabulary shares mutual characteristics with the work of British artist Phyllida Barlow. They both engage materials associated with construction, adaptable to the parameters of their chosen space. They also both challenge the physicality of their mediums and playfully orchestrate them in order to observe their limits and their impact over the viewer.
In her 2014 Tate Britain Commission, Barlow had the opportunity to demonstrate how a monumental space can be transformed into a series of object studies where gravity, balance and scale integrate with the viewer empowering a dynamic and interactive experience. Following her own artistic path infused with a sense of minimalism, Overton's work undoubtedly has the same great potential to evolve and accelerate her current explorations and reveal her own version of 'spatial perception' in new and exciting terrains.
---
Virginia Overton at White Cube (Mason's Yard) London runs until 14 March, 2015.