October 15th, 2019
10.15.2019
Whose Heart Went First?: The Sorcerer's Burden Explores the Convergence of Art, Anthropology, and the Human Experience
In The Sorcerer's Burden: Contemporary Art and the Anthropological Turn, the most recent exhibition at the Contemporary Austin, artist Dario Robleto ponders, "Whose heart went first?" in his moving film about the history of the human heartbeat. Who did that first pulse belong to? And who loved that person, long after that last beat? Stories and memories serve as a sort of heartbeat as well, breathing life and meaning into the human experience. And though Robleto explicitly asks the question, as the exhibition unfolds, each artist in some way answers it.
Straddling The Contemporary Austin's two sites in Austin, TX, this diverse group exhibition of eleven international artists explores the inextricable relationship between contemporary art and cultural anthropology. Though The Sorcerer's Burden title comes from an ethnographic novel by cultural anthropologist Paul Stoller, the show itself eschews a didactic approach—one will not spot a single diorama or vitrine on display. Instead, curator Heather Pesanti has gathered a group not necessarily known for their social scientific methodologies or documentarian prowess to contribute work which feels more abstract and experimental, drawing from "loose associations and inspirations," as she puts it.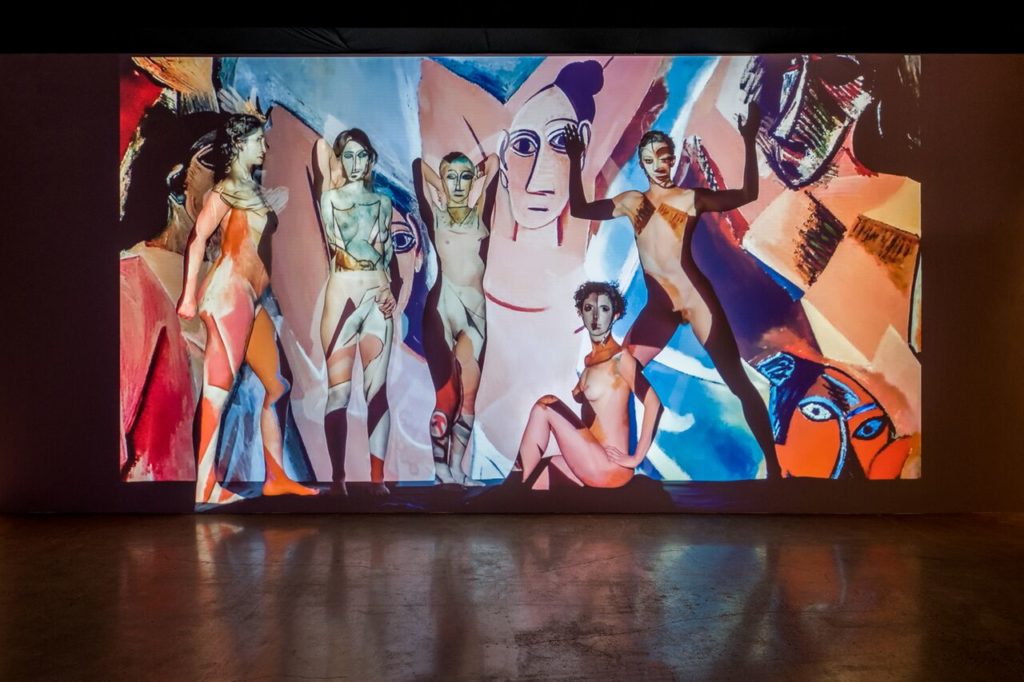 The Sorcerer's Burden does not avoid traditional anthropological themes altogether, however. Dim lighting suggests a "preservation" of certain pieces as if they were ancient artifacts in a natural history museum. Primates make an appearance at least three different times: Julia Wachtel's "mash-up" painting, The History of Animals (1997), Cameron Jamie's bronze sculpture Mon Singe [My Monkey] (2019), as well as Shimabuku's film, The Snow Monkeys of Texas (2016). There is also a playful art-meets-anthro exploration of modernism and "primitivism" in both Nathan Mabry's pre-Colombian totemic objects as well as the sexualized exotica of the female form in Theo Eshetu's multimedia mural Adieu Les Demoiselles (2019). The curation feels less of a Western versus non-Western standoff, and rather a refined take on cross-cultural discourse.
"Anthropology is a dated subject," Eshetu tells me on the show's opening weekend. "It has been used in the past to study the way our culture has had its origins in other cultures—which can be problematic—but by now reinterpreting the meaning of anthropology, it can expand into other directions, as we are seeing here." He poses a good point. While questions of cultural appropriation, colonial exploitation, and ethical authenticity inevitably arise, the exhibition is largely ambitiously optimistic, with genuine moments of feeling wonderstruck rather than hyper-consciously woke.
The majority of the exhibition is located within the Jones Center downtown, with four site-specific pieces at the museum's Laguna Gloria location five miles away. Heading to the additional locale is a worthwhile trip, if only to trade in the heavy concentration of film and video for a stroll through the outdoor gallery on the villa's quiet grounds. Visiting both sites is an anthropological accomplishment in itself—sending the visitor out into the field to observe the art interacting with these two vastly different urban environments. Marie Lorenz's installation on the quiet shoreline of Lake Austin, for instance, would not have been possible in the gallery space downtown. And conversely, the harsh language blaring from Ed Atkins' video Material Witness OR A Liquid Cop (2012) does not quite belong in a venue where they frequently hold weddings.
"Essentially, it is eleven solo shows," says Ruben Ochoa, whose work is featured at both sites, "But we're all in dialogue with each other—from one medium to another, one space to another, and one location to another." Featuring a wide range of media—including five videos and short films—The Sorcerer's Burden is a big conversation to listen in on. Give yourself time to do so.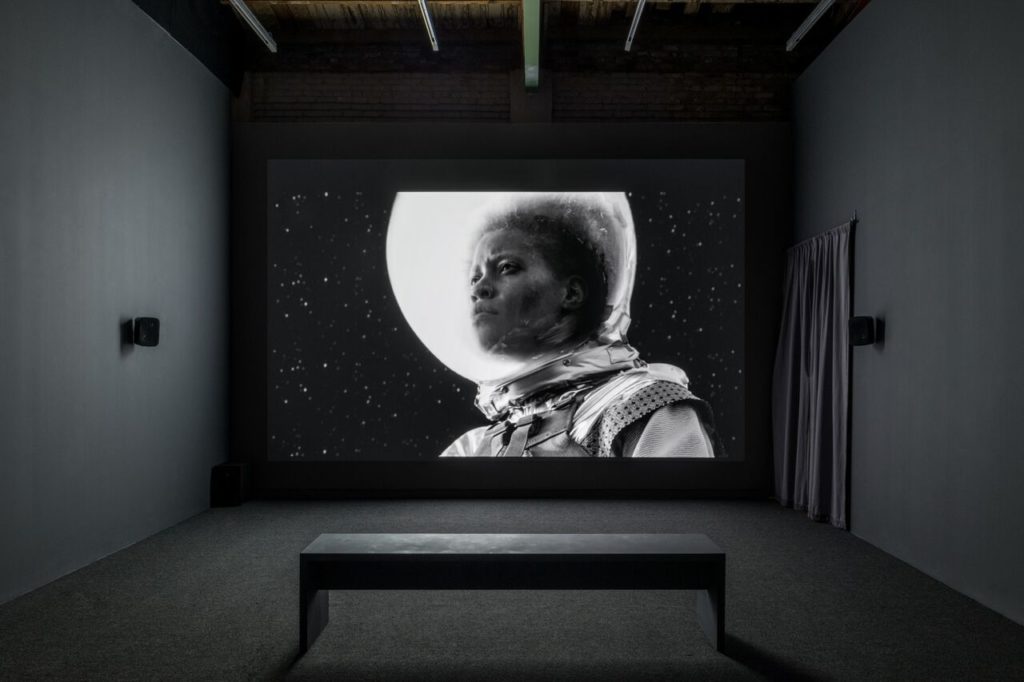 Start with the second floor of the Jones Center where the space is as a dark as a movie theater halfway through the credits. Much of the upstairs gallery has been transformed into a veritable multiplex, with the main area showcasing Eshetu's Picasso-imbued wall-sized video installation and two smaller theaters looping films by Nuotama Bodomo and Ed Atkins. Curtains conjoining each room allow you to sneak from one movie to the next on a single ticket—like the good old days.
Bodomo's two alternating films, Boneshaker (2013) and Afronauts (2014) both depict young female protagonists in search of something just out of reach. "How many steps do you think it is to get home?" asks the girl in Boneshaker,as she iswandering through the woods with her sister, somewhere far away from the answer. Afronautsis a poetic retelling of Zambia's efforts to take part in the 1960s space race. Starring a young woman who is preparing for her first trip to the moon with two cats in tow, her spacecraft is fortified by the basic technology of a tin can. What at first seems laughable and highly improbable, becomes poignant with dreamlike possibility in the end.
The immersive sound and video experience culminates with the otherworldly 51-minute film by Dario Robleto on the Jones Center's first floor, The Boundary of Life Is Quietly Crossed (2014), which explores the history of the human heartbeat and its earliest recordings: the first being a pulse (1853) and then a flatline (1870). The identities of many such patients remain largely unknown, which perhaps reinforces the artist's inquiry of whose heart went first. Written and narrated by Robleto, the film evokes the cosmic divinity of a planetarium, slowly expanding outwardly from the screen and speakers, as Robleto delivers such lyrical lines as: "The depiction—from cave walls, to canvasses, to cathedrals—these images are the mysteries to unravel about time's effect on the heart."
These vast mysteries—the search for connection and shared meaning—swirl throughout the exhibition, shining a light on the human experience, even in its darkness. Kapwani Kiwanga's Glow (2019), challenges that darkness, both literally and figuratively, with her series of abstract sculptures inspired by the 18th century Lantern Laws in New England and New York, which required black and indigenous people to carry torches after dark, as to always announce themselves and curb uprisings. Each of the four black forms standing silently in the darkened space embody a light source which reflects that discrimination, but also their dignity.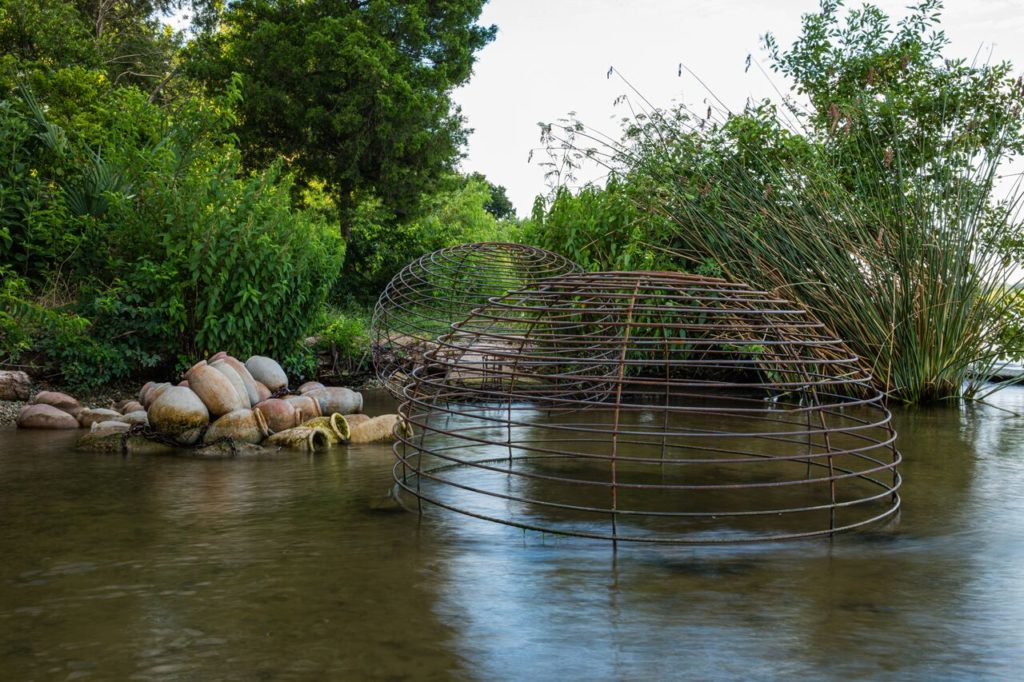 Perhaps no other piece in the show addresses these questions pertaining to home, culture, and resiliency of the human heart better than Shimabuku's short film at Laguna Gloria which observes not mankind, but macaques. The Snow Monkeys of Texas: Do Snow Monkeys Remember Snow Monkeys? (2017) quietly witnesses what happens when these displaced creatures, living in a primate sanctuary out in the Texas desert, far from their native Japan, see snow for the first time. As refugees, taken from another time and place, they have adapted to their new home—the heat, and cacti, and coyotes—snow may be nothing but an ancestral memory.
When given the chance to play on a pile of ice (supplied by the filmmaker himself) the snow monkeys curiously pick at the frozen pieces: collecting, sharing, and fighting amongst each other. Are they drawn to these objects because they are foreign, or because they are familiar? Do the snow monkeys still remember something of Kyoto?
And if so, whose heart went first?
---
The Sorcerer's Burden: Contemporary Art and the Anthropological Turn runs until January 19, 2020, at The Contemporary Austin's Jones Center and Laguna Gloria.