August 14th, 2015
08.14.2015
Georgia Sagri: KW Institute Berlin
Upon first entering Georgia Sagri's My First Science Fiction Book, Religion on view during the Berliner Festspiel at KW Institute for Contemporary Art in Berlin, one notices a cluster of bodies arranged within a baroque composition. Playing instruments in unison, these individuals create cacophonous, overlapping noises: something resembling a spiritual emanation. Sagri herself, distanced spatially from this pack of musicians, acts as a dancer signing her way to the rhythms of the music in a religious manner. Her motions, which often include the signing of a cross, prostration and bending of the body in Salat, and tongue clicking, become measuring devices that interpret the iconography the combined sound resurrects.
These sounds are distinct, tied to specific geographic regions and faith-based practices. In the back of the space, a man reads verses from the bible on love. His voice melodiously bellows out the lines, impressing on the viewer the experience of a sermon that would be delivered within a local chapel. Other notable sounds come from strings on an Oudh and a qanun, two stringed instruments traditionally played in Mediterranean regions such as Greece, Turkey, and Iran; table and darbouka, drums traditionally played in South Asia; a basari, a South Asian flute; Soprano hymns coming from the lungs of two women dressed in white; and biblical recitations. While certainly not representatives of all faith practices, Sagri has pulled together a collection of sounds that represent both east and west, most notably from South Asian faiths, Christian belief systems, and Muslim practices. These faiths, normally tied together by regions or communities, can be attributed to the tenor and pitch of the instruments being played rather than associated with stereotypical ethnic makeups and citizenships.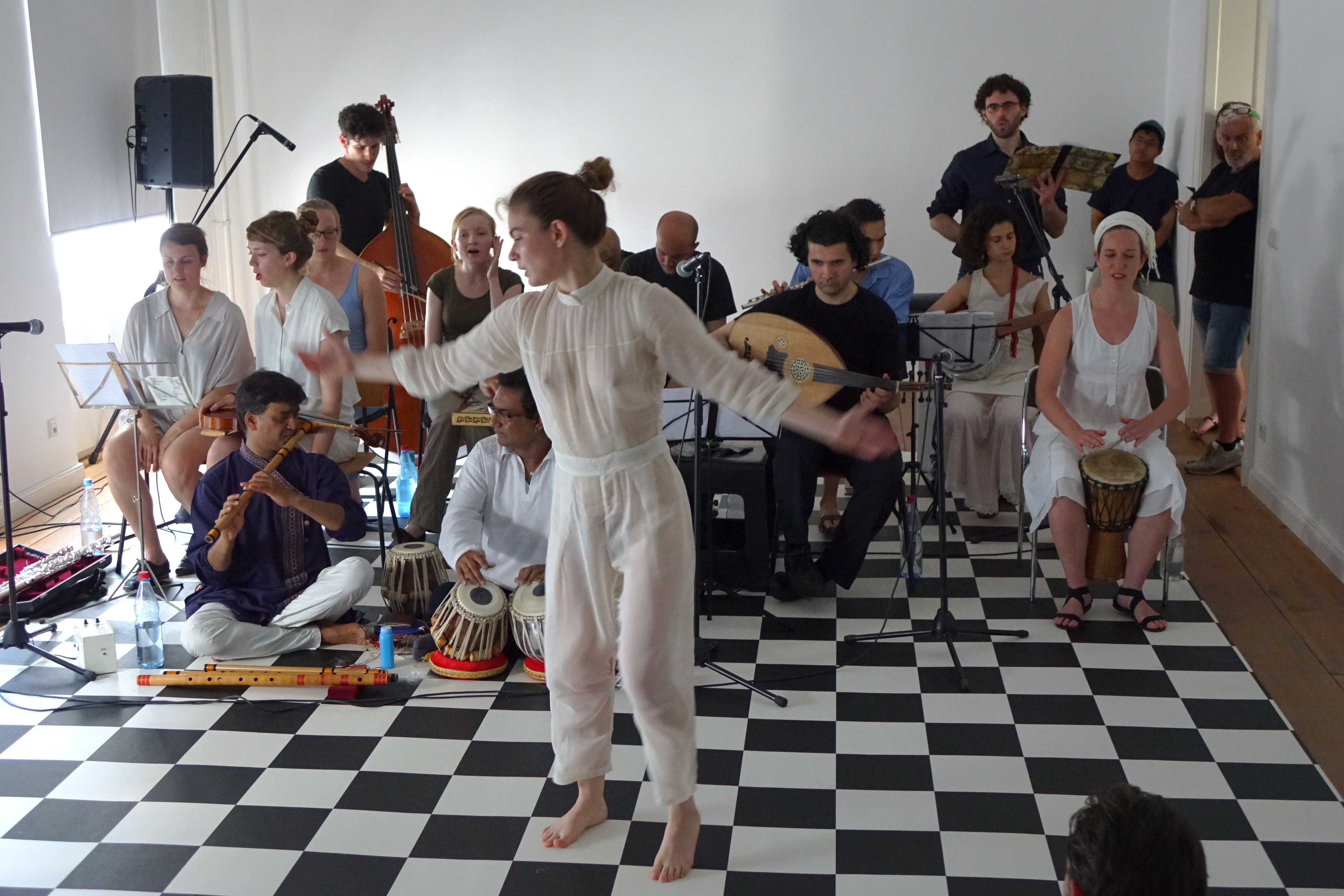 The composition of the music does not take typical Western movements, or canto structures often associated with German romantic compositions in the Western world. Instead, the vibratory overlapping notes at times prohibit the listener from making sense of the sound and predicting forthcoming notes, which instead allows for a queering and estranging rhythmic patterns. This unpredictable aspect of the music forces the viewer to be present to behold the event, which is in a constant state of de/re composition.
Because of the work's nature—as choreography that is often scripted or carefully planned—Sagri battles against the balanced and fixed states that often go hand in hand with performance work. In an interview with Alex Kitnick published on Idiom, Sagri says about her work and its composition, "It is a mixture of imaginaries: dance that never succeeds to be right, bad memory: memory is lost so there are subtitles and the challenge of composition. Rhythms are mixed with body tunings."1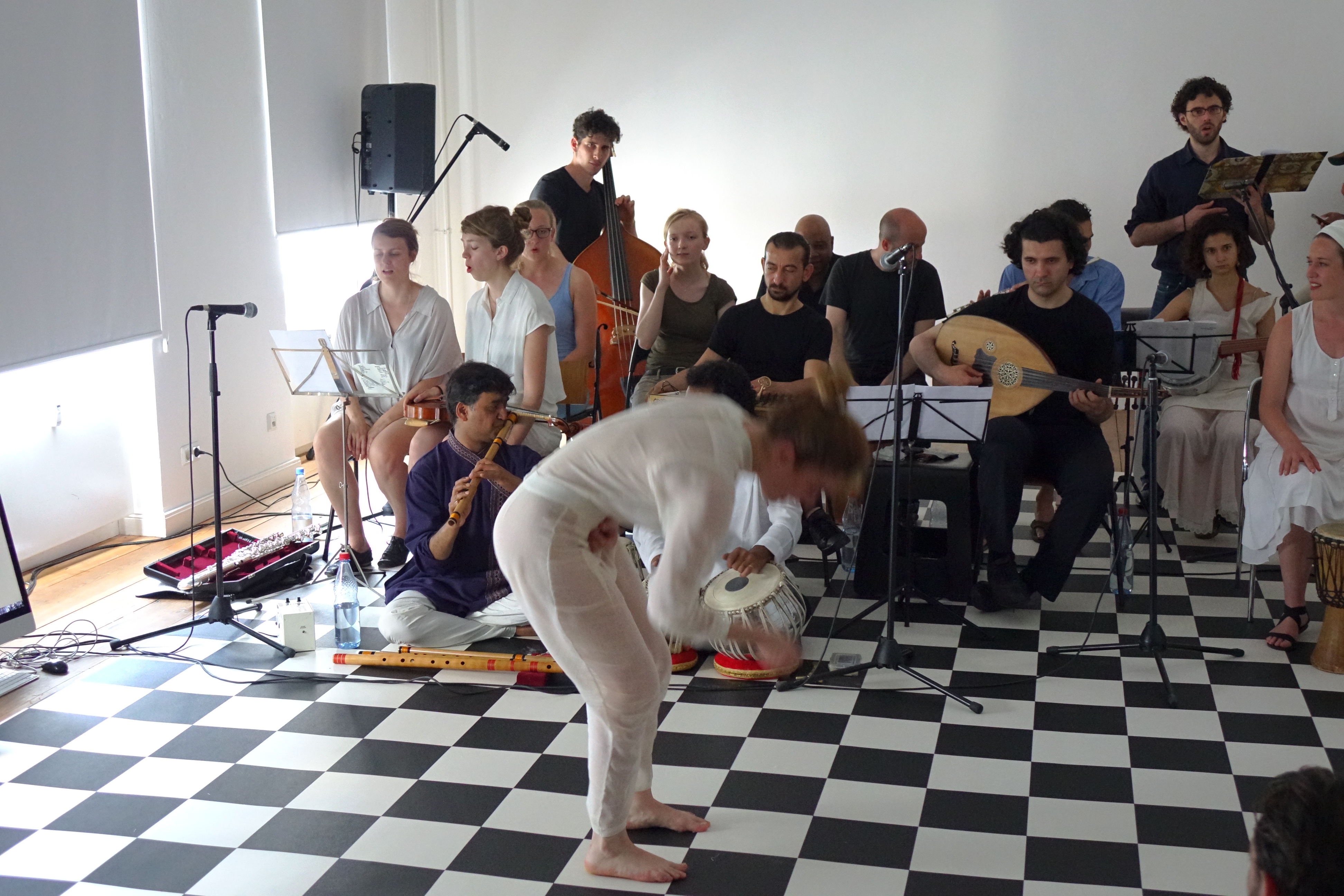 In the artist's past performance, Owen (2013), performed at Arnolfini Centre for Contemporary Art in Bristol, UK, the artist asked viewers to help her memorize lines from a script written from an Iraqi soldier's recounting. Here, the audience is always aware of the fluidity of memory namely the pitfalls and challenges that ensue when trying to recollect. The piece is finished over the course of a couple days when the script is memorized and the work of memory, so to speak, is finished.
In some of Sagri's other work such as Travailler Je ne travaille pas (working the no work) (2012), or Do Jaguar (2009), she edits the structure of her choreography with electronic noises and devices that emphasize physical repetitions within the live. In My First Science Fiction Book, Religion, an event taking place over eight hours, these interferences are present not through make shift projections or sound playbacks, but through the cameraman who circles around the scene, a live stream web cam connected to a chat room on the web, and an image video playback on a mac book pro. By laying bare these documentary tactics, Sagri frames and fixes her performance within these images—a tactic that would appear counterintuitive to her practice. However, by making the live into a document, the present also appears to be a rehearsal, a fictional warm up for a future that is yet to be determined.