October 25th, 2013
10.25.2013
Profile of the Artist: Kerry James Marshall
Two solo shows of contemporary painter Kerry James Marshall's work from this fall could not be more different in imagery. For the artist's first solo show in Washington, DC, a large selection of paintings and drawings from the early 1990s through the present are being exhibited at the National Gallery of Art. The exhibition's centerpiece, Great America (1994), references the Middle Passage, or the route whereby millions of slaves were transported from West Africa to the Americas over the course of nearly three centuries. In many contemporary chronicles, stories of mistreatment were rampant, resulting in a high rate of mortality among the human cargo. The paintings raise themes of immigration, while the dualism of the imagery—simultaneously evoking the slave trade and an amusement park "Tunnel of Love" ride—refer to issues of class mobility and ambition central to American life.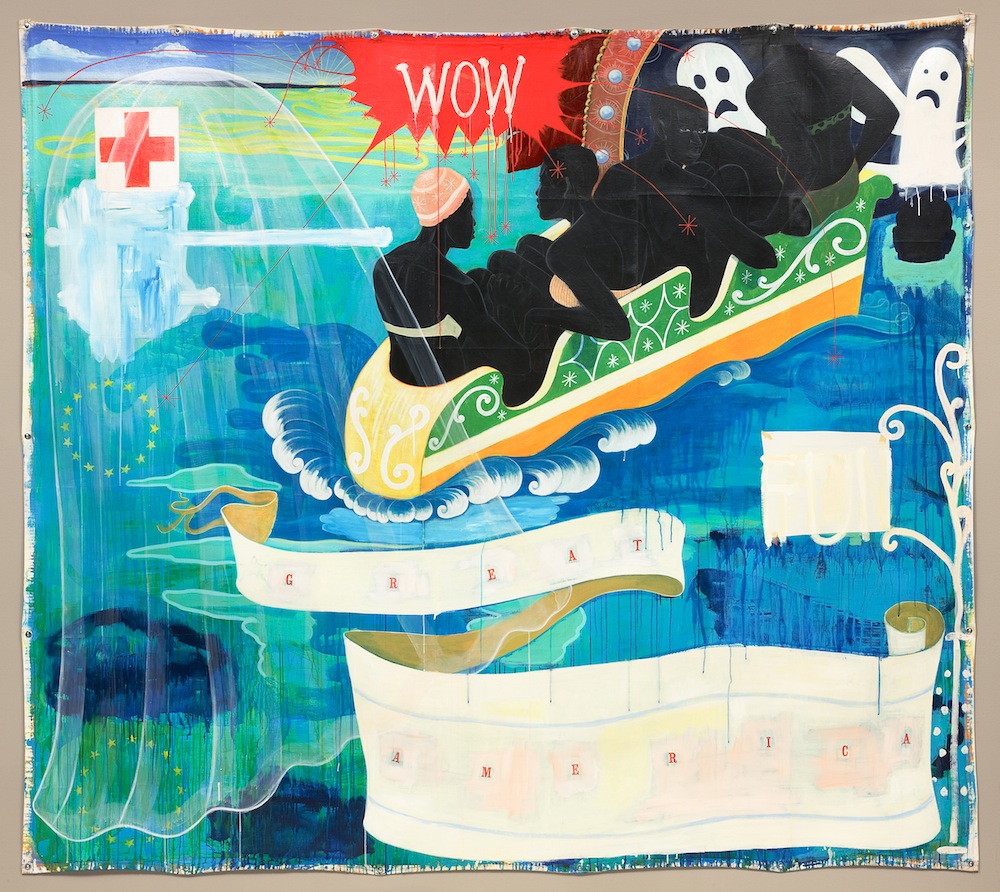 Meanwhile, Jack Shainman Gallery in New York inaugurated the new season with a show of Marshall's latest works, entitled Dollar for Dollar. The figurative imagery characteristic of Marshall's paintings was largely absent from the galleries; instead they were dominated with monochromatic, text-based canvasses, and enormous replicas of American coinage, the sum of which totaled ninety-nine cents. Themes of commerce and merchandise echoed in the messages on each painting, with phrases like "Why Pay More" and "Red Hot Deal." However, latent references within the Shainman exhibition resonated more with Marshall's oeuvre than the show's aesthetics initially revealed.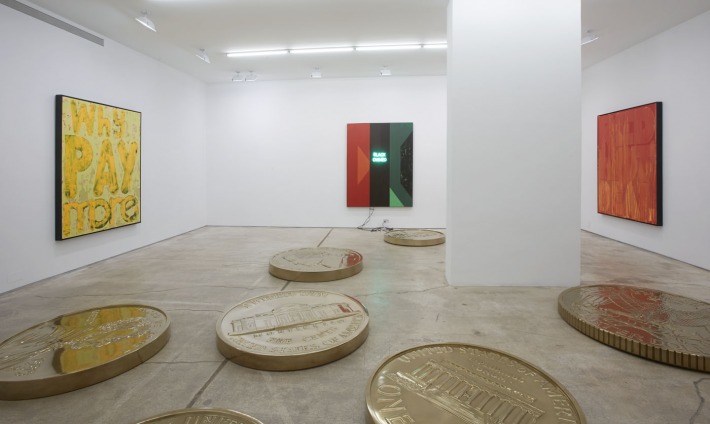 Although the value of the coins displayed added up to ninety-nine cents, the piece's title revealed that fabrication costs for the brass-encased sculptures were close to $136,000. In juxtaposing the myriad references the coins bring to mind—the ubiquity of 99 Cent stores in low-income neighborhoods, accompanied by the textual references to sales and bargains—alongside the high-art status of the actual objects, stunningly rendered in burnished metal, and displayed in the context of a Chelsea gallery, poignant contrasts emerged. Marshall's works simultaneously gestures towards opposite ends of the economic spectrum, thus evoking the same issues of class mobility and its inherent connections to race and representation as in earlier paintings like Great America.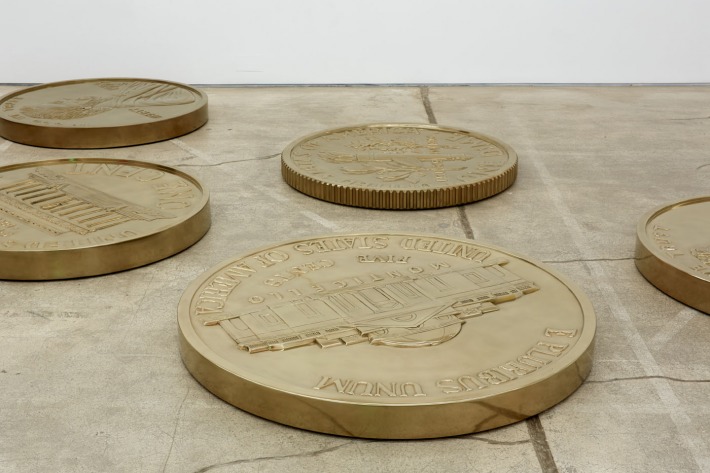 In addition, the coins as they were laid haphazardly on the gallery's floor—some face-side up, others reversed—displayed a variety of presidential portraits and monuments, images that many Americans associate with our country's democratic legacy, and the core values of the United States' founding leaders. The American nickel displays a portrait of Thomas Jefferson, and on its reverse is an image of his famed estate, Monticello, both sides of which were visible in the Shainman exhibition. On the American quarter, a portrait of George Washington was made visible. On most coins the ever-present 'E Pluribus Unum' is shown, its meaning having come to suggest that out of many peoples, races, religions and ancestries, a single, unified nation has emerged.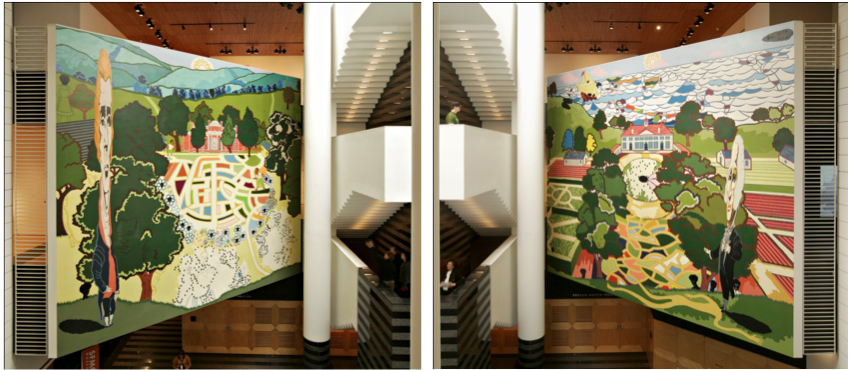 In past paintings, including a monumental mural commissioned for the San Francisco Museum of Modern Art's atrium, Marshall has called attention to Jefferson and Washington as slave owners, and their respective estates—Monticello and Mount Vernon—as plantations operated via slave labor. Although the murals no longer exist (they were commissioned with their impermanence in mind), the preparatory drawings are included in the National Gallery's exhibition. In them, the estates were painted in the style of children's coloring books, playing on the use of mazes and connect-the-dot motifs. But a closer look revealed images of the slaves that were a large part of each president's property, displayed alongside portraits of Jefferson and Washington in distorted, anamorphic perspective, as each mural was viewed from below. Viewers were thus engaged in a visual game of seeking and finding the hidden meaning of each picture. This activity of looking beyond the visible figures to deduce complex and multiple meanings is a characteristic of Marshall's work that is often employed.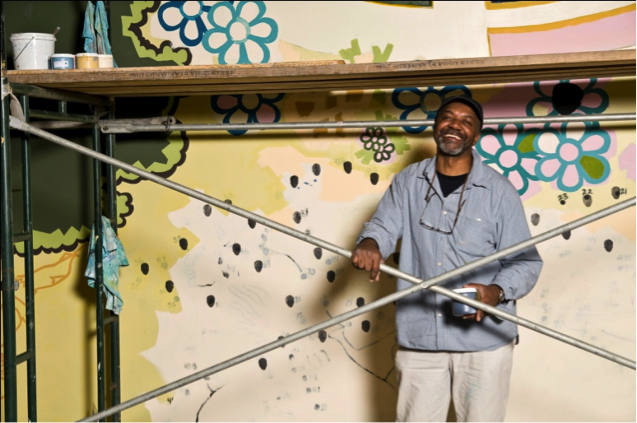 Marshall is no stranger to challenging viewers' assumptions of history. Born in Birmingham, Alabama, at the inception of that city's pivotal bus boycott, Marshall's childhood was permeated by the turbulent struggles of the Civil Rights movement. He lived in Alabama in the tumultuous period of the early 1960s, and then moved with his family to South Central Los Angeles, caught in the riots of 1965. After moving for a short period in the mid-1980s to Harlem in New York, Marshall has been living and working in Chicago ever since. Both the National Gallery and Jack Shainman exhibitions coincide with the 50th anniversary of the March on Washington for Jobs and Freedom, at which Martin Luther King, Jr. delivered his "I Have A Dream" speech, another factor that ties Marshall's work to the history of the Civil Rights movement.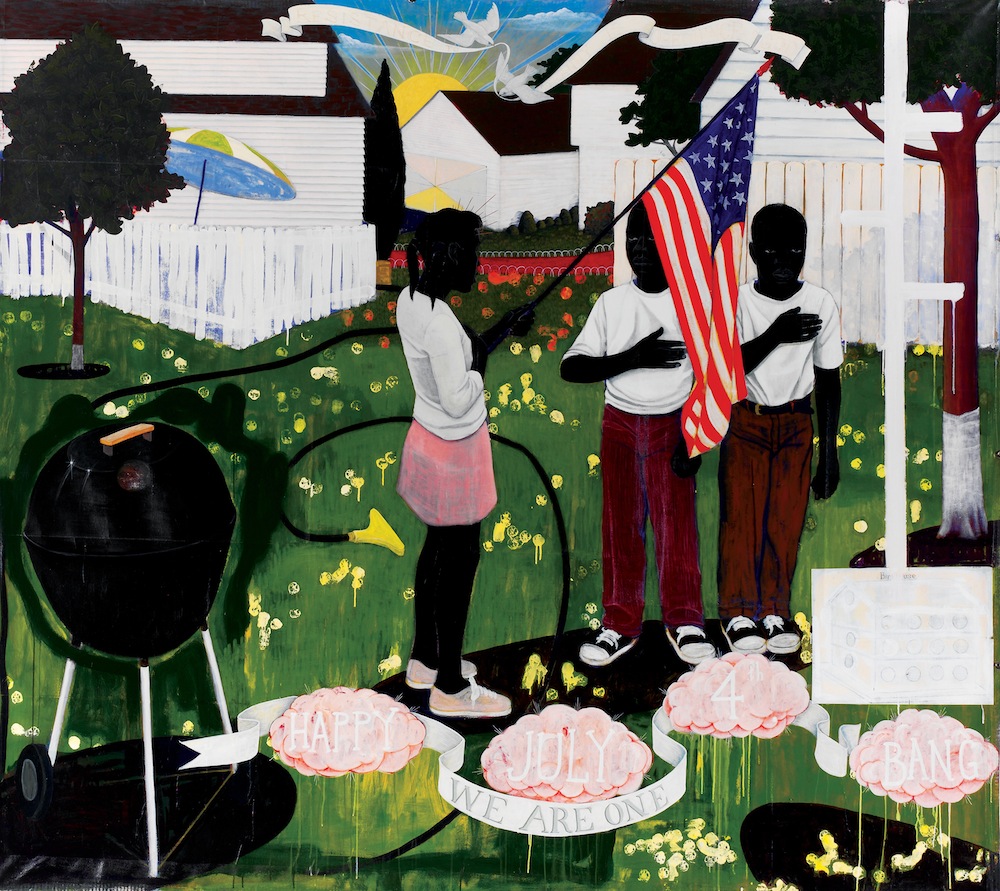 Marshall's ability to challenge viewer's assumptions of history and knowledge, sometimes to their discomfort, is an explicit goal of the artist. In fact, one painting in the National Gallery exhibition, Bang, created considerable controversy when first displayed in Cleveland. However, Marshall sees his paintings as rhetorical devices, and hopes that they can foster dialogues about race where one might not otherwise exist. In this way, he sees his pictures as catalysts for open and honest conversations, and contributions to a more diverse assessment of what we consider American cultural patrimony.
---
In the Tower: Kerry James Marshall at the National Gallery of Art runs through December 8th